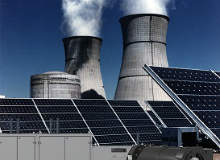 From the recovery of process heat using the Organic Rankine Cycle (ORC) or exhaust gas recovery (EGR) to reduce engine emissions, TPS has the expertise in high-speed generators and inverters to develop the right power conversion solution for you.
The use of waste heat achieves a power source with a desired low carbon footprint, but consideration of equipment efficiency and reliability are the key for reducing energy costs and maximising plant profitability.
TPS' permanent-magnet generators ensure robust performance, even at extreme operational speeds, and can be coupled directly with a turbine engine to achieve compact and lightweight solutions. Alternatively, the permanent-magnet generators can be driven through a flexible disk element coupling and torque tube to provide accurate alignment.
The company deploy magnetic bearings to eliminate wear and provide maintenance-free rotating machinery that achieves best-in-class efficiency throughout its speed and power range. Journal or roller bearings can be deployed where high vibration or harsh environments exist such as in EGR application.
Power from the generator needs to be transferred to the grid via a grid-tied inverter to provide mains quality electricity. To suit your individual plant needs, TPS has the expertise to define the right inverter, whether it be grid-tied or standalone. The company's solutions include all necessary protections and filters to achieve a simple "plug and play" solution and we can provide a flexible range of control and monitoring options to achieve full turbine integration with an option for remote programming setup and upgrades if required.
In TPS' portfolio of solutions are 400kW-1.2MW high-speed permanent-magnet generators with grid-tied inverter. Our flagship 1.2MW generator operates with efficiency of greater than 98% and at operating speeds of 23,000rpm to achieve a compact and lightweight system with high power quality output.
To find out more on how TPS can support your waste heat or exhaust gas recovery system, please contact the company via the enquiry form on this page.