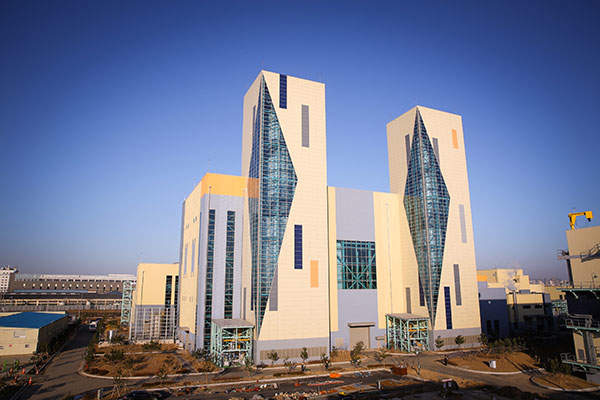 S-Power's 834MW Ansan CCPP is located in Ansan City, Gyeonggi-Do Province, South Korea. Credit: Siemens.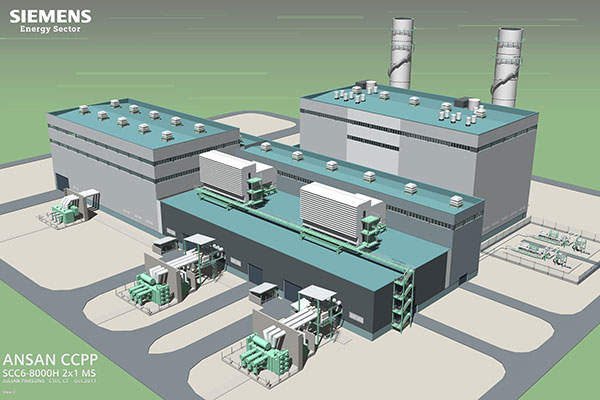 Construction of the Ansan LNG-fired power plant was completed in January 2015. Credit: Siemens.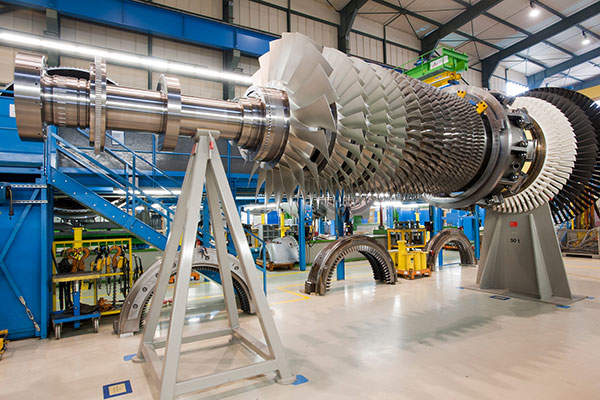 The Ansan plant includes a Siemens H-class multi-shaft system and is equipped with two SGT6-8000H gas turbines. Credit: Siemens.
The 834MW Ansan gas-fired combined cycle power plant (CCPP) is located in the city of Ansan in Gyeonggi-Do Province, South Korea. The plant operates using combined heat and power generation processes and is the first H-class 2+1 multi-shaft power plant installed in Korea.
Construction began in November 2012 and was completed in January 2015.
S-Power, a joint venture (JV) of Samchully Group, Korea South-East Power and POSCO Engineering & Construction, is the owner and operator.
The KRW887bn ($790m) project was funded by the Korea Development Bank and Korea Finance Corporation.
Ansan power plant design
"The Ansan CCPP uses liquefied natural gas as its main fuel."
The Ansan CCPP uses liquefied natural gas (LNG) as its main fuel and is expected to achieve a fuel utilisation factor of more than 75%. It is projected to produce NOx emissions of 7ppm, considered the lowest in South Korea, making it one of the world's most efficient and eco-friendly fossil fuel-fired power plants.
The power plant is equipped with Siemens' state-of-the-art power plant technology, featuring two SGT6-8000H gas turbines, one SST6-5000 steam turbine, three SGen6-2000H hydrogen-cooled generators and a SPPA-T3000 instrumentation and control system. It also includes two heat recovery steam generators (HRSGs) produced by BHI under licence from Siemens.
The Siemens SGT6-8000H gas turbine, which was first introduced in 2010, has a gross power output of 286MW. It operates at an efficiency rate of more than 60% in combined cycle operations and rotates at a speed of 3,600rpm.
Ansan's gas turbine package consists of a standardised basic design with a flexibility to be modified as per the geographical location and according to customer requirements. The turbine achieves higher efficiency through an evolutionary 3D blading system and uses fast acting variable guide vanes, giving it a faster cycling capability.
Benson once-through HRSGs include a thin-walled separator for improving operational flexibility, instead of the high-pressure drum found in traditional boilers. The steam generators maintain natural circulation flow characteristics in order to achieve flow stability and even heat distribution.
It is expected that waste heat from the power plant will be delivered to HUCES' district heating facility in Hyangnam, Hwaseong-si.
Sale of power generated at Ansan CCPP
---
---
The 1,500MW Az-Zour North gas-fired combined cycle power plant is located at Az-Zour.
---
Electricity generated at Ansan CCPP will be sold to Power Exchange of Korea, while the heat generated will be sold to Ansan Urban Development.
Contractors involved with the Ansan power plant
KOSEP was responsible for the construction, management and operations and maintenance (O&M) of the plant.
Siemens and POSCO Engineering & Construction were awarded the engineering, procurement and construction contract for the power plant. In addition, Siemens was also contracted for the supply of power island equipment and the instrumentation and control system. The company will also provide long-term maintenance services for the generators and HRSGs.
BHI was subcontracted by Siemens to supply two Benson HRSGs, while Alstom supplied three generator circuit breakers.
Swan Systems Engineering was contracted for a sampling and analysis system, as well as one shelter-based sampling system for the HRSGs, 22 sample lines and 28 instruments.
Samhwa was awarded the contract for the design, manufacturing, inspection and testing of the Line Mixer for the project. FZA was contracted to provide site-specific environmental loads of structural and non-structural components of the plant.
KEPS performed a design review and construction management support, while Pyunghwa Engineering was contracted to conduct technical audits and design reviews.