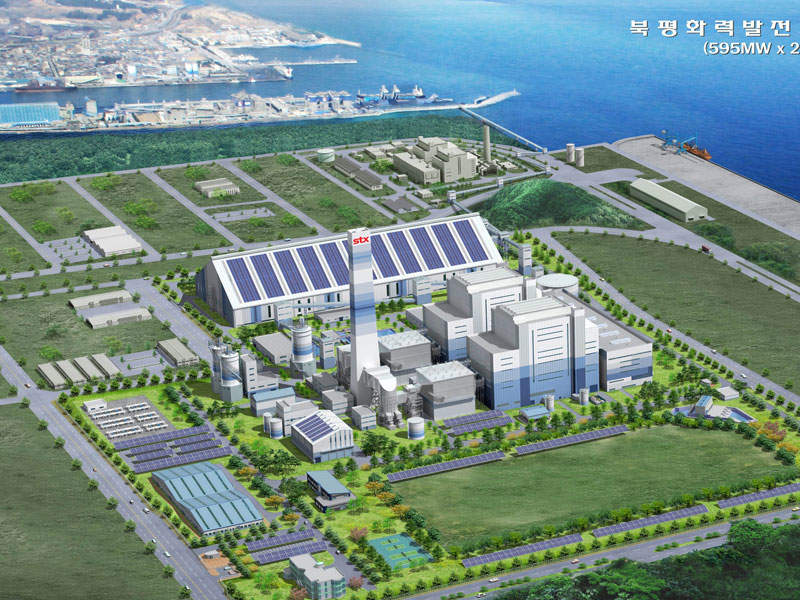 The 1,190MW Bukpyeong power plant is being developed within the Bukpyeong National Industrial Complex in Donghae City of Gangwon Province, South Korea.
It will be the first base-load thermal power plant in the country upon completion and comprise two 595MW units.
The coal-fired power plant is being developed on a 400,000m² site in Donghae City and will generate sufficient power for 1.5 million homes along the east coast of Gangwon Province.
The project is being developed by STX Energy's subsidiary GS Donghae Electric Power, which was formerly known as STX Electric Power (STX EP).
GS Donghae Electric Power is a joint venture (JV) between STX Energy (51%) and Korea East-West Power (EWP, 49%).
STX EP is responsible for the construction of the plant under the JV, while EWP is responsible for management and maintenance.
Construction of the Bukpyeong coal-fired power plant started in December 2012, and the first 595MW unit began commercial operations on 8 March 2017. Network synchronisation and connection of the second unit was completed on 24 May 2017.
Commercial operations are expected to begin following the completion of a general test run and reliability test.
Bukpyeong TPP plant make-up
The Bukpyeong coal-fired power plant is a part of the South Korean Government's fifth basic plan for electricity supply, which encourages the participation of private firms in the construction of power plants.
It is expected to be South Korea's most advanced and environment-friendly power plant, consisting of two supercritical pulverised coal (PC) fired steam generators, and two-pass type ultra-supercritical and supercritical boilers.
The two units are equipped with Daeyoung C&E's Daeyoung Plate Catalysts (DPC).
Bukpyeong power plant will also include two gas-gas heaters, advanced desulphurisation and denitrification facilities, an underground transmission line, wastewater recycling units, and an enclosed coal-handling system.
The environmenally friendly and high fuel-efficiency power plant design is expected to lower the emissions of pollutants such as sulphur and carbon dioxide.
Bukpyeong coal-fired power plant technology
Bukpyeong power plant's advanced supercritical steam generators can apply higher pressure and temperature than a conventional power plant to facilitate the generation of electricity. They are capable of producing 1,760 tonnes per hour (tph) of main steam at a pressure of 253bar and temperature of 603°C.
"The coal-fired power plant is being developed on a 400,000m² site in Donghae City and will generate sufficient power for 1.5 million homes."
The boiler and bottom ash hopper are connected by Magaldi Power's MAC (Magaldi Ash Cooler) and MAR (Magaldi Ash Recycling) systems.
The bottom ash from the boilers will be reprocessed by the MAC and MAR systems and conveyed to the storage silo, where the dry bottom ash will either be recycled to the boiler furnace or discharged onto open trucks.
Ash from the burnt coal will be used as raw material for cement, thereby reducing the generation of waste material.
Contractors involved with the Bukpyeong power plant
STX Electric Power awarded the engineering, procurement and construction contract for the Bukpyeong facility to an STX Heavy Industries-led consortium comprising STX Heavy Industries, STX Construction and Daelim Industrial in September 2012.
Hitachi was contracted to supply two steam turbine generators, while Clyde Bergemann Wesel is supplying the boiler cleaning equipment.
Foster Wheeler's Global Power Group licensee BHI is the supplier of two supercritical pulverised-coal steam generators and various other pieces of major equipment for the development.
KEPCO prepared the power plant's environmental impact assessment (EIA) report and also provided engineering services for the flue-gas-desulphurisation (FGD) system and DeNOx system.
Lee & Ko acted as the legal advisors for the project financing.
Other contractors involved in the project are Xi O&M, Victaulic, BWE, S-1 Corporation, Clyde Bergemann Wesel and Korea Electric Power Industrial Development (KEPID).