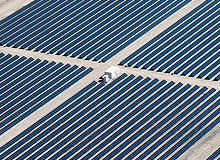 The Cimarron Solar plant is a 30MW solar power plant launched in December 2010. Located in Colfax County in north-eastern New Mexico, it is one of the largest utility scale solar power plants in the US. The plant was developed by First Solar and sold to a partnership between Southern Company and Turner Renewable Energy in March 2010. First Solar will continue to provide operation and maintenance services to the plant as part of a 25 year contract.
The $100m plant will power approximately 9,000 households. It will reduce CO2 emissions by more than 45,000t per year. The electricity generated will be delivered to Tri-State Generation and Transmission Association as part of a 25-year power purchase agreement.
Tri-State Generation and Transmission Association is a not-for-profit supplier of wholesale electricity to 44 electric cooperatives. It supplies power to approximately 1.5m consumers across Colorado, Nebraska, New Mexico and Wyoming.
"The EPC contract for the project was awarded to First Solar."
Plant
The plant was built on a 250-acre site within the service zone of Springer Electric Cooperative, a Tri-State member system. It lies adjacent to the Vermejo Park Ranch owned by Turner Renewable Energy.
The plant consists of nearly 500,000 advanced thin film photovoltaic (PV) modules custom designed by First Solar. Each PV module measures 2ft x 4ft. Approximately 65,000 tables or solar panel supports were installed to hold the PV modules.
Technology
The PV modules were manufactured using First Solar's proprietary thin film semiconductor technology. The modules generate electricity directly through an electronic process. During the process, a thin layer of cadmium telluride (CdTe), the semiconductor material found within the PV modules, converts the Sun's heat energy into electricity.
When sunlight hits CdTe, electrons within the CdTe are freed from the related atoms and create current. The current is supplied either to power devices or to the grid through an electrical circuit.
The plant has an almost silent operation and uses water during normal operations.
Contractor
The EPC contract for the project was awarded to First Solar. A leading producer of thin-film PV solar modules, First Solar is the world's first company to manufacture PV panels at a manufacturing cost of less than $1 per watt. It also pioneered the pre-financed module collection and recycling program.
Grid network
Electricity from the plant will be transmitted through the existing transmission grid network of Tri-state. Tri-State owns and operates over 5,200 miles of transmission lines across Colorado, Nebraska, New Mexico and Wyoming. In New Mexico, Tri-state owned transmission lines extend up to 1,706 miles.
Power market in New Mexico
In terms of installed electricity capacity, the state of New Mexico ranks 35th in the US. The net capacity of the state during summer stood at 7,950MW in 2008. The total electricity consumption in 2008 was 693.3 trillion BTU.
In 2010, New Mexico generated net electricity of 3m MW, a decrease of 7.1% over the previous year.
"The PV modules were manufactured using First Solar's proprietary thin film."
The primary energy source is coal, generating 73.2% of the total electricity. In terms of solar energy, New Mexico ranks second in the US and has the potential to exceed the current demand of the Public Service Company of New Mexico by 1,000 times.
The state has abundant solar energy, with the sun shining an average 310 days per year. However in spite of growing fourfold between 2000 and 2009, solar energy in New Mexico represents a small percentage of the net electricity generated.
In 2009 3,588 million kWH of solar energy was generated, an increase of 38% over the previous year.
By 2020, according to the state's Renewable Portfolio Standard, New Mexico will have to generate 20% of its electricity from renewable sources, including 4% from solar power. As of 2009, the net renewable capacity in New Mexico is 1,136MW with net installed Solar PV capacity being 2.4MW excluding off-grid installations.