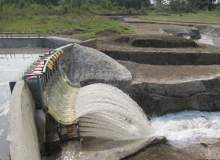 The Dasu hydropower project (DHP) includes the construction of a 4,320MW hydropower plant on the Indus River near Dasu town in Kohistan District of Khyber Pakhtunkhwa (KPK) province, Pakistan.
The project is located approximately 74km downstream of the Diamer Basha Dam, 240km upstream of the Tarbela Dam, and 345km from Islamabad.
The run-of-the-river hydropower project is being developed in two stages by Pakistan's Water and Power Development Authority (WAPDA). It is part of the hydropower development projects included in the Vision 2025 Program envisaged by WAPDA in 2001 and the Power Policy 2013 of the Government of Pakistan (GOP).
A total of 12 hydropower units rated at 360MW each will be installed, which includes six in the first phase and six in the second.
Phase one will have an annual output capacity of 12,300GWh, while phase two completion would increase the same to 21,700GWh.
Dasu hydropower project development timeline and construction details
A feasibility study for the project was completed in 2009 and preparatory construction works for phase one were commenced in May 2015. The construction works of the main dam began in mid-2017, with phase one scheduled to be online by 2023.
The first phase primarily involves the construction of a roller-compacted concrete (RCC) gravity dam with ancillary structures and an underground powerhouse, installation of six turbo generators, and a double-circuit 500kV transmission line.
The second phase will involve the construction of another underground powerhouse with ancillary structures and installation of the remaining turbo units, as well as a double-circuit 500kV transmission line.
Preliminary project activities for phase one primarily include the relocation of 62km of the Karakorum Highway to a higher elevation, 81km of right bank access roads, a 45km-long, 132kV transmission line from the Duber Khwar hydropower plant to Dasu, land acquisition, construction of accommodation facilities, and development of resettlement sites.
Other ancillary activities involve the construction of access roads, bridge, tunnels, and offices.
Land acquisition and phase one construction works are currently underway. WAPDA plans to acquire a total of 9,970 acres of land, out of which 2,029 acres is planned for main civil works construction. More than 741 acres were acquired as of October 2018.
Construction of right bank access roads, relocation of Karakoram Highway (KKH), construction of transmission line and grid station, and diversion tunnel inlets was underway as of the fourth quarter of 2018.
Dasu RCC dam design details
The RCC dam will have an overall height of 242m and a crest length of 570m. It will integrate eight spillway gates, nine low-level outlets, two circular flushing tunnels, two circular headrace tunnels, four D-shaped tailrace tunnels, and two coffer dams. Francis turbine generators will be installed at the plant site.
The reservoir created by the dam will be 74km-long and 365m-wide, with a storage capacity of 1,410 million cubic metres.
Grid connection details
The output from the project will be transferred to Islamabad via Mansehra for connection with the national grid via a 500KV D/C transmission line.
Construction of the transmission line and the subsequent operation of the facility are being performed by National Transmission and Despatch Company (NTDCL), who has awarded the consultancy contract for designing, engineering, and construction supervision to Korea Electric Power Company (KEPCO).
Contractors involved in the Indus River hydropower plant
"The reservoir created by the dam will be 74km-long and 365m-wide, with a storage capacity of 1,410 million m³."
The feasibility study for the project was conducted jointly by Associated Consulting Engineers (ACE), National Engineering Services Pakistan (NESPAK), Montgomery Watson Harza Energy and Infrastructure, Colenco Power Engineering, Dolsar, as well as Binnie and Partners.
Nippon Koei is providing detailed engineering and consulting services for the project. Main civil contract works are being performed by CGGC, China.
The relocation of a 25km stretch of Karakorum highway from Dasu town to Kaigah and the construction of 12km stretch of the right bank access road from Komila to the dam site are being performed by China Civil Engineering Construction Corporation (CCECC).
China Gansu International Corporation for Economic and Technical Cooperation (CGICOP) was awarded a $36m (Rs4.9bn) contract for the construction of the project colony and associated infrastructure such as water supply and water treatment works, electrification of colony, and roads.
The 132kV transmission line from Duber Khwar HPP to Dasu is being constructed by Power China.
Financing for phase one of the Pakistani hydropower project
Phase one of the Dasu hydropower project is estimated to require an investment of $4.3bn. The World Bank is assisting phase one with an International Development Association (IDA) credit of $588.4m and an IDA Partial Credit Guarantee (PCG) of $460m.
A consortium of local banks led by HBL bank extended financing of Rs144bn ($1.03bn), the first tranche of which was released in May 2017. Credit Issue Bank agreed to offer $350m, of which the first tranche of $188m was released in June 2017. A commercial loan of $2bn is proposed to be obtained from local and foreign banks by utilising the World Bank's PCG.