The Jebel Ali M-Station will be expanded to 2,760MW capacity by 2018. Credit: Dubai Electricity and Water Authority.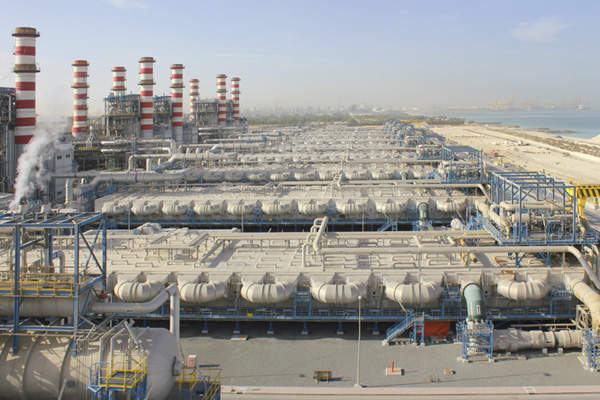 Eight Multi-Stage Flash desalination units are installed at the station. Credit: Fisia Italimpianti.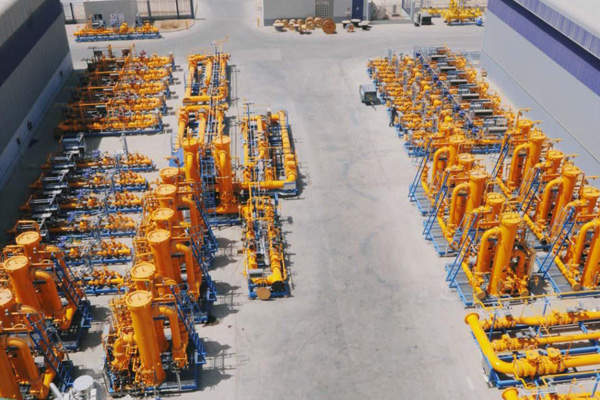 Filter vessels and gas metering skids for the power and desalination station were supplied by Process Group International. Credit: Process Group Pty. Ltd.
Jebel Ali M-Station, UAE's biggest power production and desalination plant, has an installed capacity of 2,060MW and 140 million imperial gallons of water per day (MIGD).
It is located along the shore of the Arabian Gulf, adjacent to the Jebel Ali Free Zone, and within the Jebel Ali Power Plant and Desalination Complex, which accommodates six other stations and produces 7,800MW of electricity. Dubai Electricity & Water Authority (DEWA) is the operator.
Commissioned in April 2013, with a total investment of approximately AED10bn (approximately $2.7bn), the Jebel Ali M-Station is the latest addition to the complex. Its installed capacity is sufficient to serve the electricity needs of approximately one million households in Dubai.
DEWA decided to increase the plant's power production capacity by 700MW. The expansion contract was awarded to Siemens in February 2015 and is scheduled to be completed by April 2018. This is valued at AED1.47bn (approximately $400m) and Mott MacDonald is the consultant for the project.
M-Station expansion details
The expansion project will involve the installation of two additional gas turbine generators, as well as two heat recovery steam turbine generators and one backpressure steam turbine. These will increase the plant's thermal efficiency from an existing 82.4% to 85.8%.
DEWA's installed power capacity is set to reach 10,356MW with the completion of the expansion. It currently has an installed capacity of 9,656MW of electricity and 470MIGD of desalinated water.
Details of Jebel Ali M-Station
Gas turbines are fitted with dry-low NO₂ combustion chambers for natural gas (primary fuel) and diesel oil (back-up fuel) fuel operations.
"The desalination plant consists of eight 17.5MIGD desalination units."
The desalination plant consists of eight 17.5MIGD desalination units, which use the Multi-Stage Flash process with brine recirculation, and four boilers.
Siemens also introduced its wet compression technology at Jebel Ali M-Station as a pilot project. This uses water injection to increase the power output of a gas turbine by 15% within 20 minutes, by reducing the compressor inlet temperatures, using no extra fuel.
Contractors involved
Fisia Italimpianti, Gruppo Impregilo and Doosan Heavy Industries served as the general contractors for the power and desalination plant. Fichtner was the consultant and was also involved in the construction of the 400kV switchyard.
Alstom supplied three 220MW COMAX steam turbines and TOPAIR air-cooled turbogenerators under a contract worth €60m (approximately $68m).
The electrical contractor for the project was the Korea Electrical Contractors Association. Hyosung Power & Industrial Systems supplied 16 high-voltage motors for the station, while filter vessels and gas metering skids for the station were supplied by Process Group International.
Cortec provided its patented MCI technology to protect the site's reinforcing metal in concrete materials from corrosion. Painting works for the structures and equipment were performed by Cana Oil & Gas Services and Construction Company.
The brine recirculation pump was supplied by Torishima and a double suction volute pump was supplied by Kubota. Inco fabricated eight units of cladded piping for the desalination plant.
Meteomarine and morphological studies, including the final design of marine works for seawater outfall and slipway, were performed by Idrotec.
Other contractors involved include Sejong Corporation and Lianyungang Zhongfu Lianzhong Composites Group.