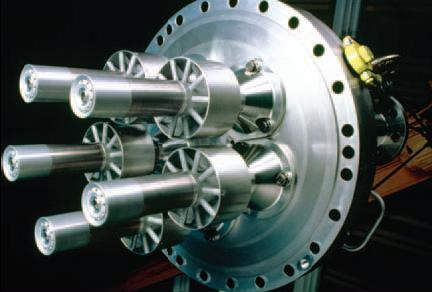 Dry Low NO<sub>x</sub> combustor systems help meet environmental emissions requirements.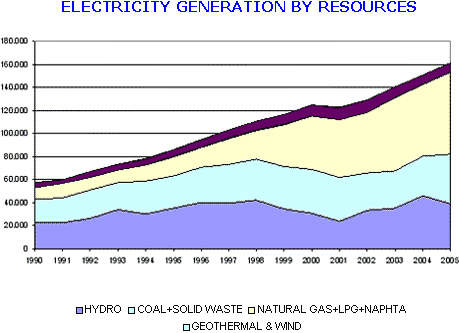 Turkish electricity demand by resources.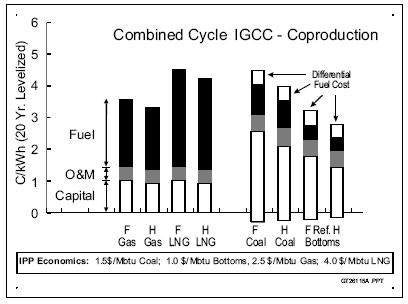 Cost of electricity comparison for various technology and fuel options.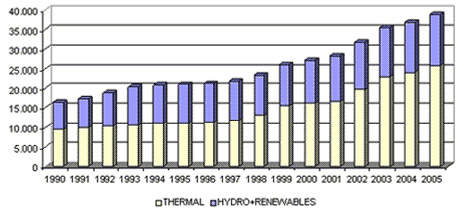 The total Turkish installed capacity was 38,762MW by 2005. Of this, 66.7% comes from thermal, 33.2% by hydro and 0.1% by geothermal and wind power plants.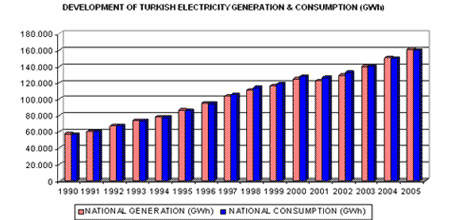 Turkish energy demand and consumption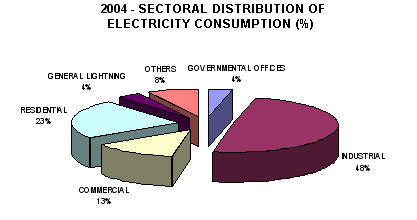 The industrial share of Turkish electricity consumption has declined from 62.4% in 1990 to 49.0% in 2004, while the residential share rose from 19.6% to 22.8%.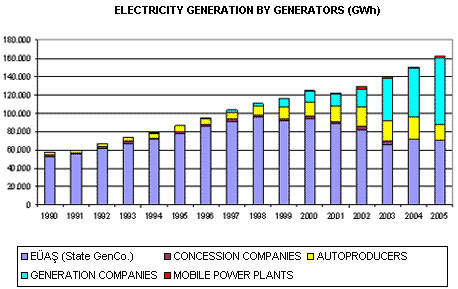 Private energy supply is growing in Turkey, which has a state-owned generator (EÜAŞ and affiliated companies), generation companies (including BOT and BO plants), auto producers and mobile plants.
Two of GE Energy's Frame 6C gas turbines have begun commercial operation at the 130MW Kemalpasa power plant in Izmir, Turkey. GE has supplied a GE 206C combined-cycle package, which includes two Frame 6C gas turbine-generators and one GE steam turbine-generator.
The plant is owned and operated by Akenerji of Istanbul, one of Turkey's leading private electricity producers.
GE has also supplied two heat recovery steam generators and a distributed control system for the Kemalpasa plant. The order is the latest in a series of projects for GE in Turkey; with over 30 GE heavy duty gas turbines having been installed or ordered for projects in the country.
Akenerji procured the major equipment from the plant from General Electric Company and General Elektrik Ticaret ve Servis A.Ş. Akenerji paid US$17,465,400 and €31,975,183 to the two companies for gas turbines, steam turbine, waste recovery boilers and control systems.
PERFORMANCE TESTING COMPLETED
"The order is the latest in a series of projects for GE in Turkey; with over 30 GE heavy duty gas turbines having been installed or ordered for projects in the country."
The first turbine, with above 2,300 pieces of special instrumentation, was validated early in 2005. Performance testing of the whole combined-cycle system was completed on 2 November, and Turkish Ministry of Energy and National Resources tests were successfully completed on 9 November. Test results met all requirements for commercial operation on the Turkish grid using natural gas and distillate oil.
The tests included grid synchronisation of the generators, load rejection, island mode operation and primary frequency control. Output and heat rate were also checked, along with pollutant and noise emissions, and protection and safety systems.
The two turbines were operated in simple cycle during the combined-cycle commissioning phase, and had notched up 5,500 operating hours by 8 December.
IMPROVED SINGLE-CYCLE EFFICIENCY
Introduced in 2003, the Frame 6C uses a gearbox to produce electricity for both 50Hz and 60Hz grids. Frame 6C offers a 5% improvement in simple-cycle efficiency over its predecessor, the 6B gas turbine. The 6C is optimised for heat recovery efficiency, with exhaust gases flowing through a lateral exhaust. The 206C combined-cycle configuration delivers above 130MW at 54% efficiency.
Emission limits for the Kemalpasa project are 25ppm NOx with natural gas. The Frame 6C can achieve 15ppm NOx and 9ppm CO dry from base load to less than 50% load operation.
45MW GAS TURBINE HAS 12-STAGE COMPRESSOR
GE has installed more than 900 MS6001B (6B) turbines worldwide, and it has accumulated more than 40 million operating hours of service. The MS6001C (6C) is based on the 6B, and designed for 50/60Hz electricity heat recovery. Key industry segments include industrial cogeneration, process industries, municipalities (district heating), combined heat and power and mid-sized combined cycle projects.
The turbine has a 12-stage compressor with reduced part count and removable blades and vanes. NOx emissions are limited to 15ppm dry when operating on natural gas, and 42ppm when burning light distillate with water injection.
The turbine allows less than 50% turndown while maintaining emissions guarantees. Three stages of compressor guide vanes ensure high efficiency at part load. The 6C also features an F-class modular arrangement and a Mark VI Speedtronic control system.
With simple cycle, the heat rate is nearly 10,000kJ/kWh. Pressure ratio is 19.6:1, with a mass flow of 122kg/s. The turbine speed is 7100rpm, and the exhaust temperature is 581°C. In combined cycle, the output is 136MW, when the turbine has a heat rate of over 6,000kJ/kWh.
The 6C features 6 can-annular combustion chambers with dual-fuel capability, and DLN-2.0 combustor (for 15ppm NOx with gas fuel).
PROJECT USES MARK VI CONTROL SYSTEM
The project uses GE's Mark VI integrated control, protection, and monitoring system. This also provides a platform for integrating all power island and balance-of-plant controls.
The basis of the control system is the Control Module, which is available in either a 13- or 21- slot standard VME card rack. Inputs are received by the Control Module through termination boards with passive signal conditioning.
"The project uses GE's Mark VI integrated control, protection, and monitoring system."
Each I/O card has a TMS320C32 DSP processor to digitally filter the data before converting it to 32 bit IEEE-854 floating point format. The data is then placed in dual port memory that is accessible by the on-board C32 DSP on one side and the VME bus on the other. In addition to the I/O cards, the Control Module contains an "internal" communication card, a main processor card, and sometimes a flash disk card. Each card takes one slot except for the two-slot main processor.
I/O data is transmitted on the VME backplane between the I/O cards and the VCMI card located in slot 1. The VCMI is used for "internal" communications between the main processor card, I/O cards, and I/O in backup Protection Modules and other Control Modules used in triple redundant control configurations.