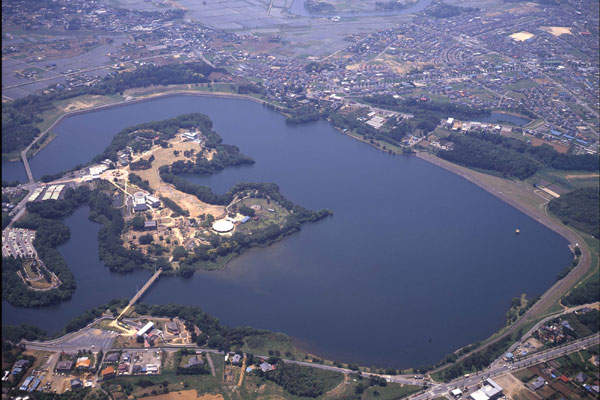 Kyocera floating solar power plant will be constructed on the Yamakura dam in Japan. Credit: Kyocera TCL Solar.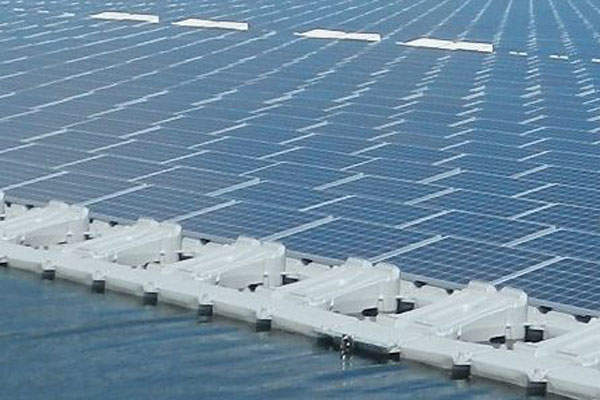 Approximately 50,000 solar modules will be installed over a water surface area of 180,000m². Credit: Kyocera TCL Solar.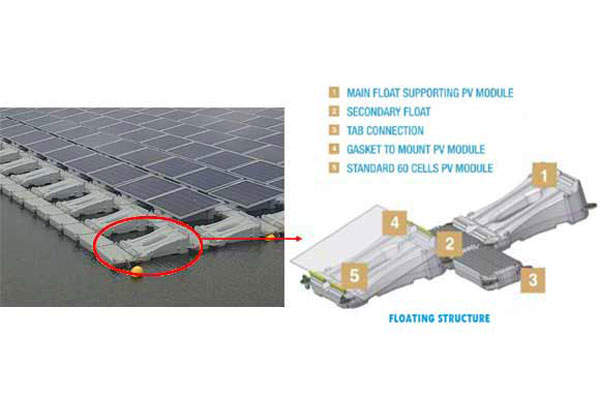 The floating solar platforms are developed and patented by France-based company Ciel et Terre. Credit: Kyocera TCL Solar.
Ichihara city in Chiba Prefecture, Japan, will soon see a 13.4MW floating solar power plant that will produce enough electricity to power approximately 4,700 households.
Kyocera TCL Solar, a joint venture formed by Kyocera Corporation and Century Tokyo Leasing, announced its plan to build the floating solar power plant in December 2014. The plant will be installed on Yamakura Dam reservoir, which is managed by the Public Enterprises Agency of Chiba Prefecture.
The facility is expected to become operational by March 2016 and the electricity generated will be sold to Tokyo Electric Power Company. It will be the world's biggest floating solar power generating system installed on water, as of January 2015.
Floating solar power plants in Japan
Finding land for utility-scale solar power plants has become a challenge in Japan due to the limited availability of land space and rapid implementation of solar power. The construction of solar power projects on lakes is considered to be a practical solution, as it allows the available land to be used for agriculture, conservation and other developments.
Moreover, Japan has a number of inland waterways and reservoirs built for agricultural and flood-control purposes that can be used for the development of solar power plants.
With an objective to reduce its burden on the environment, the Public Enterprises Agency of Chiba Prefecture began encouraging companies to build and operate a floating solar power plant at the Yamakura Dam. Kyocera TCL Solar was selected to undertake the solar power project.
Chiba Prefecture's floating solar power plant details
The 13.4MW floating solar power plant will be installed with approximately 50,000 solar installation modules developed by Kyocera. The modules will be installed over a water surface area of 180,000m².
The solar power plant will produce approximately 15,635MWh of electricity and offset roughly 7,800t of carbon dioxide emissions every year.
Floating solar PV platforms
The Kyocera floating solar power plant will use Hydrelio floating solar technology developed by Ciel et Terre. The floating platforms provide reliable support to solar panels that are installed on large water bodies such as lakes, reservoirs, canals and ponds.
The cooling effect of water on the PV panels enhances their energy production capacity and makes them more efficient compared with land-based systems of similar size. The panels also shield the water from the sun and reduce evaporation.
The panels have a lifespan of 30 years and a link resistance of 3,000DaN (3t). They can withstand wind speeds up to 118mph and changes in water levels of up to 20ft. The PV panels are also UV-protected, corrosion-resistant and are more durable than metallic units.
Key players involved with the floating solar power project
Kyocera TCL Solar will build and operate the solar installation. Century Tokyo Leasing will provide the required financing. Kyocera Group will be responsible for the supply of solar modules and related equipment, as well as construction, operation and maintenance.
The floating platforms for the solar modules will be supplied by Ciel et Terre, who will also provide technical input for installing the systems on water.
Marketing commentary on Kyocera TCL Solar
As well as manufacturing ground-mount systems and rooftop systems, Kyocera TCL Solar has started developing floating solar power generation systems aimed at Japan's abundant water surfaces.
Kyocera Solar began the construction of two solar floating plants with a combined capacity of 2.9MW at Nishihira Pond and Higashihira Pond in Kato City, Hyogo Prefecture, Japan, in September 2014.
The company aims to develop floating solar installations with a total capacity of 60MW by the end of March 2015.