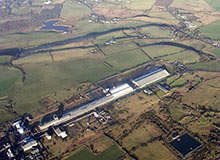 Mayo Renewable Power (MRP) started construction of its 42.5MW biomass-powered combined heat and power (CHP) plant, located at the Killala Business Park in County Mayo, following the declaration of the project's financial closure in June 2015.
The project site, covering an area of approximately 21.7ha, straddles the former Asahi Business Park, which was closed down in 1997, and adjacent land in Tawnaghmore, approximately 3.2km south of Killala.
With operations expected to start in mid-2017, the renewable power plant will be the biggest biomass-based power plant in Ireland and will generate enough electricity to power approximately 68,000 homes a year. It will also help Ireland meet the target of generating 40% of its electricity through renewable sources by 2020.
---
---
The Brigg Biomass power plant is a 40MW straw-fired power station under development near the town of Brigg, North Lincolnshire, UK.
---
The project is expected to generate approximately 350 construction jobs and 30 permanent jobs.
Financing the Irish biomass power project
The total investment for the project is estimated to be €180m ($202m). It is being financed through equity backing from Weichert Enterprise and loans from Ulster Bank Ireland, Allied Irish Bank (AIB) and Barclays Bank Ireland.
The project qualifies for Ireland's Renewable Energy Feed-In Tariff (REFIT) programme, under which renewable power producers are ensured of a minimum fixed price for the electricity they sell through to 31 December 2030.
Make-up of MRP's combined heat and power plant
The main components of the plant will include a boiler house and main stack, a turbine hall, a water treatment plant integrating a reverse osmosis system, and a fire-fighting pump house. It will also contain storage tanks, an auxiliary transformer, a step-up transformer, a generator, a 2,500 kilo-volt-ampere (kVA) backup generator, fuel storage domes, belt dryers and a fuel processing plant adjacent to the power plant.
A dryer system will pre-dry the feedstock before it's burned in the boiler. The boiler system, integrating stoker grate technology, will be designed to constantly produce 204,953kg/h of 116.18 bar steam at a temperature of 510ºC. Steam from the boiler will drive a steam turbine generator to produce electricity.
The power plant will re-use approximately 20% of the process heat generated for fuel drying and convey the remaining to industrial customers. Ash produced by the burning of feedstock will be used as an additive to fertiliser.
The power plant's boiler system will be equipped with a selective catalytic reduction (SCR) system to control nitrogen oxide emissions as well as a multi-cyclone dust collector and electrostatic precipitator (ESP) to control dust emissions.
Feedstock for the CHP plant
The new biomass power plant will be powered by a combination of peat and woodchips, sourced from a variety of sources which will include locally-grown willow and spruce from local forestry and forestry thinnings. A portion of the same materials will also be imported from the US.
The power plant is expected to use approximately 34.5t/h or 278,171t a year of fuel, whereas the wet fuel delivered to the site will range between 350,000t and 435,000t a year.
Grid connection of Ireland's biggest biomass-based power plant
"The new biomass power plant will be powered by a combination of peat and woodchips, sourced from a variety of sources which will include locally grown willow, and spruce from local forestry and forestry thinnings."
The electrical output from the CHP plant will be fed to a transformer, which will increase it up to 110kV before exporting to the national electricity grid's 110kV transmission system via three high-voltage transfer lines and three low-voltage transfer lines.
ElectroRoute has been appointed to operate and manage the sale of electricity from the project to the Irish electrical market.
Contractors involved with MRP's biomass project
Veolia's subsidiary, Veolia Energy Services was awarded a €450m ($506m) contract in June 2015 to operate the power plant for 15 years. Veolia will also be responsible for supplying all the biomass fuel required for the facility as well as the external sale of products in Ireland and Europe.
RKD Architects was the architect for the project, the main construction contractor is John Sisk & Son.
The project's environmental appraisal report was prepared by Arup in collaboration with Stephen Dowds and Associates, Moore Group and Factory Sales and Engineering. Dowds Associates prepared the planning application for the project.
McCann FitzGerald advised the owner on the planning, development and financing of the plant, Merrimac Associates is the owner's engineers, RWE Power International is the owner's advisor. Bruce Shaw is providing risk management and expenditure accountability to the owner, and Fingleton White is serving as the balance-of-plant design engineers.