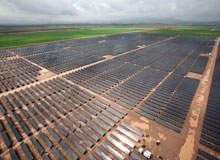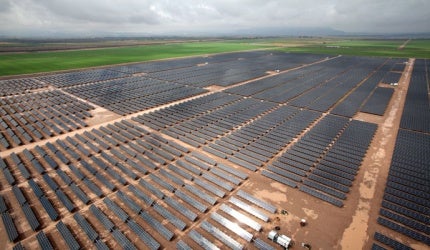 The Mount Signal Solar Project, also known as Imperial Valley Solar 1 (IVS1), is a utility-scale photovoltaic power plant, located in Imperial County, California, approximately 100 miles (160km) east of San Diego.
The 206MW plant is owned by Silver Ridge Power (formerly AES Solar), a joint venture between the AES Corporation and Riverstone Holdings. The plant was co-developed by 8minutenergy Renewables.
Construction was completed in May 2014 and commercial operation is expected to begin later in the year. When operational, it will be among the largest single-axis tracker solar power plants in the world. It will produce enough energy to power 72,000 homes in the San Diego Gas & Electric (SDG&E) service territory.
A 25-year power purchase agreement has been signed with SDG&E to purchase the plant's power output.
Development of the photovoltaic plant
The project is spread over 801ha of low productivity farmland and includes over three million photovoltaic modules, which rotate on a north-south axis tracking the path of the Sun, thereby generating maximum energy throughout the day.
---
---
A 250MW solar photovoltaic (PV) power project developed in San Luis Obispo County.
---
It is the first of three phases of approximately 800MW-dc (600MW-ac) to be constructed. The construction has been supported by environmental groups such as the Sierra Club, Audubon California, Defenders of Wildlife and the Natural Resources Defense Council. It is the first solar power generating facility in the Californian desert that has gained such support.
In April 2012, the Imperial County Board of Supervisors gave its approval, and financial closure was then reached. Preconstruction started in November of the same year, followed by the official groundbreaking ceremony in February 2013.
SDG&E's Sunrise Powerlink transmission line, completed in 2012, will transport the energy from Imperial Valley to San Diego, and the plant will connect with SDG&E's Imperial Valley substation.
DuraTrack HZ technology
The plant uses the DuraTrack HZ, a durable tracker supplied by Array Technologies. It has specifically engineered bowed tracker racks, providing stability and support for frameless thin-film module applications. The bow-truss solution cuts down unnecessary material and labour, and increases installation speeds.
Environmental and economical benefits
The plant will mitigate approximately 356,000t of carbon dioxide a year, which is the equivalent of what approximately 15 million trees would displace annually.
"Google became a partner and invested approximately $103m in October 2013."
During peak construction, the project created over 700 direct jobs in the area.
Financing
The project was financed in two tranches, including a long-term institutional tranche worth $416m, led by Morgan Stanley & Co and Citigroup Global Markets as joint lead placement agents, and Rabo Securities USA and DNB Markets as co-placement agents.
The second tranche was a $220m cash-grant loan provided by Morgan Stanley Senior Funding and Citibank. Google became a partner and invested approximately $103m in October 2013.
Companies involved in development
Abengoa was awarded a contract worth $365m for the engineering, construction and commissioning of the plant. The preconstruction works, which included transmission, land and economic analysis, siting, land acquisition, permitting, and engineering and environmental studies, were handled by 8minutenergy and AES Solar.