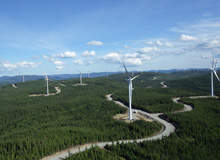 The Rivière-du-Moulin wind farm in Quebec, Canada, is being developed by EDF EN Canada, a subsidiary of EDF Renewable Energy. With an installed capacity of 350MW, it will be the biggest wind farm in Canada being constructed under a single power purchase agreement (PPA).
The $800m wind power project is being developed in two phases. Construction approval was received in January 2013. Construction on the 150MW first phase began in 2013 upon receipt of approval in January 2013 and was commissioned in November 2014. The 200MW second phase construction began in 2014 and commissioning is expected in December 2015.
The project created 565 jobs during the peak construction activity and is expected to create 20 operational jobs.
Rivière-du-Moulin wind farm location and background details
---
---
The 300MW wind farm located in Vulcan County, Alberta, Canada.
---
The onshore wind farm is being constructed within the unorganised territories (UT) of Lac Pikauba and Lac Ministuk in Charlevoix and Fjord-du-Saguenay regional county municipalities (MRCs) of Quebec, Canada.
Rivière-du-Moulin is one of five wind projects selected by the Canadian energy supplier Hydro-Quebec Distribution in its 2007 request for proposal (RFP) for the purchase of wind power in Canada.
The other four wind projects tendered by Hydro-Quebec included Aguanish Wind Farm (80MW), Massif-du-Sud Wind Farm (150MW), Lac-Alfred Wind Farm (300MW) and Clermont Wind Farm (74MW).
The St Laurent Énergies consortium (SLE), comprised of EDF EN Canada, Hydromega and RES Americas' affiliate RES Canada, emerged as the highest bidder for these five wind projects with a combined capacity of 954MW, in May 2008. However, Hydromega left the consortium in March 2010 and RES Canada sold its 30% stake in SLE to EDF EN Canada in 2011.
Rivière-du-Moulin wind turbine details
The Canadian wind farm will consist of 175 REpower MM82 and MM92 type wind turbines, each with a nameplate capacity of 2MW. The MM92 wind turbines have a rotor diameter of 92.5m, blade length of 45.2m and swept area of 6,720m².
With a rotor diameter of 82m and blade length of 40m, each MM82 turbine will provide a swept area of 5,281m².
Of the 175 turbines, 153 will measure 414ft above ground level (AGL), while the remaining 22 are expected to have a height of 397ft AGL. Turbines will be installed at an elevation of 2,826ft above sea level (ASL) at the northern end and 3,786ft ASL at the southeast end.
Rivière-du-Moulin wind farm construction
"The line is supported by 75 guyed lattice towers with heights ranging between 27.9m and 48.1m."
Major associated construction works for the wind farm project include 140km of access roads, 80km of which were completed in 2013, with the rest completed in 2014.
As of September 2014, 79 of the 175 turbine bases were installed and 72 turbines were fully assembled. Construction of 139 concrete foundations was completed by that time.
Sale and transmission of power from the wind farm
The entire power generated at the Rivière-du-Moulin farm is sold to Hydro-Québec. For this purpose, a 26km long 345kV single-circuit line was constructed to connect the wind farm's switchyard to the Delisle-Laurentides line (circuit 3095) in the MRC of La Côte-de-Beaupré.
Hydro-Quebec started construction of the power line in 2013 and commissioned it in September 2014. The line is supported by 75 guyed lattice towers with heights between 27.9m and 48.1m.
Contractors involved
REpower Systems, a subsidiary of Suzlon Group, was awarded the contract for the delivery and installation of 175 MM82 and MM92 type wind turbines for the wind project in January 2013. LM Wind Power is the supplier of turbine blades and towers for the wind farm.
SDV Canada was engaged to provide logistics and transport solutions for the wind farm. The contract for the assembly of electrical converters was awarded to SEG Woodward.
Construction Énergie Renouvelable (CER) was contracted for the design and construction of the wind farm and installation of the electrical substation in 2013.