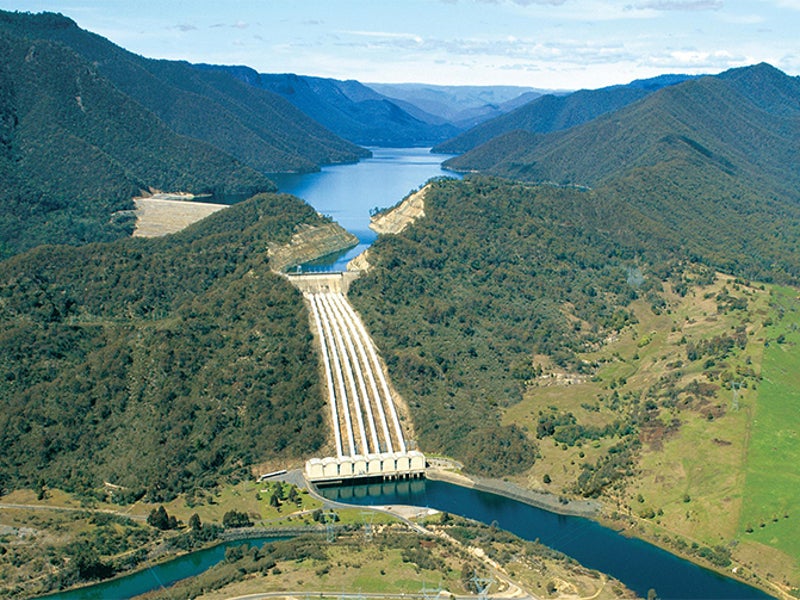 Snowy 2.0 is an expansion of the Snowy Mountains Hydroelectric Scheme, which was commissioned in 1974. It will become Australia's biggest green energy project and the world's biggest pumped storage plant, upon completion.
The plant is being developed by Snowy Hydro with an estimated investment of A$5.1bn ($3.62bn) and is expected to be commissioned in 2024.
The Government of New South Wales issued planning approval for exploratory works of the project in February 2019. A comprehensive environmental impact statement (EIS) for the main works of the project is expected to be submitted in 2019.
The plant will help deliver reliable and affordable energy by adding 2GW of hydroelectric generation capacity to the Snowy Scheme, which has an installed capacity of 3.8GW.
Snowy 2.0 hydropower project details
The proposed Snowy 2.0 pumped hydroelectric storage and generation project will involve the construction of a series of 27km of concrete-lined tunnels that will connect the existing Tantangara and Talbingo reservoirs located within the Snowy Scheme in New South Wales.
A new power station with pumping facilities will be built approximately 1km underground between the two reservoirs. It will include six reversible Francis pump-turbine and motor-generator units, of which three units will be of variable speed while the remaining will be of synchronous speed.
The underground power station will also feature a machine and transformer hall with six galleries.
The pressure shaft and penstock will be shared among the units that will be arranged in alternating pairs.
Large volumes of water will be stored in the Tantangara reservoir, which is located at a higher elevation than Talbingo reservoir, and will be used for on-demand electricity generation.
Snowy 2.0 power plant timeline and construction
The feasibility study for the Snowy Mountains Hydroelectric Scheme expansion was published in January 2018, while the final investment decision was achieved in December 2018.
"The expansion project will provide 350GWh or 175 hours of energy storage, which is enough to power approximately 500,000 homes during peak demand."
Construction of the project is planned to be completed in five phases. Phase one, which is currently underway, includes exploratory works such as the construction of an exploratory tunnel, portal, construction pad and compound, modernisation of site access roads, and creation of barge infrastructure at Talbingo Reservoir.
The expansion project also involves the construction of intake-outlet structures at both reservoirs, emplacement of excavated rock in Talbingo Reservoir, and supporting infrastructure.
The tunnelling and excavation works will be performed using drill and blast techniques as well as tunnel boring machines.
Transmission details
The existing New South Wales transmission system will be modernised to establish a direct connection between the new power station and major load centres within the state.
A new transmission substation will be constructed in Bago State Forest to link Upper Tumut and Lower Tumut substations.
A pair of new double-circuit transmission lines with a length of 4.5km each will be built between the Snowy Hydro 2.0 generator site and the new Maragle substation.
Financing
The Australian Federal Government authorised an investment of A$1.38bn ($981m) for the hydroelectric project in February 2019. The remaining costs will be funded by Snowy Hydro.
The Australian Renewable Energy Agency (ARENA) provided A$8m ($6m) grant for the feasibility study.
Contractors involved
SMEC conducted the feasibility study of the Snowy 2.0 hydropower project under a contract awarded by Snowy Hydro in May 2017.
Future Generation, a consortium of Salini Impregilo, Lane, and Clough, was awarded a contract to perform the civil and electro-mechanical works for the Snowy 2.0 hydropower project in April 2019.
Voith Hydro was selected as the preferred contractor to perform electrical and mechanical works as well as to supply the latest hydropower generation technology for the new power plant.
Leed Engineering is responsible for the pre-construction and exploratory works, while TransGrid was appointed to build the transmission lines.
Snowy 2.0 hydropower project benefits
The expansion project will provide 350GWh or 175 hours of energy storage, which is enough to power approximately 500,000 homes during peak demand.
It will also improve local infrastructure and boost the economy through job creation. An estimated 2,400 jobs will be generated during the construction phase and up to 5,000 direct and indirect jobs will be created by the project in the Snowy Mountains region.
The Snowy 2.0 hydropower project will also help reduce the wholesale electricity prices in Australia by addressing power shortages.