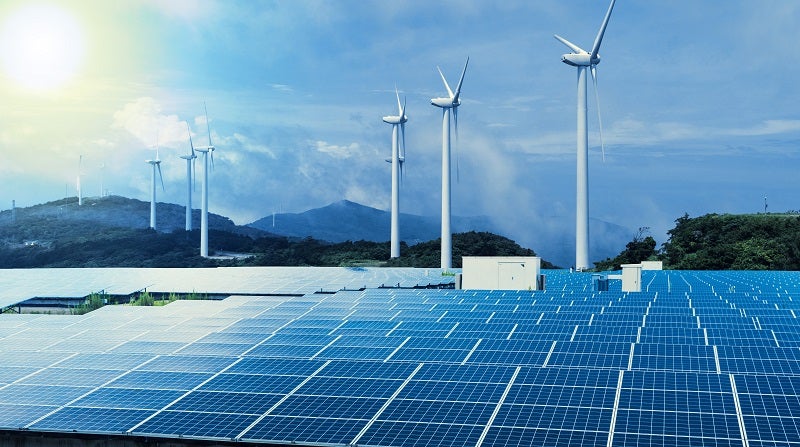 Texaco® HDAX® 9500 SAE 40, specifically designed for use in landfill gas, biogas, anaerobic digestion gas and sour gas applications, has proven its worth in a series of tests carried out on-site with a key Italian energy company, known across Europe for its use of renewable energy sources.
This important Italian energy company builds and manages biogas, biomethane, wind and solar power plants, traditionally relying on another of Texaco's gas engine oils, Texaco HDAX 6500 LFG for its gas engines.
On-site tests
Experts at Texaco Lubricants recommended that the energy manufacturer replace Texaco HDAX 6500 LFG with Texaco HDAX 9500. Performing a series of tests on-site using specific engines, the tests were carried out at the Italian plant on two Jenbacher J300 series engines powered with biogas from landfill, an acidic gas that can be particularly aggressive on engine components.
Samples of Texaco HDAX 9500 were analysed using Texaco's Lubewatch oil analysis programme, and then compared with archive data relating to the same engines lubricated with Texaco HDAX 6500 LFG.
Results of on-site tests
Texaco Lubricants' experts used two parameters to compare the performances of Texaco HDAX 6500 and HDAX 9500 gas engine oils: consumption of the engine oil and equipment downtime, factors selected as representing the most significant costs linked to the use of gas engine oils.
Concerning the consumption of gas engine oil was concerned, the move from Texaco HDAX 6500 to HDAX 9500 involved overall savings on the first engine of 1,885 litres/year and on the second engine of 2,034 litres/year. The equipment downtime hours also fell overall by eight hours for the first engine and 10 hours for the second engine, with a subsequent added reduction of manpower maintenance costs on both engines.
Greater profitability
The results achieved by Texaco HDAX 9500 on-site demonstrate how the engine oil can help make the business of producing energy from biogas more profitable in terms of the savings on gas engine oil consumption. The reduced consumption of oil and to the prolonged intervals between oil changes, translte into greater uptime and reduced manpower costs associated with maintaining equipment.
Greater engine component protection
TBN (Total Base Number) analysis is one of the most important parameters in assessing the quality of the gas engine oil, especially in the long term. It can be seen from the graph below that the limits set by the OEM were reached after 1,000 operating hours with Texaco HDAX 6500 and after 2,200 hours with Texaco HDAX 9500. Because the TBN measures the capacity of the gas engine oil to neutralise acids, it is clear that Texaco HDAX 9500 maintains its ability to protect the engine parts during extended periods of oil service, an important consideration when working with particularly aggressive gas. Texaco HDAX 9500 helps contribute to the control of carbonaceous deposits on pistons, with good wear-prevention and anti-scuffing performances, helping to prolong the engine's life cycle, which in turn leads to greater operativity and profitability.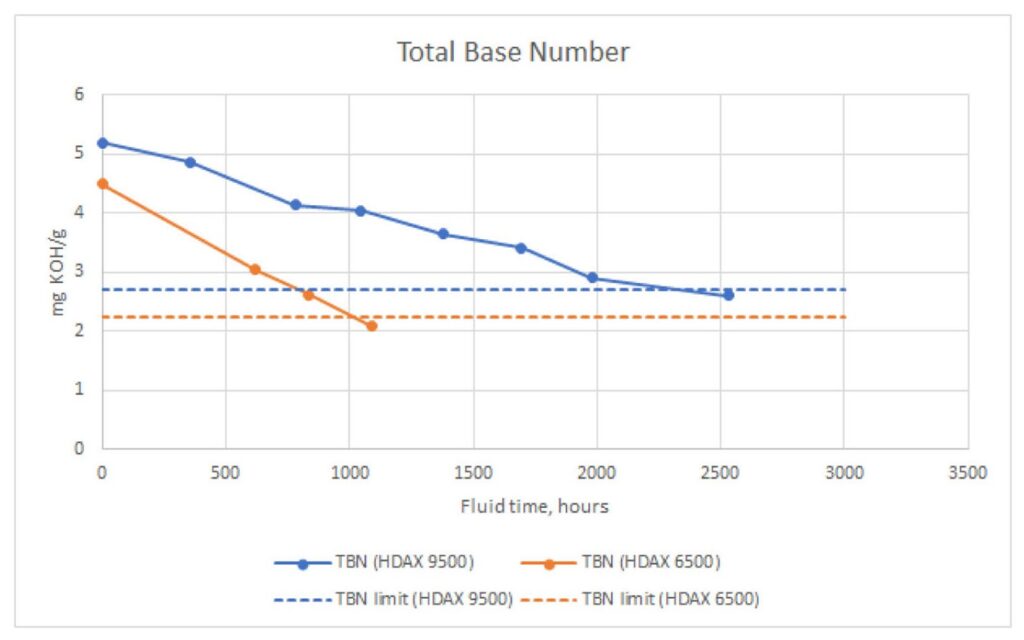 Texaco HDAX 9500 supports the developing market
The results achieved on-site prove to be even more important when considering the fact that using Texaco HDAX 9500 gas engine oil helps contribute to making the business of producing energy from biogas even more profitable, in terms of the savings on gas consumption. Such commercial advantages are key in a sector that can find profitability tough, despite the strategic role biogas plays in helping to achieve increasingly tighter emissions reduction targets.
In order to help make gas engines more efficient, OEMs are designing engines that can resist increasingly high pressure and temperatures. Research is also progressing on developing components capable of resisting ever higher temperatures. Texaco HDAX 9500 is a current and future solution for gas engines, capable of complying with legal and OEM requirements while helping to reduce the consumption of gas engine oil, which in turn helps to generate greater profitability.