The Covid-19 year of 2020 was the year that the energy transition stepped up a gear: big emitters including China and Japan pledged to reach net-zero greenhouse gas emissions by mid-century, the European Green Deal was approved, and President Joe Biden was elected to replace the climate sceptic Donald Trump. In the same year, renewables continued to be rolled out at breakneck speed, with new generation capacity growing 7% year-on-year, as global energy demand fell 5%. Clean energy companies significantly outperformed conventional rivals.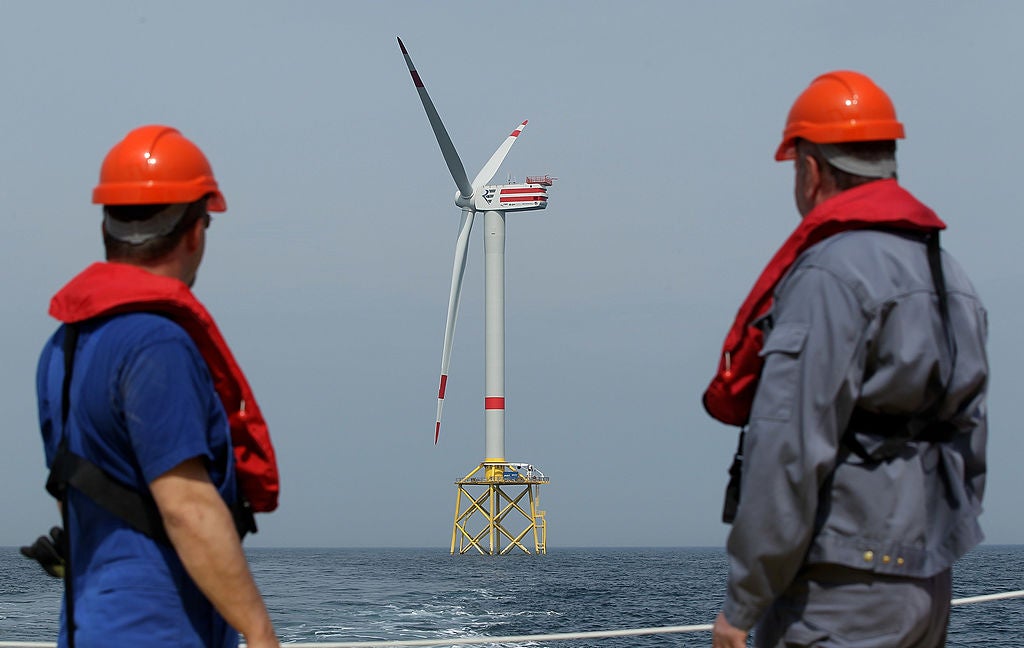 The years that followed have seen a resurgence in the fortunes of oil and gas companies, but renewable capacity installations continue at a record pace, with companies competing to make the most of the economic opportunity the energy transition represents – and provide an alternative to Russian fossil fuels in the wake of the Ukraine war.
To provide an understanding of the companies most aggressively expanding in renewable energy, Energy Monitor has tracked the biggest buyers of renewables assets between 2020 and the start of February 2023. The data is provided by GlobalData, Energy Monitor's parent company. We define "biggest buyers" as the companies that have undertaken the most publicly announced purchases of renewable energy assets and companies via mergers and acquisitions (M&A).
The list provides an indication of the companies that will be the key private sector players as countries continue on their journey to net zero. It includes clean energy specialists, traditional utilities and private investment funds – all united in their ambition to maximise profit from the global energy transition.
Renewables top ten by M&A activity
1. Sonnedix (54 deals)
Established in 2009, Sonnedix is a leading renewable energy generator, holding a vast portfolio with a total installed renewable energy generation capacity of more than 9GW, with 400 solar PV plants. Majority-owned by institutional investors, the France-based company's operations are spread across the world in Chile, France, Germany, Italy, Japan, Poland, Portugal, Spain, the US and the UK.
Having undertaken more than 50 M&A deals since 2020, Sonnedix is by far the biggest renewables dealmaker in GlobalData's database. M&A is a key stated aim of the company. "We seek new opportunities to support our growth strategy, searching for operating plants that can bring value to our shareholders," says Sonnedix's website.
2. Encavis (35 deals)
Encavis is a publicly listed German renewable energy giant that operates solar and wind farms throughout Europe. The company's "core business" is the acquisition and operation of solar and wind farms; in fact, Encavis purchased a German wind farm from Energiekontor in the same week that Energy Monitor extracted the data for this article.
State-guaranteed feed-in tariffs or power purchase agreements provide the company with a "stable and predictable income", says the company's website. M&A activity is spearheading significant expansion: wind and solar output increased by 14% and 21%, respectively, in 2022 compared with 2021.
3. Greenbacker Renewable Energy (34 deals)
Founded in New York by financial industry veterans in 2011, Greenbacker is a private company that acquires and manages income-generating renewable energy assets, primarily within North America.
Having undertaken 34 M&A deals since 2020, the company is now a market leader in sustainable infrastructure investing with a diversified renewables portfolio. Nearly all the deals undertaken by Greenbacker that are recorded by GlobalData are the purchase of solar, wind or energy storage assets in the US.
4. Octopus Group (30 deals)
The Octopus Group is a growing renewable energy behemoth, now with more than £12bn ($14.43bn) of assets under management. The company includes real estate, renewable energy and consumer businesses. Octopus is one of the largest owners of renewable energy infrastructure in Europe, managing more than 240 large-scale green energy projects with a combined generation capacity of more than 3GW.
GlobalData's database shows the company buying up wind farms, solar farms and other assets across 11 countries since 2020.
5. Enel (27 deals)
The first major utility on the list, Enel is an Italian giant, operating in 30 countries and recording €88bn ($93.94bn) in revenue in 2021. A quarter-owned by the Italian government, it is the second-largest utility by revenue in the world after the State Grid Corporation of China.
The 27 M&A deals Enel has closed since 2020 are representative of the company's energy transition strategy. The company aims to completely decarbonise its portfolio of power generation assets within the next two decades, so that by 2040, all of its electricity comes from hydroelectric, wind, solar, geothermal, biomass and cogeneration plants.
6. Engie (25 deals)
Engie is another European giant, operating in 48 countries worldwide. It is a quarter-owned by the French state and recorded €58bn in revenues in 2021.
Like Enel, the 25 deals the company has participated in since 2020 reflect a strategic shift towards clean energy. In 2015, Engie announced it would stop all new investments in coal plants, and would begin a €22bn renewables investment programme. Today, the company operates more than 10GW of wind power and 4GW of solar power projects, and aims to reach a massive 80GW of installed renewable energy generation capacity by 2030.
7. Lightsource BP (23 deals)
Lightsource BP is now 50% owned by British oil giant BP but remains an independent company based in London. It is the largest solar developer in Europe, and the third-largest in the world outside of China.
[Keep up with Energy Monitor: Subscribe to our weekly newsletter]
All the company's M&A activity involves the purchase of solar portfolios. The company has a 4GW solar project development pipeline in Spain alone (even after recently disposing of assets there).
8. Iberdrola (22 deals)
Iberdrola is the world's third-largest utility by market capitalisation, reporting annual revenues of €39bn in 2021. The Spanish electricity major has positioned itself at the forefront of the energy transition: it is the world's leading wind energy company, with more than 15,000 wind turbines in operation at 415 sites in 14 countries.
The company's deals since 2020 span ten different countries. All are in Europe, other than Australia, where five solar and wind purchases were made, and Vietnam, where the company purchased Sowitec Vietnam, and in doing so added five wind projects under development and a floating solar farm to its portfolio.
9. BayWa (19 deals)
Founded in 1923, German agribusiness conglomerate BayWa only expanded into energy in the 21st century. Renewables now form the largest share of the multi-billion euro group's profits. Senior management for the company, which operates in more than 30 countries, were recently interviewed by Energy Monitor.
The companies' deals since 2000 span seven different countries including Japan and the US. The majority of deals involved the purchase of wind and solar farms.
10. Cubico Sustainable Investments (18 deals)
Cubico Sustainable Investments is one of the world's largest privately owned renewables companies, providing renewable energy across 12 countries: Australia, Brazil, Colombia, France, Greece, Italy, Mexico, Portugal, Spain, the UK, Uruguay and the US. It is jointly owned by the Ontario Teachers' Pension Plan and PSP Investments, one of Canada's largest pension funds, providing a steady income source to each.
The company currently has 2.7GW of installed renewable energy generation capacity, more than 400MW in construction and a 2GW development pipeline. Cubico has purchased assets via 18 M&A deals since 2020, largely involving the acquisition of wind and solar assets in Europe and the US.
10. Nautilus Solar Energy (18 deals)
Nautilus Solar Energy is a New Jersey-based community solar company, which is enabling communities across the US to build solar farms. A community helps to fund a new solar plant alongside Nautilus; Nautilus sells solar power to electric utilities via power purchase agreements; and the community receives cheaper energy bills as a result.
The company's 18 M&A activities since 2020 are the purchases of community solar projects around the US, to add to its existing community solar portfolio. The company is now one of the largest operators of solar power projects in the US, with operations in ten states.