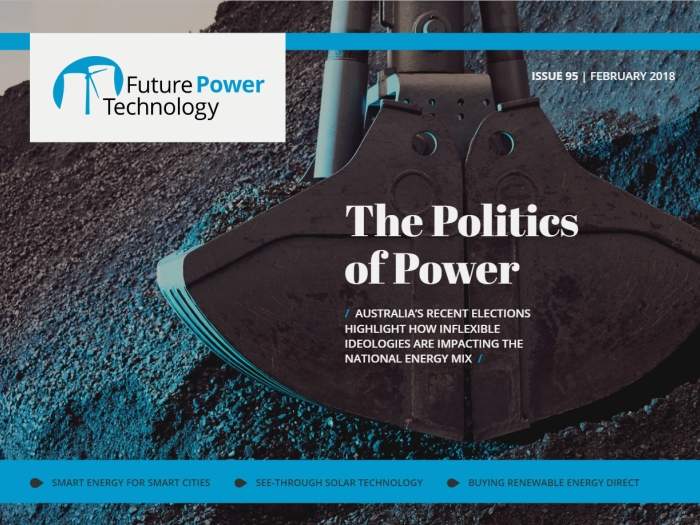 Future Power Technology is now available to read on all devices.
Efforts to keep the lights on are changing as cities expand and complex renewable technologies begin to feed into ageing electricity grids. We report on the World Smart City Expo in Barcelona where we spoke to the people behind the most innovative smart city projects and concepts.
We take a look at Hywind 's journey as the world's first floating wind farm comes online, uncover the status of entirely transparent solar concentrator developed by researchers at Michigan State University , and analyse the use of power purchase agreements in the US energy market to determine whether this direct-to-customer approach could help increase the viability of renewable power projects in Europe. We sat down with him to talk specifics. Speak to Tokamak Energy 's newly appointed CEO, former engineer Jonathan Carling , about his scientific perspective to cracking nuclear fusion.
Also, we unpack the politics of coal power, as a leaked report found that a viable and potentially useful coal plant proposal was buried due to a clash with the Australian Labor Party's agenda. Should ideologies be allowed to encumber solid business cases? We explore the arguments.
In this issue
Hywind: the world's first floating wind farm comes online
The world's first floating wind farm has kicked into gear and has already begun generating power off the coast of Scotland. The 30MW Hywind wind farm consists of five giant turbines installed off the coast of Peterhead in Aberdeenshire, and will generate enough electricity to power 20,000 homes a year. We take a look at the Hywind journey thus far and find out about the benefits of floating wind turbines.
Read more.
Smart city, smart energy
Keeping the lights on and industry whirring is no easy task, and it is changing as cities expand and complex renewables begin to feed into ageing electricity grids. We attended the World Smart City Expo in Barcelona to learn about the most innovative smart city projects and speak to the people behind the concepts.
Read more.
See through solar, are we there yet?
Researchers at Michigan State University have developed a new transparent, luminescent solar concentrator that can be placed on windows to generate energy. It's not the first transparent solar product but is the first to pick up only the ultraviolet and near-infrared wavelengths needed to create electricity. See-through solar, as it's known, is clearly attractive to architects and designers, but at what stage is this technology and is it being used outside of test facilities? We find out.
Read more.
PPAs: selling renewable energy direct to customers
Power Purchase Agreements – energy projects selling directly to large corporate and industrial customers through multi-year supply contracts rather than entering the wholesale market – are relatively common practice for renewable energy developers in the US, but only starting to pick up in Europe, where offshore wind projects off the Dutch coast have been securing PPAs with the likes of Dutch Railways, Schiphol Airport and Google . We analyse PPAs and their usefulness as a means of making renewable power projects viable in an increasingly subsidy-averse energy market.
Read more.
Politicising a new coal plant proposal in Queensland
A leaked report which found that a new, high-efficiency coal power plant in Queensland, Australia would be viable and useful was buried by the state's Labor Government, political opponents argue, because it didn't fit the party's election agenda. The report also identified environmental risks and others involved in the project, but the furore has demonstrated the political baggage that comes with coal-fired energy today. What does this case tell us about the politicisation of coal, and can inflexible anti-coal ideologies get in the way of a good business case?
Read more.
Engineering fusion with Tokamak
Tokamak Energy, a company aiming to crack nuclear fusion by 2025, recently announced the appointment of new CEO, Jonathan Carling. As an engineer, Carling has said he believes the scientific know-how is there and all that remains is to crack the engineering problems. Will he succeed? We sat down with him to talk specifics.
Read more.
Next issue
Following the 2011 tsunami, the Japanese city of Higashimatsushima rebuilt itself with microgrids and decentralised power. Funded by the National Resilience Program, the area was converted into a smart city which now runs off 25% decentralised power with plans for more. The programme had a budget increase this year to enable smart cities to be rolled out across Japan. Here, we take a look at the smart city that rose from disaster to inspire a nation.
Also making major changes, India will soon have the capacity to operate on 100% renewable energy. But with energy poverty rife, what would it take to achieve this?
Across the sectors, we ask if traditional energy supply models are breaking down, learn about the new smart energy sources emerging to support smart cities, and in nuclear, ask if China is leading the way in floating offshore nuclear and assess the future of South Korea's nuclear industry as the country reaches a crossroads.
Free on all devices
You can now read Future Power Technology across all devices, including mobile. It is still free to read and you can sign up for a subscription to get all the latest news, analysis and insight on the global energy industry delivered straight to your phone.
You can also browse our back issues in our web viewer, available on desktop and on iPad.