The growing demand for electricity, climate change concerns, and technology development are some of the major factors influencing the gas turbine market. Evolving manufacturing practices are contributing to the fabrication of new thermal-based power generation systems with reduced environmental pollution to enhance market acceptance. Various new technologies developed over the past decade, such as Integrated Gasification and Combined-Cycle (IGCC), carbon capture and storage (CCS), supercritical and ultra-critical power generation, and carbon sequestration, are far cleaner and make thermal power generation more acceptable within the confines of established policies and regulations. These technologies will go a long way in helping gas turbine companies to continue operations, particularly gas turbine manufacturers. It is likely that the demand for gas turbines will outpace that for steam turbines, as the former is more technologically advanced and efficient, with low environmental impact. 
Addressing global warming and other harmful environmental effects have become a priority for countries around the world. These concerns have led many countries in the region to adopt stringent emission norms and promote the use of cleaner sources of power generation. Under these circumstances, natural gas is expected to become a strong competitor to coal. Factors such as increasing focus on advances in gas turbines in order to raise efficiency and the development of high-temperature materials for turbines influence the dynamics of the gas turbine industry. The global gas turbine market was estimated at 29.9GW in 2019 and is projected to reach 32.2GW in 2026. Countries such as the US, China, and the UK, will drive growth in the gas turbine market.
Consolidation in the global gas turbine market is greater than that in the steam turbine market. Gas turbine manufacturers GE Power, Siemens AG, Mitsubishi Power Ltd, Nanjing Turbine & Electric Machinery (Group) Co Ltd, Ansaldo Energia SpA, AVIADVIGATEL, and REP Holding together accounted for 78% of the market in 2021.
Other significant gas turbine companies include MAPNA Group, Siemens Energy AG, Bharat Heavy Electricals Ltd, Power Machines, Caterpillar Inc, Shanghai Electric Group Corp, Raytheon Technologies Corp, Harbin Electric Corp, Gazprom, and Doosan Enerbility Co Ltd.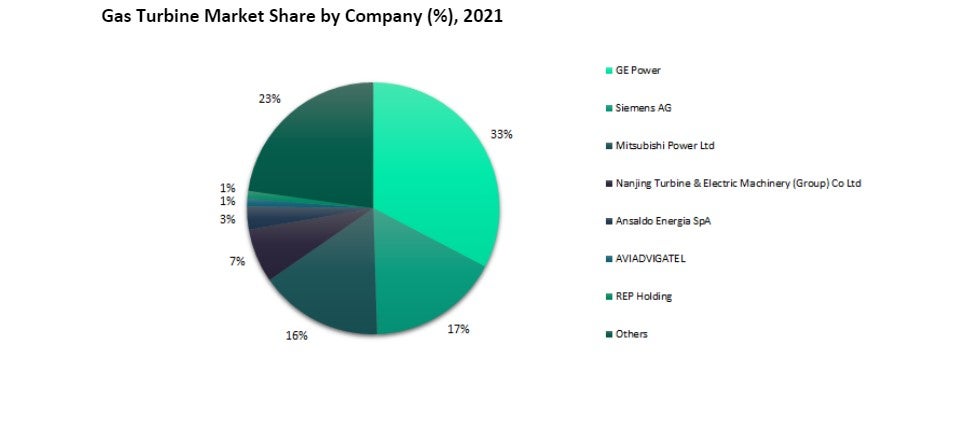 Source: Gas Turbines
Finding the best gas turbine supplier
Power Technology has listed leading manufacturers of gas turbines based on both its experience in the sector and research carried out by GlobalData.
The information contained within the download document is designed for production managers, procurement managers, maintenance managers, quality control managers, marketing managers, research & development managers, and supply chain managers, and the many other roles responsible for the purchase of gas turbines.
The free Buyers Guide is available to download and contains detailed information on the suppliers and their product lines, alongside contact details to aid your purchasing decision. 
Related Buyer's Guides which cover an extensive range of power equipment manufacturers, solutions providers and technology, can also be found here.
Note: GlobalData, the leading provider of industry intelligence, is the parent company of Power-Technology.com and provided the underlying data, research, and analysis used to produce this article.