The growing demand for electricity, climate change concerns, and technology development are some of the major factors influencing the steam turbine market. Evolving manufacturing practices are contributing to the fabrication of new thermal-based power generation systems with reduced environmental pollution to enhance market acceptance. Various new technologies, such as Integrated Gasification and Combined-Cycle (IGCC), carbon capture and storage (CCS), supercritical and ultra-critical power generation, and carbon sequestration, which were developed over the past decade, are a lot cleaner and make thermal power generation more acceptable within the confines of established policies and regulations. These technologies will go a long way in helping turbine manufacturers to continue operations, particularly steam turbine manufacturers.
The modernization of coal power plants in countries across the world requires cooperation and extensive technology transfer via licenses and joint ventures with international equipment suppliers. Chinese manufacturers advanced the technical quality of their products to such an extent that they can capture significant export opportunities, especially as their products are more cost-competitive than the products of manufacturers in other countries.
According to GlobalData, China accounts for the largest share of the market, followed by India. The major players in the steam turbine manufacturing market include Dongfang Electric Corporation Limited, Harbin Electric Company Limited, GE Power, Toshiba Energy Systems and Solutions Corp, Shanghai Electric Group Co Ltd, Doosan Enerbility Co Ltd, Siemens AG, and Mitsubishi Hitachi Power Systems Ltd. Combined, these companies accounted for over 70% of the steam turbine market in 2021.
Other significant suppliers are Power Machines, Bharat Heavy Electricals Ltd., Fuji Electric Co Ltd, Ansaldo Energia SpA, Kawasaki Heavy Industries Ltd, Harbin Steam Turbine Factory Co Ltd, Beijing Beizhong Steam Turbine Generator Co Ltd, and L&T-MHI Power Turbine Generators Pvt Ltd.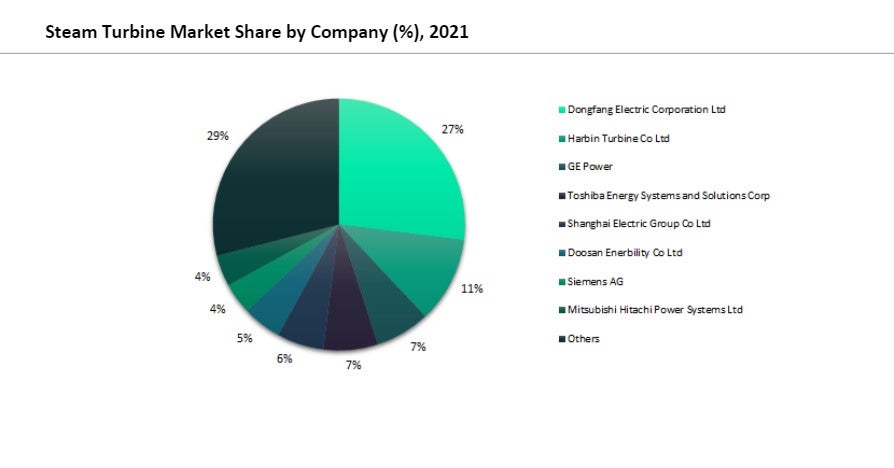 Finding the best steam turbine provider
Power Technologyhttps://www.power-technology.com/ has listed leading manufacturers of steam turbines based on both its experience in the sector and research carried out by GlobalData.
The information contained within the download document is designed for production managers, procurement managers, maintenance managers, quality control managers, marketing managers, research & development managers, and supply chain managers, and the many other roles responsible for the purchase of steam turbines.
The free Buyers Guide is available to download and contains detailed information on the suppliers and their product lines, alongside contact details to aid your purchasing decision.
Related Buyer's Guides which cover an extensive range of power and energy equipment manufacturers, solutions providers, and technology, can also be found here.
Note: GlobalData, the leading provider of industry intelligence, is the parent company of Power-Technology.com and provided the underlying data, research, and analysis used to produce this article.