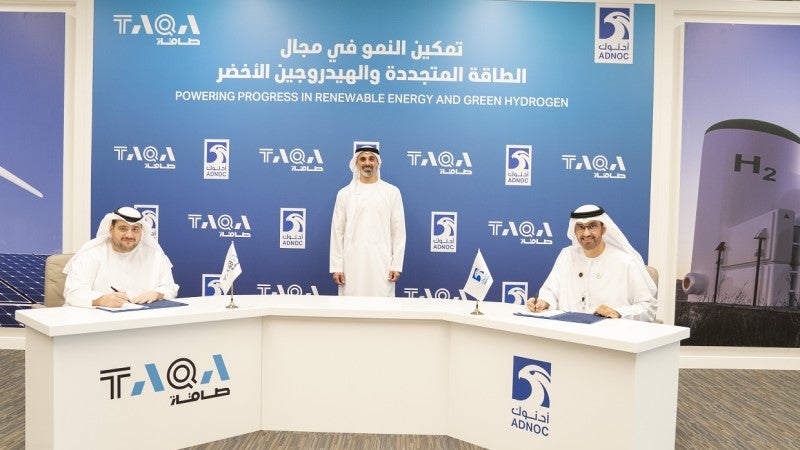 Abu Dhabi's two largest energy companies have formed a joint venture that aims to build a 30GW renewable energy and green hydrogen infrastructure.
"The new strategic partnership will focus on domestic and international renewable energy and waste-to-energy projects, as well as the production, processing and storage of green hydrogen and ancillary activities," Abu Dhabi National Oil Company (Adnoc) and Abu Dhabi National Energy Company (Taqa) said on 17 November.
The new partnership brings together Adnoc's energy and hydrogen capabilities and Taqa's renewables expertise, the firms added.
It will position Abu Dhabi and the United Arab Emirates (UAE) 'at the forefront of the energy transition, and further advance its global leadership role in green hydrogen'.
The agreement was signed in the presence of Sheikh Khaled bin Mohamed bin Zayed al-Nahyan by Sultan Ahmed al-Jaber, the UAE's Industry and Advanced Technology Minister and managing director and group CEO of Adnoc; and Mohamed Hassan Alsuwaidi, chairman of Taqa and the Abu Dhabi International Petroleum Exhibition and Conference (Adipec).
"As the UAE looks ahead to hosting Cop28 in 2023, our nation pledges an inclusive energy ecosystem, enabling sustainable future economic growth for the benefit of Abu Dhabi and the UAE," said Al-Jaber.
The partnership between Adnoc and Taqa envisages both parties entering into detailed joint venture arrangements, as well as the completion of necessary transaction requirements, including obtaining relevant third-party and regulatory approvals.
Moelis & Company is Adnoc's financial adviser, while Citi is exclusive financial adviser to Taqa.
In October, Adnoc and state offtaker Emirates Water & Electricity Company (Ewec) launched a partnership that will see up to 100% of the Adnoc's grid power supplied by Ewec nuclear and solar clean energy sources.
---
Energy Transition in the Middle East    
A major new report from MEED looks at how the global shift away from fossil fuels is reshaping energy policy in the Middle East and North Africa, and its impact on business and project investment.
Learn more about the report here
---
This article is published by MEED, the world's leading source of business intelligence about the Middle East. MEED provides exclusive news, data and analysis on the Middle East every day. For access to MEED's Middle East business intelligence, subscribe here.