Termokimik Corporation is a contracting and engineering firm that is a specialist in the fields of management, design, production, supply, and turnkey erection throughout the power industry in a variety of plants and industrial processes.
The Italian company has an active worldwide presence, with a large number of successful projects on its books in Europe, Asia, Africa, as well as North and South America.
The experience of its highly qualified staff ensures that Termokimik has an established reputation for providing a high-quality service with the main Italian and international industries, in addition to utility companies.
Termokimik's main areas of business are across three divisions, these are: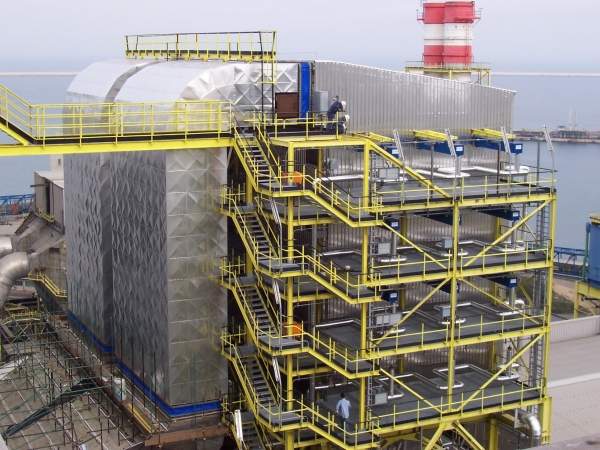 An SCR system in Brindisi Nord, Italy.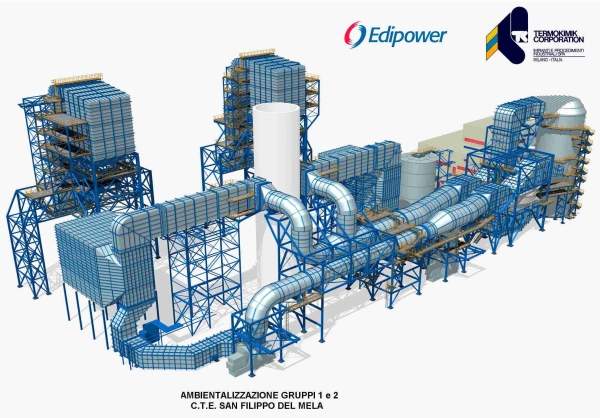 Rendering of SCR / ESP / FGD system, for the San Filippo Del Mela, Italy.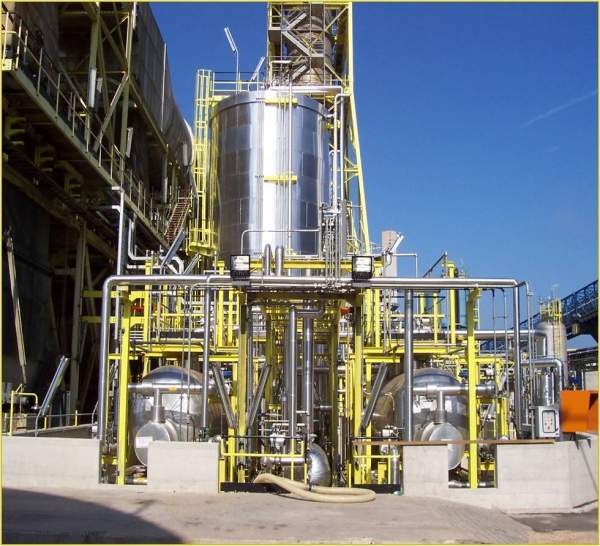 An SCR process with urea hydrolysis.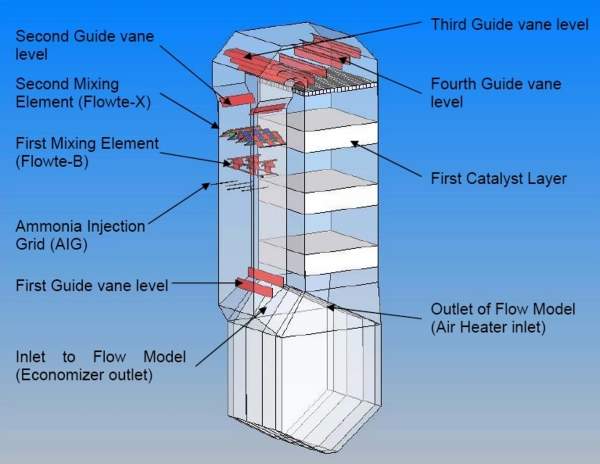 Termokimik always uses physical and computer-generated flow models to design flow-straightening devices, ammonia grids, to estimate gas flow and temperature distribution.
Industrial and municipal solid waste treatment
Industrial plants for protection of air and energy protection (DeNOx, DeSOx, CO2 capture, dedusting)
Treatment of industrial and civil wastewater
Administration, R&D, purchasing, production, erection, start-up, commissioning, customer management and assistance departments
Termokimik also possesses know-how for the design, development, construction and testing of automation and control systems (DCS-PLC), something that is almost unique in the field of engineering companies.
Centralised services offered by the company include administration, customer management, purchasing, R&D, production, erection, start-up, and commissioning.
Because of a lean organisation, a targeted program of technology acquisition and a continuous R&D effort, Termokimik provides solutions to meet the needs of the customer. Due to Termokimik's experience with power plants, the firm can offer 'stop and go' interventions, which keep the number of stops during production processes to a minimum.
The three specialised divisions of Termokimik can provide a wide spectrum of solutions for pollution reduction in power plants, waste incinerators, petrochemical and nuclear plants, refineries, and cement, as well as iron and steel factories.
State-of-the-art systems with complete air pollution control solutions
Combining state-of-the-art systems with unrivalled service and support, Termokimik provides its customers with complete air pollution control solutions.
Having installed about 21,000MW of selective catalytic reduction (SCR) worldwide, the company ensures it can meet the customer's expectation in terms of compliance, performance, reliability and operating cost in coal, oil and gas power generation, co-combustion (coal-biomass), biomass, cement and waste incineration.
Catalytic reduction applications for the power industry
The most efficient secondary technique for removing nitrogen oxides from the burning of fuels and meeting strict environmental regulations is converting them into inert nitrogen gas via a reaction with a reducing agent using SCR technology.
The main advantages of this technology are:
Optimum catalyst design:Termokimik's vast experience and the close collaboration with primary catalyst manufacturers make it easier to select the appropriate design for a given application, optimising the performance and lifetime of the catalyst. Termokimik SCR solutions provide a wide selection of catalyst types suited to customer applications. These include honeycomb catalysts and plate-type catalysts
Depending on the application, fuel and process temperature, two main configurations for SCR can be provided:
High-dust SCR (high-temperature): typically for power plants and combined heat and power application
Tail-end SCR (low-temperature): more compact design, typically for waste incinerators
Another advantage of using Termokimik's SCR technology is low installation downtime. Most of Termokimik's references are retrofits of existing plants. The huge experience accumulated over the last ten years allows us to complete the installation with minimal plant downtime.
The priority goals to take into account are:
Being able to have the DeNOx plant ready for operation in the shortest time possible
The ability to produce electric power, as far as possible, even during the DeNOx construction and erection phases
Being able to count on an efficient and reliable plant once the operation is resumed with the use of the SCR reactor
SCR system design and integration with the whole process
An integrated process approach is also important. The presence of an SCR system introduces some modifications in the flue gas composition and properties (additional pressure drop, SO2/SO3 conversion, NH3 slip), which may have an impact on the downstream equipment.
As a supplier of almost every kind of flue gas treatment equipment, Termokimik can design an SCR system that can be properly integrated along the flue gas stream; if needed, the company can carry out modifications on the equipment, which may not be able to operate under the new conditions.
Termokimik also has experience with the full range of reagents, such as ammonia solution and urea. The installations running with urea are based on hydrolysis and thermal conversion to ammonia.
Optimised NH3 / NOx distribution
NH3/NOx ratio, velocity distribution and temperature distribution are key parameters to meet the performance guarantees. The company always uses physical and computer-generated flow models to design flow straightening devices and ammonia injection grids, as well as to estimate gas flow and temperature distribution.