"Expansion joints of high quality are important to ensure economical and durable operation of power plant systems" was one of the headlines in several technical magazines and publications after an LBH seminar in 2001 was held for 78 leading engineers and technicians from the power industry.
Exactly the same evaluation and conclusion may be reached with respect to the safe operation of cement plants, chemical plants, oil refineries, etc. Especially for offshore and gas turbine applications – where the demand for superior design and material is high – LBH is often chosen as the supplier.
Renowned fabrication joints and consultancy
Due to its complete range of products (metal, fabric and elastomer expansion joints for both high and low pressure) LBH is often used as a consultant. Its customers can always be sure that it will choose the optimal solution and product, as it does not have a special connection with a specific product range.
LBH offers a full-service package, including on-site installation and supervision. The installation comes with a firm knowledge of how to achieve the best results with LBH products.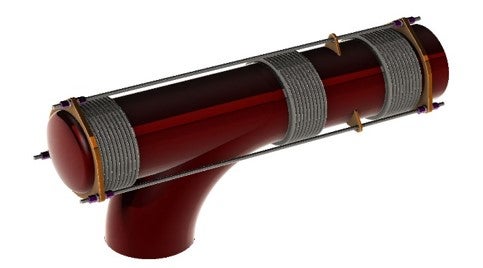 A tied metal pressure balanced expansion joint with an elbow.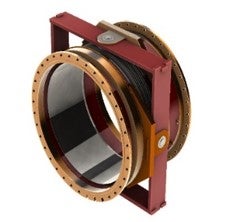 A gimbal metal expansion joint.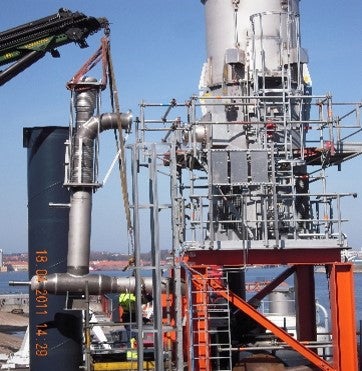 The installation of a metal pressure balanced expansion joint with an elbow.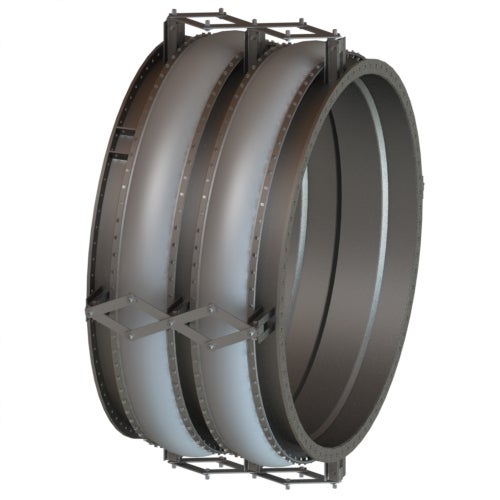 A tied fabric expansion joint with a pantograph.
Qualified and trained LBH engineers are always available during assembly and / or erection of expansion joints, pre-instructions, as well as site staff training and supervision.
Flexible expansion and sealing joints
Since their introduction, expansion joints have been used to solve an increasing range of flexible sealing challenges. However, the major application is in power generation. As materials have been developed and the technology of expansion joint design has been improved, they have been used successfully in a much wider variety of industrial applications, including:
Cement
Chemical
Heating and ventilation
Marine and offshore
Metal foundries
Petrochemical
Power generation (co-generation, fossil fuel, gas turbine and nuclear)
Pollution control and flue-gas cleaning
Pulp and paper
Steel and aluminium
Waste incineration
Expansion joints for ductwork
Expansion joints provide flexibility in ductwork and are used for four main situations:
Expansion or contraction of the duct due to temperature changes
Isolation of components to minimise the effects of vibration or noise
Movement of components during process operations
Installation or removal of large components, and erection tolerances
Fabric expansion joints, metal expansion joints and elastomer expansion joints
LBH has developed a very strong product portfolio of expansion joints in fabric, metal and elastomer. LBH designs and manufactures its products according to its customers' requests.
LBH metal expansion joints cover various different applications when LBH fabric expansion joints cannot be used due to pressure conditions.
The expansion joints are applied in pipelines and channels to compensate movements and vibration, usually on high-pressure or high-temperature installations.
The fabric expansion joint is the main LBH product. We offer 28 standard types for multiple substances, including clean air and highly aggressive flue gases.
They can be applied in channels to compensate movements, vibration and misalignments or installed on gas media.
Expansion joint design and manufacture
LBH provides fabric, elastomer, rubber and metal expansion joints in all shapes and sizes. Fabric and elastomer expansion joints can be delivered as units – installed on metal parts – if required. LBH's highly experienced installation team stand at your disposal for site installation.
LBH is happy to help customers with designs and solutions using more than 20 years' experience in the field of expansion joint technology.
About LBH International
Founded in 1985, LBH International A/S manufactures and designs high-quality expansion joints and similar products.
Since then, LBH has been globally recognised as an expert in providing optimal expansion joint technology solutions.
LBH was the world's first fabric expansion joint manufacturer to receive ISO 9001 approval of the quality management system and the environmental certification in accordance with DS/EN 14001.
As an active member of European Sealing Association (ESA), LBH is committed to improving the understanding and application of expansion joint technology.