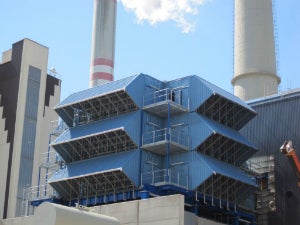 It is our great pleasure to announce that the BBM Akustik Technologie has taken over the assets of the entity Gerber from its parent company, Bilfinger SE.
BBM Gerber Technologie GmbH is a 100% subsidiary of BBM Akustik Technologie GmbH. Both companies are members of the consolidated companies of Müller-BBM Holding AG in Planegg next to Munich.
Müller-BBM Holding AG is the parent company of the Müller-BBM Group with more than 1,000 employees in more than 30 national and international affiliated companies worldwide.
With the four business units; air intake systems, noise enclosures, exhaust systems and silencers we offer our customers a large scope of supplies with a whole range of know-how, competencies and capacities.
With this acquisition we boost our core business and offer 50 years of experience in design, manufacturing, delivery and assembly of noise control solutions to our customers.
Including the manufacturing workshops of the affiliated companies in Europe, India, Mexico and USA, we grant for fulfillment of all needs of our demanding customers worldwide.
Visit BBM Akustik Technologie at Booth 7043 POWER-GEN International, 5-7 December 2017, Las Vegas, Nevada,...