CTM Ambiente is a qualified Italian company, active in the design, manufacture and assembling of turnkey integrated systems and solutions for acoustic reclamation. CTM Ambiente provides soundproofing systems for acoustic reclamation of machines and industrial plants to national and international markets, in line with the international standards and regulations in force.
CTM Ambiente satisfies its customer requests with a wide range of products and services, ranging from acoustic problem analysis to on-site testing – all of which are designed and manufactured by means of an ISO 9001-certified organization and quality guarantee system.
Soundproofing systems for acoustic reclamation
CTM Ambiente has partnered with important companies in the power industry to design, manufacture and construct the following:
Silencers for suction air and for boiler stacks
Acoustic boiler house for HRSG
Soundproofed systems for evaporative towers, heat exchangers, ventilation fans, air conditioning plants
Noise enclosures for steam turbine, generators, pumps, compressors, and any type of machine
Single-block air-conditioned shelters for switchboards and electricity transformers
Soundproofed containers for generating sets
Personnel soundproofed booths for control rooms
Absorption and resonance silencers for civil, industrial and naval application
Silencers for steam and dangerous fluid vent valves to atmosphere
Acoustic walls, soundproofing barriers and movable screens
High-performance acoustic doors for every application
Gas turbine silencer inlet exhaust systems
CTM Ambiente designs and manufactures complete gas turbine silenced inlet exhaust systems for power plants and heavy-duty applications. The full package is designed in order to optimise the plant's performance, minimizing pressure drop, heat loss and increasing the power plant's noise limit efficiency.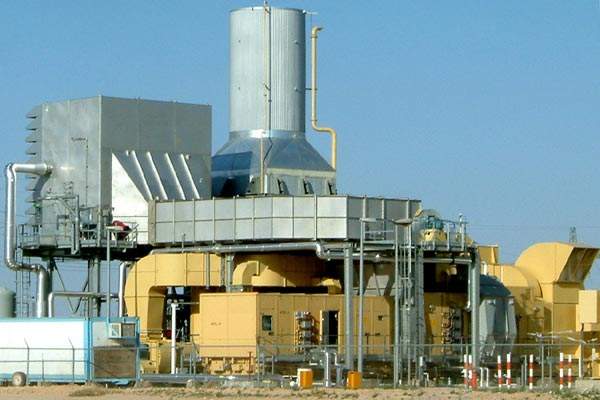 CTM Ambiente provides complete soundproofed systems for gas turbines, including noise enclosures, inlet ducts, exhaust chimney and filtration / ventilation air systems.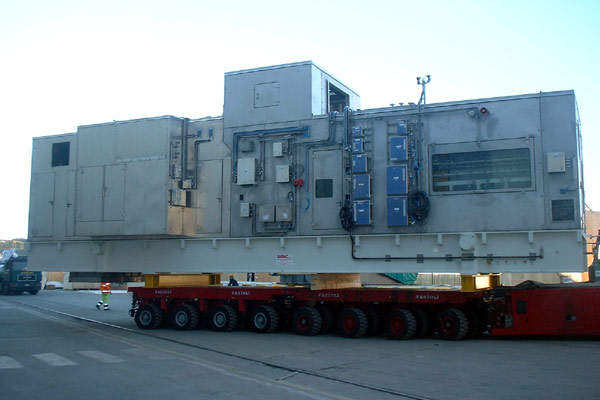 CTM Ambiente supplies gas turbine and generator noise enclosure for offshore installations.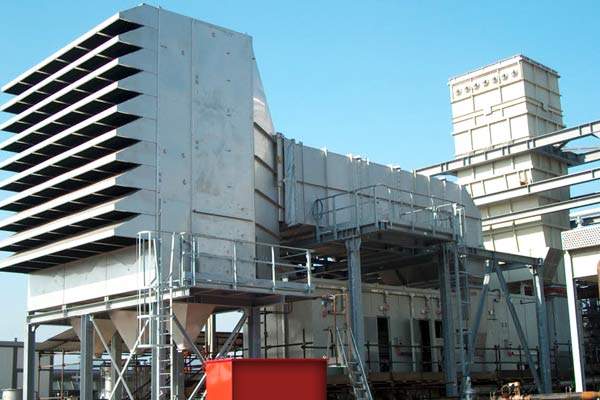 CTM Ambiente's gas turbine air intake and exhaust ducts can be used for heavy-duty applications.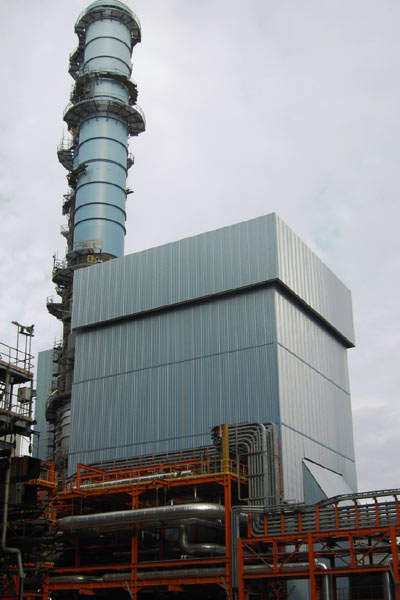 CTM Ambiente provides soundproofed roofing and cladding for HRSG.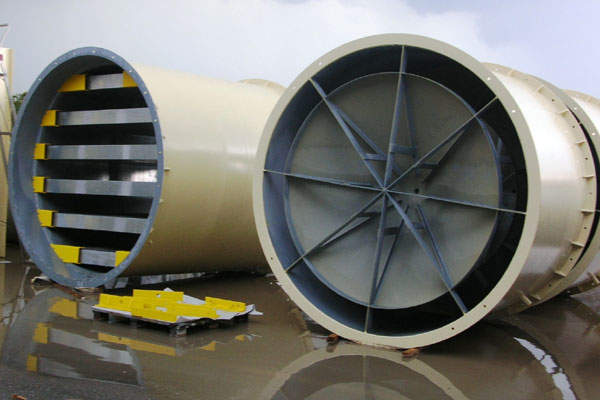 CTM Ambiente's gas vent silencer to the atmosphere for gas compressor station.
The range of products CTM Ambiente supplies to the world market includes:
Steel supporting structures
Complete filter houses
Inlet and exhaust ducts and diffusers
Textile expansion joints
Thermal and noise insulation for the whole system
Inlet and outlet baffles type silencers
Rectangular or circular stacks
Absorbing baffles silencers
CTM Ambiente designs and manufactures absorbing baffle silencers for every installation. Absorbing baffle silencers are usually installed in inlet / outlet gas turbines, air conditioning plants and cooling towers to build ventilation in a wide range of temperature, flow and speeds.
CTM Ambiente's absorbing baffle silencers are designed to be installed in a vertical or horizontal position. Modular absorbing baffles are made by a metallic frame containing mineral wool mattresses, and can be supplied complete with anti-icing, anti-rain grids, dampers and filter boxes.
Blow-off and vent silencers
CTM Ambiente provides blow-off and vent silencers for applications where gas or steam is vented under pressure to the atmosphere. The silencing effect is due to the controlled gas expansion, combined with an additional absorbent device fitted on the upper part of the diffuser. These silencers are usually installed in safety or relief steam valves in oil and gas plants, and in every application where there is an under pressure gas.
Engine silencers
CTM Ambiente's endothermic engine silencers are designed to guarantee high attenuation in co-generation plants, gensets and ship engines. They are constituted by a cylindrical body in which a resonator associated with absorptive parts is fitted. CTM Ambiente can additionally provide spark arrestors, metallic expansion joints and complete exhaust lines.
Boiler houses, acoustic building and soundproofing enclosures
CTM Ambiente is able to design, build and install any type of enclosure to suit any customer's needs. Its range of soundproofing enclosures has a steel structure and modular panels.
CTM Ambiente covers a wide range of needs and applications, from tailored canopies on equipment to huge acoustic buildings containing the entire plant or boiler houses on HRSG. Together with the enclosure, CTM Ambiente can also supply the soundproofed ventilation system, the electrical plant, the lighting plant and the fire-fighting system.
CTM Ambiente has been in operation since 1994, first as a division of CTM, an Italian leader in thermal and acoustical insulation market; in 2001, it became an independent company.