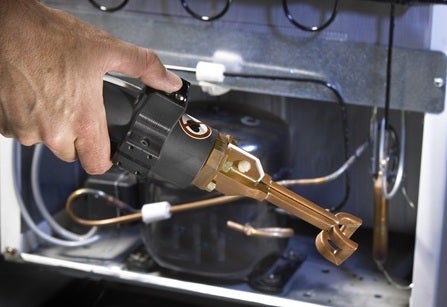 EFD Induction will be demonstrating a mobile Minac Twin output induction heating system at the International Air-conditioning, Heating and Refrigerating Exposition (AHR), to be held 28-30 January in Dallas, Texas, US.
"The Minac Twin is an easy-to-use solution that has won wide acceptance among manufacturers
over the past few years," says Tom Brown of EFD Induction USA. "The standard Minac has a single power output, but the Twin version boasts two fully independent outputs. In essence, the Minac Twin is two induction heating systems in one compact body."
The AHR exposition is the largest event of its kind in the world for the heating, ventilation, air-conditioning and refrigerating industries. Around 1,800 exhibitors will attend, and event organizers expect up to 30,000 visitors.
"This event is a perfect showcase for the Minac," says Brown. "For example, last year 93% of respondents in a survey of AHR visitors named energy efficiency as their most important consideration. This makes the Minac ideal, as it heats only those parts that need to be heated in order to achieve quick, controllable brazing, soldering, melting, heating, etc. Unlike gas flames, no precious energy is wasted heating ambient air."
Visitors to the EFD Induction booth (#3532) will be able to see one of the company's small handheld transformers (HHT) in action, which is ideally suited for many hand-held brazing and soldering applications within the AHR industry.
"We will be using this HHT and Minac power unit combination," said Brown. 'To braze copper tubing connections, while a second HHT from the same Minac power unit simultaneously carries out a separate operation. People are usually amazed at the Minac's speed, ease-of-use, practicality and repeatability. At this year's AHR they will be doubly amazed when we demonstrate the Minac Twin."
---
Image: Small, light, easy-to-use. One of the handheld transformers that will be demonstrated at the EFD Induction booth at the upcoming AHR expo.