Krøll Cranes has been manufacturing quality tower cranes on the outskirts of Copenhagen in Denmark since 1955. Its products range from 160tm to 10,000tm cranes, but Krøll is today specialised in heavy-duty tower cranes. It is the world leader in this field, delivering cranes for heavy construction, shipyards and other specialised areas.
Tower cranes for power plant construction
Krøll has supplied heavy-duty tower cranes for construction of power plants worldwide. China, the US, Russia, New Zealand and India are but some of the countries to which it has delivered cranes for hydro, fossil fuel and nuclear plants.
The quality of the cranes ensures minimum downtime, thus reducing construction times. Its range of heavy cranes from 1,000tm to 5,000tm is truly the most profitable solution for any large construction work.
Largest tower crane worldwide
In 1978 Krøll designed and manufactured the world's largest tower crane, the K-10000, which was used for the construction of nuclear power plants. 15 of these units were delivered in total, 13 to the Soviet Union during the 1980s.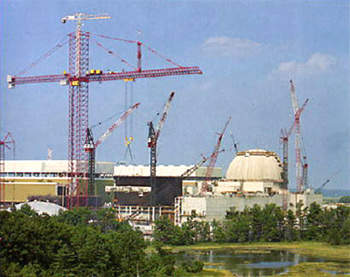 A K-10000 10,000tm crane in the US. <br/><br/><br/><br/><br/><br/><br/><br/><br/><br/><br/><br/><br/><br/><br/><br/><br/><br/><br/><br/><br/><br/><br/><br/><br/><br/><br/>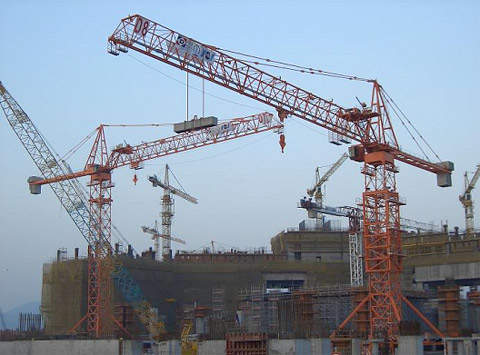 A K-1400 crane at the Venetian hotel in Macau.<br/><br/><br/><br/><br/><br/><br/><br/><br/><br/><br/><br/><br/><br/><br/><br/><br/><br/><br/><br/><br/><br/><br/><br/><br/><br/><br/>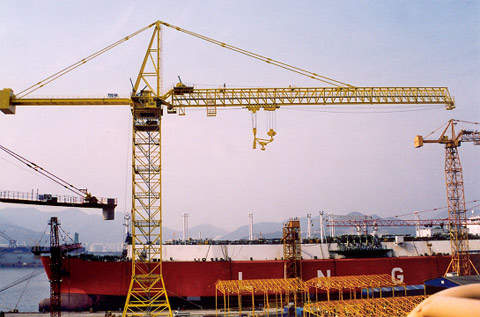 A K-3000 crane at Daewoo Shipyard, South Korea.
The K-10000 has proven its great potential in reducing construction times. It is estimated that this 10,000tm crane can cut six to nine months off a four-year construction phase of a power plant. A saving of six to nine months interest plus the income from six to nine months of additional power production can amount to a considerable sum.
The K-10000 offers more advantages, as the well-known problems created by a group of 30-40 smaller cranes on a large construction site are eliminated. Other advantages include:
Considerable reduction in construction times
Low maintenance
No risk of collisions between jibs
No interference with construction activities
Unlimited storage locations
Simple ground transport
Operation under any climatic conditions and in wind speeds up to 20m/s
Optimum possibilities for prefabrication of larger assemblies
Maximum degree of modularization
The existing K-10000s have found a new lease of life over the last decade. Currently most units are fully erected and operational, mostly in shipyards in South Korea, China and Singapore. There is one in Norway dismantling oil platforms and one in Canada installing 80t filter units in a one-off project.
Steel tower cranes
Tower cranes are relatively heavy structures and it takes advanced technology to manufacture each component. All Krøll's cranes are made with quality steel, mill-certified to German DIN standard (St52-3N). The welded joints demand steel quality, which has good resistance to fractures under high loading and low temperature conditions.
Three-part surface treatment for tower cranes
After welding, the fabricated parts are given a three-part surface treatment. All surfaces are shot-blasted with steel sand, ensuring a clean surface all over, then metallised (a combination of aluminium / zinc that is melted and sprayed on as paint). As a final touch, the crane receives a coat of special protective paint in the customer's choice of colour. This exceptional surface treatment ensures long life without any rust problems with minimal maintenance.
No matter what the size of the crane, Krøll maintains the highest manufacturing standards.
Crane programmable logical controller
All new cranes since 1987 have been equipped with a programmable logical controller (PLC) base to control vector controllers (frequency controller) or DC-converters, which, via joysticks, gives stepless velocity control of all movement. This ensures precise stepless motions of the burden.
It also ensures maximum reliability and safety; faults and information such as burden weight, hook position, trolley position, wind speed and so on are immediately read out on to the cabin-fitted colour touch-screen monitor,.
Possible system faults are shown in a separate "window" and the cause and correction can be read by a single finger-touch. If radio-control or remote-control is required, the control panel can be supplied with a monitor.
25,000tm crane design
In the late 1980s Krøll decided to take things one step further. To meet the new standards within the power plant industry Krøll designed a 25,000tm crane with a maximum load of 400t and 200t capacity at the maximum radius of 100m. Such a crane has never been built, but with all the advantages of the K-10000 and the greater capacity it is Krøll's opinion that it is only a matter of time before the right project comes along for which to construct one.