SGS Industrial Services
Industrial Installations for the Power Industry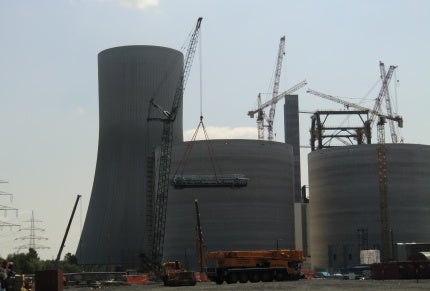 SGS Industrial Services is an international operating service provider for mechanical and electrical installation and the provision of maintenance services for industrial plants. The company is an expert in setting up, modernising or relocating plants ready for production and, if required, maintaining them.
Covering a wide range of industries, SGS Industrial Services tailors comprehensive solutions for the specific needs and characteristics of each industry. In the power technology industry, SGS has evolved to be the number one partner for plant manufacturers and plant operators when it comes to the mechanical and electrical installation of industrial plants.
Long-standing experience, the highest quality standards, flexibility and competence – that is the successful formula.
Plant installation for the energy and environmental technology industry
The installation of plants for the energy and environmental technology, industry including gas and steam turbines, flue gas cleaning plants and electrostatic precipitators, is one of the most challenging tasks for an installation company.
SGS faces up to this major challenge and provides the mechanical and electrical installation of complete power plants as well as the installation of subareas and single parts of plants.
The scope of services covers mechanical and electrical installation and piping for the following plants:
Gas and steam turbines, including insulation
Water turbines
Steam generators and waste heat recovery steam generators
Generators and condensers
Electrostatic precipitators
Coal mills
Flue gas desulfurisation plants
Transformers
High-current bus bar systems
Exhaust gas diffusor
Air dryer water cooler
Heat exchanger
Tanks
Pumps
Air ducts
Auxiliary boiler
Compressor
Ventilation
Acoustic hood
Steel construction
Chimney
SGS provides these services for:
Combined cycle power plants
Coal-fired power plants
Hydroelectric power plants
Gas turbine power plants
Engine power plants
Nuclear power plants
Biomass power plants
Solar power stations
Waste-fuelled power stations
LGN facilities
Mechanical installation of industrial plants
SGS executes the complete mechanical installation of all kinds of equipment for industrial plants, including piping, ventilation systems, welding, surveying and supervision. Furthermore, SGS offers the relocation of separate machinery or complete plants including dismantling, transport and reinstallation.
Electrical installation of industrial plants
In terms of electrical installation SGS provides services like the installation of cable tray systems and conduits, cabling and connection works up to I/O-checks, delivery of switching cabinets and the supply of materials and special tools as well as the supervision of all installation works.
Maintenance of industrial plants
To improve the profitability of industrial plants, SGS provides maintenance services like scheduling of maintenance works, replacement of worn parts, repairs and servicing.
Additional services – supply and engineering
Additionally to all installation and maintenance services SGS offers the supply and engineering of steel works, piping, insulation, control cabinets, cable tray systems, protective conduits, control, trailing and power cables.
SGS Industrial Services Images
Press Release
SGS Industrial Services GmbH completed the mechanical installation of two Gas Turbine Combined Cycle Units with a total capacity of 841MW for the Czech energy supplier CEZ in Pocerady (CZ) in September 2012.
Read more
SGS Industrial Services GmbH