High Voltage Inc (HVI) is the power industry's leading supplier of high voltage test equipment for testing substation apparatus, aerial lifts and cables.
Our products are smaller, lighter, offer more features, provide higher power with longer duty ratings and are among the most rugged designs available for field testing all types of utility loads. Decades of design and manufacturing experience have produced the next generation of HV test equipment.
We manufacture VLF (Very Low Frequency) and Tan Delta testing products, AC hipots and DC hipots insulation test sets, capacitor discharge units, aerial lift testers, iso phase bus testers and oil dielectric testers.
VLF AND TAN DELTA TECHNOLOGY
HVI is the leader in VLF technology for AC testing of medium and high voltage cables. Our CE marked VLF products range from 25kv to 120kv, with higher voltage models under development. Utilities and others can now easily supply VLF AC test cables in the field that are several kilometers in length and rated up to 138kv. HVI also offers Tan Delta for cable diagnostic testing. HVI's VLF cables produce a sine wave output, that enables them to be used for partial discharge and Tan Delta testing.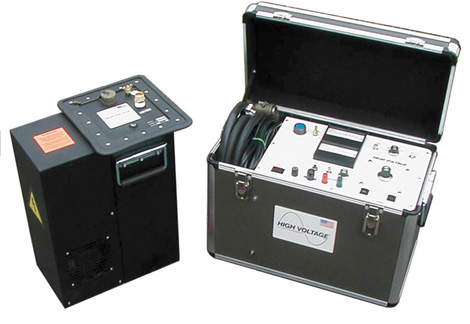 High Voltage Inc (HVI) manufactures high voltage test equipment for use in substation apparatus, aerial lifts and cables.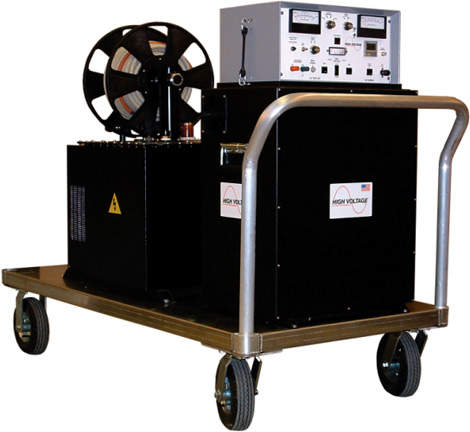 The VLF-12011CM is rated 0 to 120kV peak with a load rating of 5.5uF.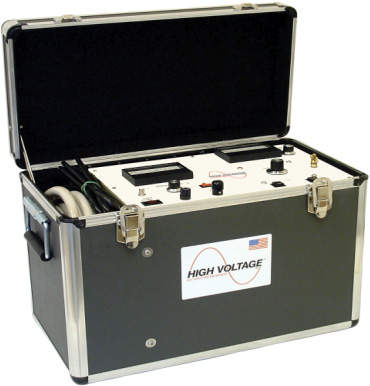 The 34kg PFT-503CM is rated 50kVAC at 3kVA. It is a one-piece unit that supports a 6m shielded cable output.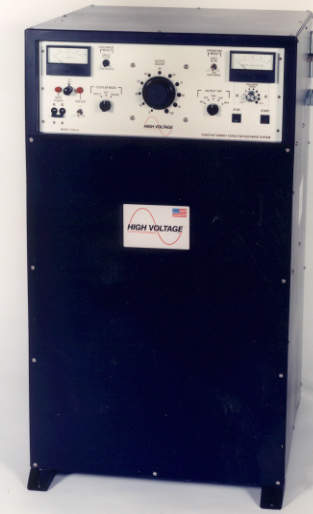 HVI's capacitor discharge unit range includes powerful surge generator thumpers.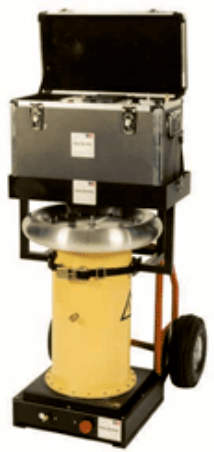 The company's aerial lift tester range contains our AC voltage bucket truck tester, used to test all types of aerial lifts.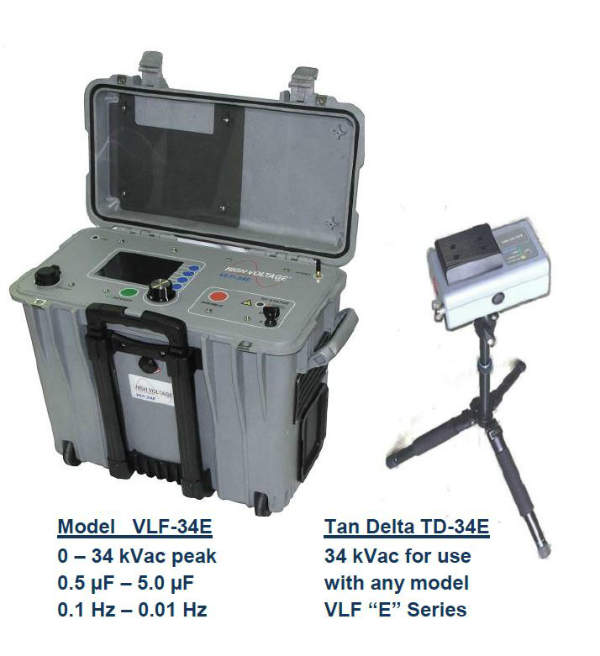 VLF-34E Solid State Design, All New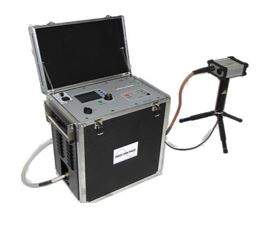 0 to 34 kVac peak, sinusoidal or square wave

0.5 μF to 5.0 μF @ 0.1 Hz to 0.01 Hz
AC HIPOTS AND DC HIPOTS FROM 10kV TO 200kV
HVI has developed the next generation of insulation test sets that offer more power and features yet are smaller and lighter than others. Our CE marked DC dielectric test equipment offers 10mA of current, includes input line regulation, anti-static meters, ruggedized and transit-protected meters, and built-in megohmmeters. Our AC hipots offer the highest voltage and power levels that have ever been available in a single-piece cable output model. Several models are half the size offered by our competition.
CAPACITOR DISCHARGE UNITS – SURGE GENERATOR THUMPERS
HVI offers some of the most equipped and powerful thumpers with the highest burn currents available. Three full joule output voltage taps permit effective surge generation (thumping) but at lower, less damaging voltages. We supply:
CDS-2010U: 0kV to 5/10/20kV at 1,000J with 400mA burn current
CDS-3616U: 0kV to 9/18/36kV at 1,600J with 280mA burn
CDS-3632U: 0kV to 9/18/36kV at 3,200J with 280mA burn
CTS-100: 0kV to 100kV at 600mA, 25kV at 7,500J, 12A burn
HVI offers the only VLF thumper combination, ideal for VLF testing and fault location on cables rated up to 15kV. Our VLF thumper combination features an internal arc reflection filter compatible with most TDRs.
AERIAL LIFT TESTER AND ISO PHASE BUS TESTER
Our ALT-120/60 is the highest powered and longest duty rated AC voltage bucket truck tester available. It is used to test all types of aerial lifts and its powerful 60kv and 120kv outputs make it ideal for testing substation apparatus requiring AC voltage and high kvA.
For DC voltage testing aerial lifts, our PTS-100, rated 0 to 100 kVdc at 10 mA is the model of choice. Liner testers rated up to 50kv at 20kvA are also available, as are other custom AC and DC instruments.
OIL DIELECTRIC TESTERS
We produce two insulating oil dielectric testers: 60kv and 100kv versions. These oil test sets are compact and rugged designs intended for field use. HVI will soon offer a fully automated, microprocessor-controlled model.