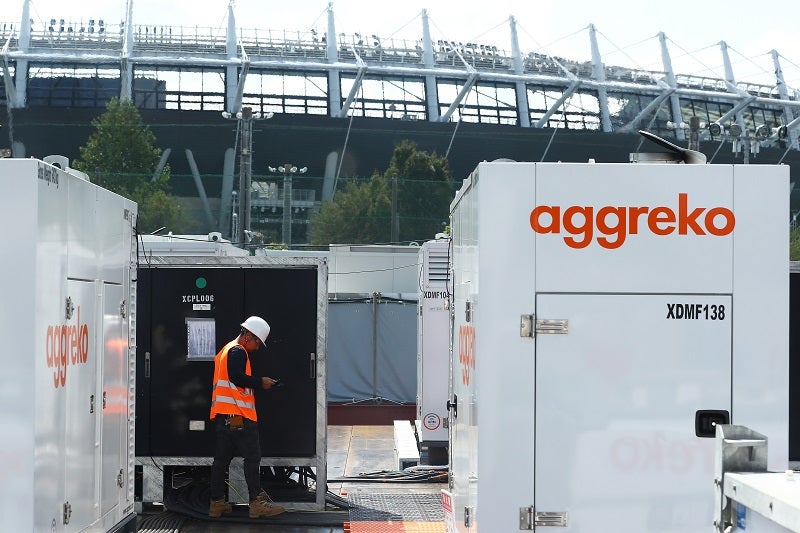 Umar Ali (UA): Can you give me a brief overview of Aggreko's role in the Rugby World Cup?
Robert Wells (RW): We are the official supplier of temporary power to this year's Rugby World Cup. I think the key word there is temporary power. This means we're providing all additional power requirements over and above any requirements or any existing power sources that the venues may have.
Clearly, when you're supporting an event such as the Rugby World Cup – or any other major event, it could have been the Solheim Cup recently as well – there are additional overlay requirements, like those required for broadcast.
UA: What are the logistical challenges of handling power for the World Cup?
RW: Of course, they vary depending on the places that a lot of these sporting occasions are held in. Japan is a highly-developed country with a mature infrastructure, but when you're staging something such as the Rugby World Cup, where there are so many people coming from outside of the country, you've got to deal with additional requirements and power demand that you wouldn't normally expect.
And that's why there's a requirement for temporary power. Logistically, we've shipped about 80 40-foot containers to Japan from our main events hub in Dubai. We already had some equipment based in-country, but it's not that often that events of this size happen in countries such as Japan, although clearly they've got the Olympics next year. So this is very much a head start for us on providing similar support for the Olympics in 2020.
People sometimes view Aggreko as a generator provider. Actually, for the Rugby World Cup there will be a significant amount of cable distribution services provided, in addition to efficient and mobile generator capacity.
There's up to 2000 kilometres between the 12 stadiums that are hosting the Rugby World Cup, and we've got to make sure that they are not just supplied with equipment, but with the right staff at the right time. So providing that expert capability is something that I think Aggreko does better than our competition, and our track record speaks to that.
UA: You also helped out with the London 2012 Olympics. Did your experience with that help with handling the Rugby World Cup?
RW: Well London was seven years ago, and each year since we have continued to refine our approach. Every time we do a major event, whether it be London or the Ryder Cup last year in France or the Solheim Cup recently in Gleneagles, we learn something and we're continually looking to either improve our systems and our management of these events, or introduce potentially new technology as the world evolves.
We are supplying power to the International Broadcast Centre (IBC) in Japan, which for something like the Rugby World Cup is completely temporary. Sometimes people think of an IBC as an existing building, but for the Rugby World Cup it's actually a collection of around about 48 cabins, a completely temporary structure with no utility power. We've been running prime power into the IBC now for weeks. So although the first match was on Friday 20th, we'd been providing power for the IBC since the beginning of September.
UA: Are you using any new technologies to cope with the high energy demand for the Rugby World Cup?
RW: We're using our standard efficient diesel generators at the Rugby World Cup, and the team are seasoned in providing the right support to ensure each game goes off without a hitch.
The Rugby World Cup contract is very much focused on IGBS, which are the host broadcasters, so their scope of supply is all around technical power for broadcast, field of play requirements and media commentary control rooms.
The domestic supplies for Japan Rugby are around the overlay requirements, critical domestic power and power requirements for overlay. So two slightly different scopes of supply with quite different voltage and demand response.
UA: Has providing power to the Rugby World Cup so far informed how you're going to do the 2020 Olympics in Tokyo?
RW: Because some of the venues that are going to be used, such as Yokohama Stadium, will also be used for the Olympics we have been able to gain a head start. Knowing the venues is about knowing where you might be able to place your equipment, where you might be able to run cable pathways, across the venue layouts and this requires an immense amount of expertise and collaboration with many different stakeholders.
Some of the challenges may be things like restricted access; you may have to place equipment in sensitive areas, you have to put some noise curtains up, and we are always looking for opportunities to introduce low emission technology.  The bottom line is you get to know the venue, and you get to know the requirements of that venue.
For the Rugby World Cup there are different voltages. So we've introduced a number of transformers to provide a varying range of voltages for the end user. So that's been a good experience as we as we lead into Tokyo 2020, because we'll have to use a number of transformers for the Olympic installations.
UA: What have the logistics of handling the big teams needed for an international event like this been like?
RW: There will be 70 members of the Aggreko team working on-site during the tournament. We also employ an additional 80 temporary team members from the local community to assist with the installations, transport and de-installation.
We have an established business in Japan but providing for major events such as the Rugby World Cup requires a huge ramp up as you can imagine. This involves extensive project management, managing those schedules, making sure that everything works to be ready on time is part of that solution that that we bring.
And I firmly believe, particularly in our company, that the way we approach things our people make a big difference to the success of these events. You can have all the equipment in the world, but that experience and that knowledge of how to overcome unforeseen challenges, which always happen, is ultimately what adds that extra value for the client, and ensures that their event is a success.
UA: It must need a lot of collaboration and lot of manpower to make sure everything runs smoothly?
RW: Aggreko is operating in over 120 countries, so we're quite comfortable operating in in many different environments and cultures.
But you'd be surprised that when a major event comes to town, all the system strains that might put on a supply like Aggreko equally puts those stresses and strains on the organisers.
So you have to absolutely work as a team. Teamwork, trust and the attitude that you bring to delivering an event is critical.
UA: Finally, who do you think will win the cup this year?
RW: I have to remain impartial to all the different nationalities that will play for the Rugby World Cup. I have some French people working for me and they will want France to win, we've got plenty of Scots who want Scotland to win, I'm English myself so I think it really doesn't matter who wins. As long as the tournament is a success, and there are no issues I will be happy.
I might quietly be rooting for England to bring home the trophy.