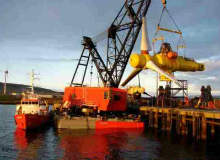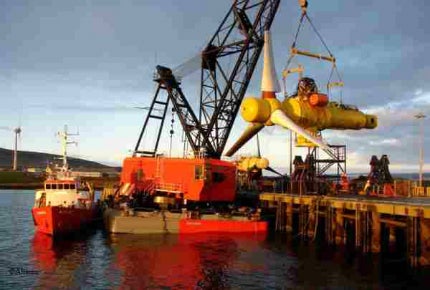 While Tidal Generation Ltd remains as a legal entity, the business has been fully integrated into the Alstom Ocean activities – opening the way for an ambitious development programme in the coming years.
"It confirms our ambitions to be a leader in marine energies as well, as it is an opportunity to accelerate the development of our activities in ocean energies, through the integration of new resources, skills and knowledge," says Rob Stevenson, vice-president for Ocean Energy business.
One of the most impressive of their developments so far is Alstom's 22m long tidal turbine nacelle. Weighing 150t, it is equipped with a three-bladed, 18m diameter upstream pitch-controlled rotor, an epicyclic gearbox, an induction generator, frequency converter and transformer, and can rotate on its vertical axis to present the optimum angle to the tide for maximum generation.
"One of the most impressive of their developments so far is Alstom's 22m long tidal turbine nacelle."
Exporting power to the grid at 6.6kV using a base-mounted, three-phase, wet-mate connector and subsea cable arrangement, it operates at water speeds of between a 1m/s cut-in and an upper operating limit of 5m/s, with its rated power being achieved at a water velocity of 2.7m/s.
At the end of July it was announced that the turbine had passed a major milestone in the development of tidal stream power – reaching its full nominal power of 1MW in a series of gradual increases. "The power curve validation process looks very promising following over 10MWh of electricity generation, in actual operating conditions," says Stevenson.
He says the tidal turbine has been tested in different operational conditions through the Reliable Data Acquisition Platform for Tidal (ReDAPT) testing programme, and has shown reliability and performance in line with its design models. Further detailed testing and analysis is scheduled to continue throughout 2013/2014.
Going commercial
"The next step of the testing programme will be to demonstrate the full range of autonomous running capabilities of the turbine – its ability to efficiently operate independently – continue with the planned maintenance, and gather evidence for certification. The endurance and reliability will also be tested into 2014. Tests in pilot farms will follow prior to the start of full commercial production."
Construction of a 4-10MW pre-commercial array based on 1MW turbines is scheduled to follow in 2014-16, which should help provide a fuller picture of the challenges to be faced in delivering and connecting multiple turbines, as well as laying the foundations for future commercial installations.
Once built, from 2016 onwards, as this array is being thoroughly tested, Alstom plans to be preparing for full commercial production of the 1MW turbines, and looking into the potential for larger and more powerful versions based on the technology they have successfully trialled to that point.
Tidal potential
According to Dr Stephanie Merry, head of Marine at the Renewable Energy Association, it has been estimated that tidal stream energy could provide three to five percent of the UK's current energy demand in the long term. However, she points out that although tidal range technologies have already been fully commercialised – as France's 240MW La Rance power station and the 254MW Sihwa barrage in South Korea show – tidal stream generation still has a way to go.
With Alstom – as well as companies such as Siemens and Andritz Hydro Hammerfest – now planning tidal arrays of 10MW in UK waters, she says that although this is still not commercial scale, it is an important step along that road and will help explore how adjacent turbines interact, and their cumulative effect on the environment.
Tidal energy undoubtedly has much potential, and efforts to turn that into commercial reality are clearly making steady progress, but how far away is it from becoming a front-runner among renewable energy technologies?
Getting competitive
"In relation to other energy sources, marine is still an embryonic industry but tidal technology has made large advances in recent years," says Simon Cheeseman, the Energy Technologies Institute's programme manager – Marine.
"Tidal energy undoubtedly has much potential, and efforts to turn that into commercial reality are clearly making steady progress."
"Tidal devices have converged to a greater extent, with most designs now based around horizontal axis turbines, which share some similarities to wind turbines. There are some earlier stage designs still looking at the potential for vertical axis turbines, hydrofoils and Venturi-effect devices, in some case for niche applications, but in general with a consolidation towards horizontal access designs."
He says tidal power will undoubtedly have a role to play as part of the future mix, but that its full value will be determined by its own economic competitiveness alongside developments in other energy technologies, such as nuclear, carbon capture-and-storage and bioenergy.
According to Cheeseman, further development and investment is still required, and the cost of marine energy will need to reduce by 50-75% by around 2025 if it is to compete with offshore wind power and other technologies.
That is something that Alstom clearly recognise very well. "Tidal has to make the jump from early single demonstrators to pilot arrays and then commercial farms. Tidal cannot become a commercial product over night and it will take time and volume to reduce costs to that of other renewable technologies," Stevenson says.
Physical limits
There are physical limits too on the scope for tidal generation; high tidal flow-rates only occur at particular locations, which makes tidal energy resources very site-specific, and the capacity of the generators themselves is restricted by hydro-dynamics constraints.
Cheeseman points out that water depth and regulations around the minimum clearances for shipping mean tidal turbines cannot up their capacity in the same way that wind turbines can by simply increasing their blade length.
In addition, as Dr Merry explains: "Because the loading on the blades in water, in comparison to air, is much higher, a tidal turbine is unlikely to get any larger than the current size – about 18m diameter and 1MW per machine."
Developing the market
"The cost of marine energy will need to reduce by 50-75% by around 2025 if it is to compete with offshore wind power."
While Stevenson suggests it may be possible to go a little larger – perhaps 23m blades producing 1.5MW – he says the real question is how much energy can be extracted economically, and it seems there is a considerable potential market for tidal energy.
With France and the UK alone accounting for as much as ten percent of it, according to some estimates, Alstom has its sight firmly set on the first European tenders and is working with a number of developers on early opportunities in those two countries, with installation expected in 2016.
Ultimately, Stevenson says, while it will be the speed of deployment and available volume that drives the market size and cost, developing the full potential of the industry calls for support from governments, project managers and equipment manufacturers. It will, he says, "need a collaborative approach."

Related content
---
With a new generation of power plants waiting in the wings, decommissioning the UK's ageing nuclear facilities represents a critical long-term challenge to the industry – and not a cheap one.
Public support for onshore wind in the UK is supposedly at a record high, so why is the government offering financial inducements to persuade communities to host wind farms?
---