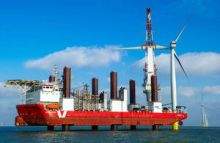 The UK Government has launched a £15m fund to help rural communities across England to establish their own renewable energy projects.
The Rural Community Energy Fund (RCEF) will provide grants to conduct feasibility studies and finance the costs associated with applying for planning permission.
The fund can be used to support rural projects across the renewable and low carbon energy spectrum, including wind, solar, biomass, heat pumps, anaerobic digestion, gas combined heat and power and hydro.

Pan-African proprietary investment company Heirs Holdings will allocate $2.5bn to energy projects under the Power Africa Initiative, a five-year partnership between the US, six African governments and a group of private sector companies.
According to the International Energy Agency (IEA), sub-Saharan Africa will require more than $300bn in investment to achieve universal electricity access by 2030.
With an initial set of six partner countries in its first phase, including Ghana, Tanzania, Kenya, Nigeria, Ethiopia and Liberia, Power Africa will add more than 10,000MW of electricity generation capacity.
UK's energy regulator Ofgem has proposed new rules to tackle electricity theft, which it estimates costs consumers £200m each year, or around £7 per customer.
The regulator has found that there are up to 25,000 cases of electricity theft recorded each year, while up to one third of the volume of electricity stolen is used to power cannabis farms.
The new rules would require suppliers to detect, investigate and prevent electricity theft, and face fines if they break them.

UK Prime Minister David Cameron has opened the world's largest offshore wind farm, London Array, located approximately 20km off the Kent and Essex coast in the Thames Estuary.
The £1.5bn offshore wind farm is owned, developed and built by a consortium of Dong Energy, E.ON and Abu Dhabi's renewable energy firm Masdar.
The wind farm features 175 Siemens 3.6MW turbines and will generate 630MW of electricity, enough to power approximately 500,000 homes, or equal to two-thirds of Kent.
Russia is planning to begin operations of the world's first floating nuclear power plant by 2016, according to a report.
Owned by Rosatom, the 70MW power plant, known as Akademik Lomonosov, will be situated in the town of Vilyuchinsk of the Kamchatka region, in far east Russia.
The power plant is aimed at providing energy to large industrial projects, port cities and offshore gas and oil-extracting platforms.

The UK Department of Energy and Climate Change (DECC) has unveiled new energy efficiency measures for larger domestic firms, which could deliver economic benefits totalling £1.9bn a year.
The new energy saving assessments, developed under the Energy Savings Opportunity Scheme (ESOS), require companies to identify opportunities to invest in energy efficiency, help reduce energy bills and increase competitiveness.
On average, it is expected that an enterprise will invest £15,000 a year in energy efficiency measures and benefit from bill savings of £56,400 per year.
The UK Department of Energy and Climate Change (DECC) has unveiled its draft delivery plan for electricity market reform, which intends to attract £110bn of investment in new electricity infrastructure by 2020.
The draft provides detail on the Contracts for Difference (CfDs), which will guarantee power prices for low carbon generation and is expected to support investment by removing commercial risks, such as wholesale price risk.
DECC claims CfDs will help save approximately £5bn by 2030 as they will deliver the cost of capital reductions that cannot be achieved through existing schemes.

French company Alstom has secured a €100m contract from Norwegian renewable energy firm Statkraft to supply equipment for the 243MW Devoll River hydropower project in Albania.
According to the agreement, Alstom will deliver six Francis turbines and auxiliaries to Statkraft subsidiary Devoll Hydropower, which is in charge of the construction of the new hydropower plant.
Alstom will also supply two high voltage substations of 220kV and 110kV in addition to hydraulic steelworks such as gates, penstock, stoplogs and trash-racks.