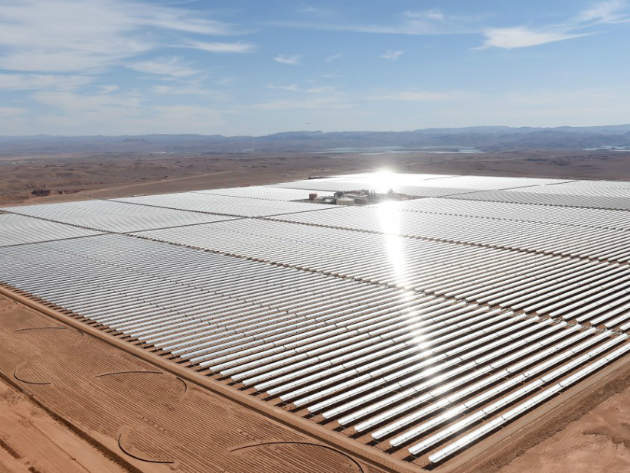 The Hornsea wind projects one and two
While the negative rhetoric around wind energy continues, in many British newspapers and increasingly from the government itself, a renewables revolution continues to quietly take place.
February saw the announcement of the Hornsea One project, a £3bn offshore windfarm that will provide enough energy for one million homes, to be located in the North Sea off the coast of Yorkshire. Covering an area of 160 miles, it will consist of up to 240 190m-tall turbines and will produce around 1.2GW per year of electricity. The turbines are being built by Germany's Siemens, the generators by Danish power utility Dong, with Dong the sole owner of the project. Set to start up in 2020, Hornsea One is expected to create 2,000 jobs during the construction phase and an additional 300 thereafter.
In August, planning permission was granted for Hornsea 2, which will be adjacent to its antecedent and even grander in scale. It is set to have planned capacity of 1.8GW.
The Petra Nova carbon capture and storage (CCS) system, currently being built at the WA Parish Generating Station near Houston, Texas, will be the largest post-combustion CCS system installed on an existing power plant in the world when it comes online at the end of this year.
A 240MW slipstream of exhaust flue gas will flow into the carbon capture system, filtering out 90% of CO2 as well as particulates, sulphur oxides and nitrogen oxides. The captured waste will then be pumped 82 miles to the West Ranch oilfield where it will be used for enhanced oil recovery, injected into depleted wells to help free up hard-to-reach pockets of crude oil.
The $1bn project is being run by a 50-50 joint venture of Houston-based NRG Energy and Japan's JX Nippon Oil & Gas Exploration Corp. The two parties put in $300m each, with NRG receiving an additional $167m from the US Department of Energy's Clean Coal Power Initiative and another $23m from the Consolidated Appropriations Act. Japan Bank for International Cooperation and Mizuho Bank offered an additional $250m in loans.
The Noor solar project, Morocco
Morocco has aggressively developed its renewables capacity in recent years and has moved up a gear with the announcement of the Noor project, a network of four linked concentrated solar power (CSP) projects set to provide 510MW of capacity once they all come online in 2018. To give an idea of the size of this project, the first phase of Noor 1 consists of 500,000 solar mirrors in 800 rows.
In a CSP system, the sun heats the solar mirrors which concentrate those rays onto pipelines full of heat transfer solution, a type of synthetic oil that can get up to 393°C. This fluid is then directed into an engine that powers a set of energy-generating turbines. The use of heated fluids allows a CSP system to work into the night, unlike a conventional photovoltaic array.
The project is being run by MASEN, the Moroccan state solar agency, in consortium with Saudi Arabia's ACWA Power, US firm Aries and Spain's TSK. Morocco is the biggest importer of energy in the MENA region, bringing in 90% of its fuel in 2013. Due to its ambitious investments in solar and wind, by 2020, 42% of its electricity will come from renewable sources.
September saw the unveiling of the first turbine of the MeyGen project, which is set to be the world's first tidal energy farm. The turbine, 15m in height with 16m-diameter blades, is now being transported up to the Inner Sound in Pentland Firth on Scotland's north coast, where the final foundation has just been laid on the seabed. This is the first of four turbines, each with a capacity of 1.5MW, set to be submerged in the project's first phase. If the test goes well, the plan is to deploy up to 269 more over the next ten years with the aim of producing 398MW of electricity, enough to power 175,000 homes.
The first turbine was built by Atlantis, a tidal power company based in Edinburgh, the three others coming from Andritz Hydro Hammerfest, whose UK base is in Glasgow. The fact that the first turbine was constructed at a former oil and gas fabrication yard is an additional reason to be pleased about this breakthrough and the smoothness of transition between old technologies and new.
Waste sugarcane to biogas, Australia
To round things off is a small but innovative project underway in Australia, the third-largest exporter of raw sugar. The industry already creates renewable electricity from bagasse – the waste left over after sugarcane processing – but researchers at Queensland University of Technology believe there are more ways of making something positive out of this waste.
In April, in partnership with Griffith University, Manildra Harwood Sugars, Sunshine Sugars and power plant consultant Utilitas, the university embarked on a $5.7m dollar project to convert sugarcane waste into renewable fuels for farming and transportation. This involves converting bagasse into biogas through a process of anaerobic digestion and then boiling biogas solids to upgrade it to biomethane for use in diesel engines.
The project is taking place at Sunshine Sugar's factories in New South Wales. If successful, it could lead to significantly reduced fossil fuel consumption across the country's sugar refining and transportation industry. According to project Ian O'Hara, it could reduce greenhouse gas emissions by up to 80kg of CO2 per tonne of sugarcane produced.