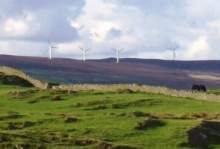 On 22 June, in her first major policy announcement as Secretary of State for Energy and Climate Change in a fully Conservative government, Amber Rudd reshaped reality for the onshore wind industry. With 490 operational wind farms, offering an installed capacity of 8.3GW, the subsidies afforded to the industry through the Renewables Obligation had done their job and could be closed a year earlier than planned, she told parliament.
For onshore wind, having evolved and innovated on the back of significant public funds to become the cheapest form of low carbon energy, while offending a minority of citizens who see the turbines as unsightly, the time had come for the industry to stand on its own two feet. Outlining the decision, Rudd said: "We could end up with more onshore wind projects than we can afford – which would lead to either high bills for consumers or other renewable technologies, such as offshore wind, losing out on support. We need to continue investing less mature technologies so that they realise their promise, just as onshore wind has done."
Unsurprisingly, the decision disappointed those operating in, and favouring, the low carbon contribution of onshore wind in the UK. "The government's decision to end, prematurely, financial support for onshore wind sends a chilling signal not just to the renewable energy industry but to all investors right across the UK's infrastructure sector," said Renewable UK chief executive Maria McCaffery.
"It means this government is quite prepared to pull the rug from under the feet of investors even when this country desperately need to clean up the way we generate electricity at the lowest possible cost – which is onshore wind."
End of RO will leave £800m funding hole
Despite the criticism the decision has received, the removal of the subsidies is expected to successfully pass through parliament and the scheme will officially close on 1 April 2016 instead of the previously planned termination date exactly one year later.
The government has committed to announcing a new support mechanism for the industry through so-called contracts for difference (CfD), where a minimum price is agreed for energy, but the amount of money is almost certain to be far smaller than the £800m in subsidies paid out in 2014 via the RO arrangement.
---
---
The UK renewable industry is "rewarding" and "sociable" to work in, says Rosie Vetter.
---
Losing such substantial support a year earlier than originally planned has led to more uncertainty around the industry's future growth potential. According to the government's own figures, the early closure will result in around 250 onshore wind farms, totalling about 2,500 turbines, being cancelled. Industry raised further concern, suggesting that the decision could cost thousands of jobs and millions in inward investment.
Among the areas that are likely to be hit hardest by any slump in activity in onshore wind are the companies and contractors that carry out the operational and maintenance work to support the onshore wind sector. In a report published earlier this year, Renewable UK found that 42% of the money spent within the local authority where a wind farm is located supports jobs and firms providing O&M services.
Politicians and business leaders in areas where the impact is expected to hit hardest have made their concerns clear. "Ending the Renewables Obligation one year early could have a devastating impact on onshore wind developers and the supply chain across the country, with around £3bn of investment in Scotland being put at risk," said Jenny Hogan, director of policy at Scottish Renewables.
Time for O&M to prove its value
Some in the industry are more optimistic though, and see the increased need for efficiency throughout onshore wind as an opportunity for the companies and contractors carrying out O&M to prove their worth.
John Coultate, head of Condition Monitoring and EU Sales at Romax Technology, argued that, despite the decision, the industry must continue to cement itself in the UK and drive operational efficiency. "Currently, the investment and financing markets within wind energy are incredibly active, and as a result of this the UK has been able to attract significant investment both domestically and internationally when it comes to developing, building and operating wind power sites."
"Currently, the investment and financing markets within wind energy are incredibly active."
By building on the back of the industry's existing strength in the UK, he said it can mitigate the impact of the subsidy cut with innovation and cost savings. Central to this, according to Coultate, is improving O&M: "Presently, over 75% of expenditure across wind farms are accountable to O&M. The result of this means current wind farm site managers and asset managers are being placed under extreme pressures to reduce operating costs."
Urging the industry to invest heavily in research and development, he highlighted the potential of predictive maintenance, where readings from sensors are analysed against relevant data sets to calculate when maintenance is best carried out, to significantly reduce down time and turbine failure. He added: "If carried out effectively, new technologies can offer operators longer maintenance lead times, meaning that they can shift from a reactive to a proactive strategy, enabling more effective planning for any major maintenance events, generating significant cost savings."
Onshore industry must collaborate and innovate
The cost saving potential in O&M was also highlighted in a report published in April by the Onshore Wind Cost Reduction Taskforce. Among the areas it said held significant scope for efficiency savings were "better weather forecasting for servicing schedules" and "wind farm wide control strategies".
More broadly, the report called on the industry to increase collaboration and the sharing of data on aspects such as asset management and on-site optimisation in order to cut costs. It said: "The sharing of best practice between project developers, operators and the wider supply chain has the potential to accelerate the adoption of cost savings in the market."
While there is significant scope for O&M to increase its value with existing customers and sites, new opportunities are also expected to arise. Highlighting the prospect for growth in on-site wind power, Johnnie Andringa, CEO of Gaia-Wind, said: "Farm-scale turbines are the embodiment of distributed energy, mostly for on-site use, and in many cases can be the difference between a rural business being feasible or not." While managing smaller scale, and more widely spread, wind assets would present challenges to O&M firms focused on larger assets, it constitutes an opportunity for growth.
Overall, the government's decision to end the Renewable Obligation subsidies a year early is a major blow to the UK onshore wind industry. Investor confidence has been knocked and the industry voice foretelling a drop in domestic manufacturing and jobs is growing. But the benefits already delivered by the subsidy should not be dismissed.
The 450 wind farms already operating, and those still being developed, may have been built partly on public subsidies but they will continue to operate after they have gone. The challenge to those in operations and management, and the industry in general, is to show that while the subsidies will narrow the profit margin, innovation can widen it once again.