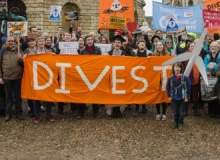 The movement has generated news on a regular basis, with the United Reformed Church's Synod of Scotland recently announcing that it will divest, agreeing that future investment is no longer an option, and New York University faculty members requesting similar action over its $3.4bn endowment.
Furthermore, in an open letter to the Museums of Science and Natural History in the US, a number of climatologists and professors have urged museums to end relationships with the fossil fuel industry.
As an international movement, it has welcomed endorsements from an array of influential voices, not least retired Anglican Archbishop of South Africa Desmond Tutu, who wrote in the Guardian that "people of conscience need to break their ties with corporations financing the injustice of climate change", as well as UN Secretary General Ban Ki-moon, who told the IPCC Press Conference in Copenhagen in 2014 that he had urged "companies like pension funds or insurance companies to reduce their investments in a fossil-fuel based economy [and shift] to renewable sources of energy".
A study by the University of Oxford in 2013 found that it was growing faster than any other divestment campaign. The report, which compared it with those waged against tobacco, apartheid in South Africa, armaments, gambling and pornography, forecast that "the outcome of the stigmatisation process, which the fossil fuel divestment campaign has now triggered, poses the most far-reaching threat to fossil fuel companies".
In October of the same year, Fossil Free UK came onto the scene with the aim of highlighting the £5bn invested in coal, oil and gas by the endowment funds of UK universities.
Keeping it in the ground
A breakthrough occurred last year, when Glasgow University became the first academic institution of its type in Europe to declare it was pulling out of the industry. Its commitment to start divesting £18m and halt new investments was celebrated as a "dramatic beachhead" for the movement by Bill McKibben, an American environmentalist and founder of 350.org.
---
---
With a binding agreement elusive, are the world's governments capable of decisive action?
---
Another shot in the arm was the launch of the Guardian's 'Keep it in the ground' campaign in March, which opened with a petition calling on the Bill and Melinda Gates Foundation and the Wellcome Trust to remove their investments in the top 200 fossil fuel companies, prompting Farrar's response.
It hasn't all been good news, however. On 16 March, students occupied a University of Oxford building following the revelation that the institution was delaying a decision about divesting funds.
In response to the Guardian, Jeremy Farrar, director of the Wellcome Trust, also called divestment a "grand gesture", believing that more influence can be exerted through discussions with fossil fuel companies. Nevertheless, he has not ruled out a future change of heart if conditions merit it.
But what happens now? Following on from Global Divestment Day in February, which spanned 60 countries and 450 events – including a protest by a group of Boris Johnson lookalikes at City Hall calling on the Greater London Authority to end its relationship with fossil fuels – the key, says Robin Clegg, 350.org UK media coordinator, is to ensure that the movement maintains its momentum, reaches out to grassroots campaigns and puts pressure on organisations.
"The pressure is mounting and it is something that people have really been able to engage with more actively," he says.
"It is the next thing that people feel they can get their teeth into and try to make some sort of change in society by putting pressure on these organisations."
Making this work, and forcing people to divest, will take time and should not be seen as a quick fix, Clegg adds. However, he continues: "The more people feel empowered to do something about it, the more it will make the movement a force for good and hopefully help to address the impact of climate change."
And, with world leaders meeting in Paris later this year for the UN climate change conference, the movement – based on what has gone before it – is unlikely to drop off the agenda any time soon.