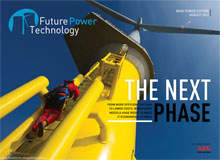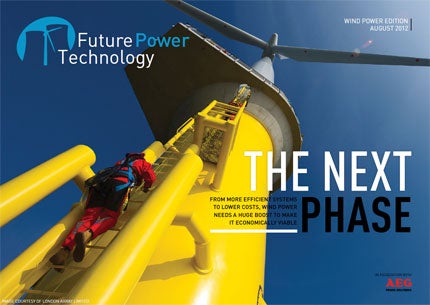 Efficiency and costs issues are holding back the further development of wind energy, but new turbine designs are emerging which could finally bring wind power into the mainstream. We explore how the next generation of wind turbines could improve the technology's energy-cost ratio.
We also look at the role of wind power in Denmark's ambitious plan to run the entire country on renewable by 2050, explore the physical impact of ever growing wind farms on the natural world, and investigate how insufficient grid connections are leading to large amounts of generated wind power being wasted in the sector's leading nations, including China and Germany.
Despite being one of the cheapest sources of clean power, wind is also one of the most fickle. We find out how the utilities in the US are experimenting with energy storage to address the problem, and take a look at the London Array Wind Farm, which is due to become the world's largest offshore wind farm once it is complete.
To read this issue, click here.
In this Issue
Round Table: Cutting Costs
A UK industry-led task force has recommended cost-cutting measures for offshore wind generation. Industry experts explain what they think of these proposals and whether they go far enough to make wind power production economically viable.
Read the full article.
Building a Growth Sector
More than half a million people will be working in the wind industry by 2020, but are there are enough skilled workers to fill the expanding number of vacancies? Sarah Blackman asks recruiters, engineers and academics what qualities how the skills gap can be filled.
Read the full article.
Denmark's Windy Vision
Denmark plans to run entirely on renewable by 2050 with wind as its main power source. We ask Danish Energy Minister, Martin Lidegaard and leading experts how it will work and whether Denmark will become the green leader in the global wind and renewable energy sector.
Read the full article.
The Next Generation
As new offshore wind turbine designs seek to address the all-important energy-cost ratio, Chris Lo explores the technologies paving the way for more efficient wind power generation.
Read the full article.
Bad Connection
More than half of the electricity generated by China's wind farms goes unused. The story throughout the rest of the world is similar with wind power being wasted due to insufficient grid access becoming a growing concern. We find out why transmission networks cannot cope with the rate of new turbines coming online.
Read the full article.
The Right Mix
Wind power is one of the cheapest forms of renewable energy but it is also one of the most inconsistent. Despite all of the research, simple utility-scale battery systems are often still the only option for storing wind power. Elisabeth Fischer compares the latest technologies being used to find out which is best.
Read the full article.
The Eyesore Effect
Wind farms help to protect the environment, but critics complain about their impact on areas of natural beauty. Chris Lo investigates whether intensive campaigning in the UK could be holding back the development of wind power.
Read the full article.
Industry Project: London Array Wind Farm
The London Array Wind Farm in the outer Thames Estuary UK, which is currently under construction is set to become the world's largest offshore wind farm.
Read the full article.
Next issue: Turbine Technology
Next month we explore the latest in turbine technology, looking at thermal, hydro and water power generation.
Maximising the capacity of capital-intensive gas turbines relies on efficient life cycle management. We find out how predictive modeling and simulators can help extend the lifespan of generating equipment. We also investigate how gas turbines can be optimised using design formulations and field test data, and look at the UK's largest and most efficient CCGT plant.
Verdant Power's kinetic hydropower system uses horizontal-axis turbines to generate energy from underwater currents. We take a look at the technology and two new power plants that will use it. Moreover, we find out why very low head turbines could be an affordable alternative for small hydro.
Finally, we explore how new wind turbine concepts are optimising production and ask Nordex how they lower costs while boosting power output.
Sign up for your free subscription to get future issues delivered directly to your inbox.
Digital magazine FAQ
The online magazine is viewable on any computer with Flash Player installed. It is also viewable on mobile devices, iPhones and iPads although some features and videos will be disabled.