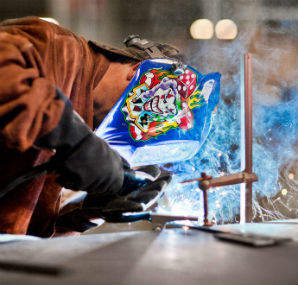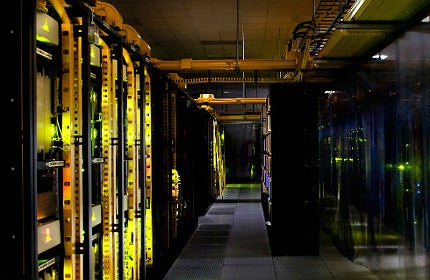 Nestled in the shadow of the iconic Blue Ridge Mountains some 190 miles west of the state capital of Raleigh, the unassuming town of Lenoir, North Carolina, is a living monument to the accelerated pace of technological change that has characterised American industry during the past quarter of a century.
Once a flourishing factory town serving the US furniture industry, the cacophony of noise emanating from Lenoir's carpentry mills has long since been replaced by the barely audible hum generated by row after row of servers housed inside Google's $1.2bn data centre.
Constructed in 2007 and home to 110 employees and contractors, the 215-acre facility – one of six such server farms in the US – houses computer systems and associated components that support Google Search, Gmail, Google+ and YouTube.
Now, the next chapter in Lenoir's transformation into a 21st-century internet hub is about to be written, with the announcement that Google is to invest a further $600m to expand the capacity of its data centre complex in response to increased global demand for its internet services.
Arguably more important, however, is the global IT giant's collaboration with Duke Energy, the largest electricity utility provider in the US, on a groundbreaking new project aimed at allowing companies to buy large amounts of renewable power directly from electric utilities.
"The concept is a simple one – our goal as a company is to be powered 100% by renewable energy," says Michael Terrell, Google's senior policy counsel for energy and sustainability. "However, when we approached Duke and said we wanted our facilities to be directly powered by clean energy, they just didn't offer that kind of service.
"We can't offset our way out of climate change – eventually we need new sources of power. What we are doing with Duke is helping to create a new class of renewable energy service."
Scale model: renewable energy tariffs and cost concerns
"Google is to invest a further $600m to expand the capacity of its data centre complex in response to increased global demand."
Under the new framework, companies such as Google will have the option of offsetting some or all of their energy consumption with new renewable power purchased directly from utility providers in North Carolina. This more scalable approach will take the form of 'renewable energy tariffs' that may one day be made available to all Duke Energy customers in the US.
"One of our goals is to look for renewable energy solutions that can be scaled," says Terrell. "If we want to be a company that's powered 100% by clean energy, we need to have that energy widely available everywhere. Looking for solutions that only work for Google is not necessarily going to be the best way to help us in the long term – we need to be finding solutions that can be taken to scale for everyone."
Terrell is quick to allay concerns that by offering new tariffs to corporate customers such as Google, Duke will be forced to shift the costs to residential customers in Caldwell County.
"If you look at the cost of renewable energy, it is coming down quite dramatically, to the point where it is competing pretty well with traditional grid power in the many parts of the US," he explains. "I wouldn't assume that we will necessarily have to pay a premium, but the idea behind the tariff is that if there were to be one, those costs would be passed to us.
"Because we are requesting this service as a voluntary option, costs would not be socialised across the rest of the customer base. That's pretty explicit in the way that we've outlined this proposal."
Regulatory challenges: incentivising alternatives to dirty energy
Google is not alone in looking for ways to power its data facilities entirely from renewable energy sources. Apple powers its data centre in Maiden, about 30 miles from Lenoir, with a 100-acre solar farm – a second farm with a similar 20MW output is expected to come online later this year.
The multinational has also built an on-site 10MW fuel cell installation that converts methane gas from landfills into stored electricity.
"Apple powers its data centre in Maiden, about 30 miles from Lenoir, with a 100-acre solar farm."
In light of this and other clean energy initiatives being trialled across the US, I ask Terrell why electric utilities such as Duke Energy haven't offered corporate serious scalable alternatives to 'dirty' energy, such as coal, nuclear and gas, before now.
"There are a number of reasons, one being how the industry has historically been regulated," he tells me from Googleplex headquarters in Mountain View, California. "In many parts of the US, the electric utilities run a monopoly service and the rates they charge are regulated by a state utility commission.
"The commissions have never asked for them to create this kind of service, so utility companies such as Duke weren't properly incentivised to do it. Until now, people have tended to just be interested in reliable power at the lowest cost possible."
Duke Energy will make a regulatory filing proposing the new programme with the North Carolina Utilities Commission in the next 90 days.
Power to the people: renewable energy tariffs explained
In a recently released white paper, Google outlined a five-point plan for the new renewable energy tariff. Initially, it will be aimed at large commercial and industrial customers; the goal is to target large and growing electricity loads and match their demand with utility-scale solutions.
The tariff should provide an integrated service that includes electricity generated by dedicated renewable facilities, and, if required, a supplemental service from other (likely non-renewable) sources. To ensure maximum flexibility, power generation should be supplied through facilities that are either owned by the customer or utility, or contracted by them under a power purchase agreement (PPA), a financial commitment to buy renewable energy directly from developers.
The fourth point relates to renewable energy certificates (RECs), tradable commodities that represent a claim to the environmental benefits associated with renewable power generation. RECs are sold either 'bundled' with the underlying electricity generated, or 'unbundled' as a separate commodity from the energy itself.
In the case of the renewable energy tariffs, Google recommends that RECs be transferred to the customer bundled with the power so the customer has the option to retire the RECs.
The final recommendation concerns pricing. Google intends for the costs associated with the procurement and delivery of renewable energy to be transparent and passed on to participating customers at a rate that reflects the actual cost of service.
Greening the machine: Google's sustainability policy
To attract Google to North Carolina in 2007, state officials controversially offered 30 years of state and local tax breaks potentially worth more than $260m. In light of this, and the ongoing tax avoidance scandal in the UK, I conclude by asking Terrell how the latest $60m investment and the new tariff proposals have been received in Lenoir.
"So far the reaction from the industry and other stakeholders in North Carolina has been very positive," he says. "Like us, they see this as a way to attract new business and drive more renewable energy development – we're very optimistic that this will make it through the commission."
Google has to date committed more than £1bn to investments in long-term renewable energy projects, while its grass-roots sustainability drive at its 13 data centres and many campuses worldwide encompasses everything from 100% equipment recycling to green transportation and smart temperature systems.
"Google has to date committed more than £1bn to investments in long-term renewable energy projects."
Where does this latest partnership with Duke Energy in Lenoir fit into the company's overarching environmental strategy?
"There are two approaches that Google takes to renewable energy," says Terrell. "One involves investing a portion of our treasury cash in renewable energy projects. Then, there's the challenge of sourcing high-quality clean energy for our data centres and Lenoir in North Carolina is directly related to that.
"We're now starting to see a number of different companies interested in diversifying their power supplies. That's the idea behind the tariff – any company that qualifies and requests the service should be able to participate," he adds.
"Everyone recognises that at the end of the day it's about driving clean and renewable energy solutions. Google is a 100% carbon neutral company, but we see our carbon offset programme as temporary until we get to the day when we are 100% renewable powered."

Related content
---
Google's $200m equity stake in the Spinning Spur Wind Project in Texas, US, brings the company's total committed investment in renewable energy to more than $1bn.
Tokelau, an island nation in the South Pacific, is now completely able to support itself with solar energy.
---