Google's Earth: inside the internet giant's $1bn renewable energy portfolio
Google's $200m equity stake in the Spinning Spur Wind Project in Texas, US, brings the company's total committed investment in renewable energy to more than $1bn. Julian Turner quizzes Kojo Ako-Asare, head of corporate finance, about greening the grid, power purchase agreements and Google's mission to be the first zero-carbon corporation.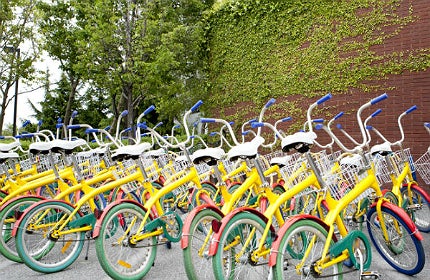 The evolution of Google is one of the undisputed wonders of the modern business world. Founded in 1998 by Stanford University students Larry Page and Sergey Brin with a mission "to organise the world's information and make it universally accessible and useful", the company has since expanded far beyond its core web search engine, to become a global IT and communications behemoth with an estimated market value of $250bn.
In May 2011, the number of monthly unique visitors to Google surpassed one billion for the first time, while the search engine recently cemented its position as the internet's most visited website. Just last month, the multinational posted $50bn in annual revenues, a new record. The name Google is even an officially recognised verb (meaning 'to search'). Not bad for a company that started life in a garage.
But the figures only tell part of the story. Google's aspirations have always extended beyond its bottom line, and with the company's new-found power comes greater responsibility, especially to sustainable business practices. Determined to stay true to its progressive northern Californian roots, the company has, since 2010, committed more than $1bn to long-term renewable energy projects.
"Sustainability is a core value at Google and the company is continually evaluating renewable energy investment opportunities," Kojo Ako-Asare, head of corporate finance, tells me from the company's Googleplex HQ, home to a 17MW solar panel that provides 30% of the building's electricity. "We're proud to be the first investor in an EDF Renewable Energy project that is not a financial institution, as we believe that corporations can be an important new source of capital for the renewable energy sector.

"From our perspective, these are smart investments and more corporations should be making them."
Winds of change: the Spinning Spur project
The latest addition to Google's clean energy portfolio is a $200m equity stake in the Spinning Spur Wind Project. Situated in Oldham County in the Texas Panhandle, the facility was built by developer EDF Renewable Energy and generates 161MW of energy, enough to power more than 60,000 US homes. The electricity produced by Spinning Spur's 70 2.3MW Siemens turbines is contracted to SPS, a utility that primarily serves Texas and New Mexico.
"We made our first renewable energy project investment in 2010 and since then we've invested in 11 projects, including some of the world's largest wind farms and the largest solar power tower in the world," says Ako-Asare. "We have also invested in utility-scale solar power plants and residential rooftop solar."
"The Spinning Spur Wind Project generates 161MW of energy, enough to power more than 60,000 US homes."
It is worth noting that Google committed to Spinning Spur in December, before a last-minute deal was brokered in Congress that extended the US Government's 2.2¢ per kilowatt hour tax credit for energy produced at wind farms.
The possibility that this lucrative subsidy – estimated to cost $12.1bn over ten years – would be abolished had already prompted turbine manufacturers, including Siemens and Vestas, to scale-back operations and start laying people off.
Seen in this context, Google's investment amounts to an emphatic vote of confidence in the US domestic wind market, at a time when the US Energy Information Administration was predicting very little new capacity in 2013.
"Google is solely interested in opportunities that make financial sense," states Ako-Asare. "We look for projects like Spinning Spur because, in addition to creating more renewable energy and strengthening the local economy, they offer attractive returns relative to the risks, allow us to invest in a broad range of assets and further diversify our cash allocations away from interest-rate-based investments."
Incentivising offshore: the Atlantic Wind Connection
Google also has designs on the offshore wind market, another smart move in light of the US Department of Energy's (DOE) recent announcement that it will provide $47m in grants during four years to demonstrate direct-drive turbines and new types of foundations for offshore wind.
"Corporations can be an important new source of capital for the renewable energy sector."
"In 2010, we invested in the Atlantic Wind Connection (AWC), the first offshore backbone electric transmission system in the US," says Ako-Asare. "Once completed, the AWC backbone will stretch 250 miles along the coast from New Jersey to Virginia, enabling the connection of up to 7,000MW of offshore wind power.
"This could provide the energy equivalent of that used in 1.9 million households, and increases the reliability of one of the most heavily congested grids in the country."
Described by the company as 'a superhighway for clean energy transmission', the AWC initiative is one of Google's many interests – everything from wind farms in Oregon to photovoltaic technology in Germany – that cut across a range of technologies and geographies. Altogether, these projects are capable of producing 2GW of electricity, enough to power 500,000 US homes for a year – or, if you prefer, the Sydney Opera House for 312 years.
Greening the grid: power purchase agreements
In addition to investing in renewable energy projects with an expectation of financial return, Google has completed two, large-scale power purchase agreements (PPAs), long-term financial commitments (in this case, 20 years) to buy renewable energy directly from developers.
The first is for 114MW of wind generation from clean energy company NextEra's Story County II facility in Ames, Iowa, while the second PPA covers 100.8MW of power from the Minco II wind farm in Oklahoma; Google operates data centres in close proximity to both.
Google sells the power back into the grid at the local, wholesale price, often at a slight net loss, since generic grid power is currently cheap and renewable power relatively expensive. However, the multinational expects the contracts to eventually make money as power gradually becomes more expensive as time goes on. The scheme directly benefits clean energy developers, such as NextEra, by offering them certainty on the payments for their power, which in turn allows them to secure additional financing for new projects.
"Our power purchase agreements to date have been within the same regional grids as our data centres, as part of our efforts to green the grid in the locations where we operate," confirms Ako-Asare. "Our investments do not have similar regional restrictions."
There is an additional incentive; in the process of selling, Google is able claim renewable energy credits (RECs) and apply them to the electricity consumed at its facilities.
Positive energy: transparency and Google's zero-carbon initiative
I conclude by asking Ako-Asare about Google's grass-roots sustainability drive at its 13 data centres and many campuses worldwide – everything from 100% equipment recycling to green transportation and smart temperature systems – as the company strives to realise CEO Larry Page's dream of being the first zero-carbon company. He is quick to point out that the dream is already a reality.
"We've actually been carbon neutral since 2007," he says. "For the emissions we can't eliminate directly though energy efficiency in our data centres and the use of renewable energy (via PPAs and onsite generation at our Mountain View campus), we purchase high-quality carbon offsets. We're also the first major internet services company to gain ISO 14001 and OHSAS 18001 certifications for our US data centres."
"Google is the first major internet services company to gain ISO 14001 and OHSAS 18001 certifications for its US data centres."
What was behind the company's decision in 2011 to abandon its attempt to become a clean energy innovator in the shape of its in-house Renewable Energy Cheaper than Coal (RE<C) initiative?
"RE<C was developed as an effort to drive down the cost of renewable energy, with a Google engineering team focused on researching improvements to solar power technology," explains Ako-Asare.
"At this point, other institutions are better positioned than Google to take this research to the next level. We published our results to help others in the field continue to advance the state of power tower technology."
Google has also made freely available the details of its PPAs, in the hope that it will provide a useful blueprint for other companies to 'green' both their operations and the grid.
This perceived openness and transparency, recently praised by Greenpeace, no less, demonstrates that Google appears to be committed to paying more than mere lip service to the idea of environmental responsibility, and is instead 100% committed – culturally, ideologically and financially – to staying true to those northern Californian roots, by championing sustainable business practices at every level.

Related content
---
Electric vehicles are becoming more popular among manufacturers and consumers, as the price of batteries drop and governments invest in new charging infrastructure.
Alta Wind Energy Center (AWEC), also known as Mojave Wind Farm, is the second largest onshore wind energy project in the world.
---