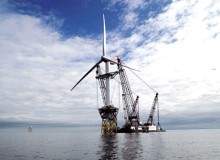 A new report from the Energy and Climate Change Committee has urged ministers to stop "crossing their fingers" on its new nuclear programme and urgently develop a back-up energy strategy.
MPs said in the report, published on 4 March, that if the UK fails to build a new fleet of nuclear stations it would be "much more" expensive to meet the country's climate change targets.
Developers want to build 16GW of new nuclear power stations in the UK by 2025, but the programme has been hit by a series of setbacks in recent months.
UK MP and Energy and Climate Change Committee chairman Tim Yeo said: "It is right that investors should be given confidence that they will recoup their money by providing them with long-term contracts. But at the same time long-term price guarantees for new nuclear power stations need to deliver value for money to consumers," said Yeo.

Also in March, Hitachi Zosen said it is planning to install floating offshore wind turbines in Japanese waters, in partnership with Norwegian oil and gas firm Statoil.
The company signed a cooperation agreement with Statoil in November 2012, which included conducting a feasibility study for floating offshore wind turbines in the country.
Hitachi Zosen's strategic planning department general manager Takashi Fujita told Bloomberg that the company is looking at possibilities on how to bring the technology developed in Norway to Japan.
"It won't be that difficult. Both partners want to reduce time to bring the floating offshore technology to reality as much as possible," Fujita said.

Meanwhile, energy and carbon advisory firm RepuTex predicted that natural gas-fired generation in Australia will fall by more than 60% if the government's carbon price mechanism (CPM) was removed from the market and Australian gas prices continue to rise.
The firm's Australian Energy Outlook report suggests that the country's natural gas generation would drop, from a 13% share of the total National Electricity Market (NEM) output in 2013, to three percent by 2020.
To make up the shortfall in energy, coal output would expand, the research suggests.
RepuTex associate director of research Bret Harper said that gas was previously seen as the possible transition fuel in the bid to retreat from coal-fired generation. But opening up of the east coast of Australia to LNG export projects is anticipated to increase domestic gas prices, to reflect the higher price of gas in Asia.

West Coast Energy lost its legal battle to build a four-turbine wind farm in Northamptonshire after UK conservation bodies English Heritage and the National Trust argued that the proposed development would have a negative impact on nearby listed properties.
The High Court found in favour the challenge against the planning inspector's decision to grant planning permission to the Barnwell Manor wind farm, which would have been built near the Elizabethan ruin of Lyveden New Bield.
The ruling could have major implications for the wind energy industry, given that National Trust is considering opposing up to 25 proposed wind farm developments across the UK.
West Coast Energy managing director Robert Tate said his company was 'extremely disappointed' that the statutory challenge has been successful.

A new report by Boston Consulting Group (BCG) predicts that Germany's power generation capacity may reach more than 250GW in 2030, compared with 158GW in 2010, driven primarily by a rise in wind and solar photovoltaic (PV) energy.
The report notes that global electricity markets are in the early stages of transformation and Germany's bold restructuring of its power system could serve as a paradigm.
Countries across the world have started to shift from conventional centralised, fossil fuel-based power generation in favour of renewable-energy sources and distributed generation.
The report states that Germany is leading the transformation, as its energy future focuses on renewable-energy sources, distributed generation and increased energy efficiency.

The Abu Dhabi Future Energy Company (Masdar) has launched Shams 1, the world's largest concentrated solar power (CSP) plant, into operation.
Located at Madinat Zayed, the new grid-connected 100MW plant will power 20,000 homes in the United Arab Emirates (UAE).
Masdar now accounts for nearly 68% of the Gulf's renewable energy capacity and up to ten percent of the global installed CSP capacity.

Also this month, EDF Energy secured planning approval from the Department for Energy and Climate Change (DECC) to construct a £14bn nuclear power plant at Hinkley Point C in Somerset, UK.
Hinkley Point C is the first new nuclear station to be constructed in the UK since 1995.
The 3.2GW nuclear power plant will feature two EPR reactors, each of 1.6GW capacity, capable of generating seven percent of the UK's total electricity, enough to meet power requirement for five million homes.
The nuclear power plant will generate almost four times more electricity than Hinkley Point B station, which produces around 880MW of electricity.

The Scottish Government has approved the development of the European Offshore Wind Deployment Centre (EOWDC) in Aberdeen Bay, angering US tycoon Donald Trump.
The approval will allow the Vattenfall, Technip and Aberdeen Renewable Energy Group to build 11 wind turbines about 2.4km from Trump's golf course.
In a statement, the property magnate attacked MSP for Aberdeenshire East Alex Salmond and described the decision as "purely political."
"As dictated by Alex Salmond, a man whose obsession with obsolete wind technology will destroy the magnificence and beauty of Scotland. Likewise, tourism, Scotland's biggest industry, will be ruined. We will spend whatever monies are necessary to see to it that these huge and unsightly industrial wind turbines are never constructed."

Related content
---
February saw China's first nuclear plant come online since the Fukushima disaster, while MeyGen and SeaGen tidal projects received £20m in UK Government funding.
January saw global investment in smart grid technologies increase by seven percent as Japan published draft safety rules to protect nuclear plants against natural disasters.
---