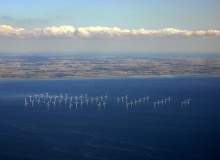 SeaBreeze is a concrete gravity base, which has been developed over ten years, that utilises both gravity and buoyancy
---
As the wind turbine industry looks at ways of cutting costs, in order to make wind generated energy more cost efficient, engineers are developing a series of new innovative concrete gravity bases for offshore wind turbines. Concrete is being championed by a number of fast growing companies as the best material to use for offshore wind turbine bases because, according to engineers, concrete is durable, cheap, locally made, strong and doesn't require piling.
Dr Lewis Lack, an engineer who studied wind turbines at university and subsequently acquired a PhD studying the field, believes concrete bases are the way forward for the industry. He broke a hiatus from the wind turbine technology industry to join his now business partner David Bone in 2008 to create Xanthus Energy and develop what is now known as the SeaBreeze.
SeaBreeze is a concrete gravity base, which has been developed over ten years, that utilises both gravity and buoyancy. It is just one product in what is becoming a burgeoning industry, that Lack hopes will be considered by developers in the UK Round 3 offshore licensing development. Here, Lack explains the key advantages of concrete gravity bases and the challenges the industry currently faces.
Heidi Vella: What is the cost difference between a concrete gravity base and other bases currently being used, such as steel?
"We've optimised the structure very carefully to minimise the amount of concrete used, but still made it strong enough to do the job."
Dr Lewis Lack: In general, concrete is a very stable structure, it is low cost and it can go into quite deep water. It is economically attractive when you look at the complete life cycle costs. A steel structure, if you were using piles, would eventually have to have a large diameter pile when you go into deeper water.
Jackets are well understood and they have been used widely in the oil and gas industry in water depths up to 150 metres. The jacket structure is now the next preferred choice.
But there are lots of positives about concrete apart from stability and water, it doesn't need anything; it doesn't need any maintenance; it doesn't fatigue and fall apart, which is what happens to steel structures. It's also a material that you would build locally so it creates local work, as opposed to steel which can be brought in from any low cost operation anywhere in the world.
HV: Are there environmental advantages of concrete based structures?
LL: The concrete can be recycled very easily. The other aspect of concrete installation is it's a quiet process; we're not banging steel into the seabed so the impact of installation is much, much lower than for steel structures that typically have piles, even small pin piles. So the noise impact is much, much better.
HV: How advanced is the concrete gravity base industry?
LL: Since The Concrete Centre and the material process industry organisation picked up the argument for concrete, the market has become more open and more receptive to the idea. Nearly all developers now are considering concrete gravity bases for their future plans, they have understood the positive opportunity they offer and they're beginning to get to grips with what it is about and how they need to include them in their environmental impact assessments, and we have been involved with some developers, who I can't name.
HV: Please tell us about Xanthus's concrete gravity base, the SeaBreeze?
LL: It is based on what is now being called 'float out and sink' capability; so essentially, the structure carries the wind turbine, which is pre-installed onshore.
"The demonstrator would be a full-scale system that would carry a five megawatt or larger wind turbine offshore."
The foundation then carries the whole assembly out and is installed offshore. Buoyancy is everything; ships obviously have buoyancy and we use that principle to lift huge structures.
It's a gravity-based system so the structure is ballasted onto the seabed.
It is unique amongst all the alternatives out there, and there are a growing number of them, because it doesn't require any specialist vessels or barges, it uses standard ocean going tugs or handlers to install it.
HV: What else makes the SeaBreeze different to other concrete gravity turbines?
LL: Many of these concrete gravity bases weigh a thousand tonnes, or thereabouts. We've optimised the structure very carefully to minimise the amount of concrete used, but still made it strong enough to do the job it needs to do.
So it is a little bit different, most of the normal concrete gravity bases have quite a small foot print, in other words, they are concentrated around a point; ours is a much flatter, wider structure. It has a wider foot print which is low profile so it doesn't catch all the wave forces but it also makes it very stable. The mass of the structure and its seawater content is what keeps it on the seabed.
HV: How far in development is the SeaBreeze?
LL: We have tested it in scale model form, we have done analytical work and we're now at the stage where we want to build a full scale demonstrator and we are preparing to do that. We don't have a completely firm time scale on that because it is subject to grant applications and funding, and so on.
The demonstrator would be a full-scale system that would carry a five megawatt or larger wind turbine offshore and be installed.
We have a number of opportunities [where to deploy the demonstrator], we have an emerging consortium, which is a SeaBreeze consortium, and this involves partners that are both in the north-east and global.
HV: What difficulties have you had to overcome in the ten years you have been working on the SeaBreeze?
LL: Well, we were quite early in the game and, to be honest, we now realise we seeded the market with a lot of our ideas. So we see growing competitiveness. We do have patents in place but that's only one level of protection.
The initial development work was done by our sister company. We then started, in 2008, to market the technologies and concepts to the market that is now becoming a major opportunity with the Round 3 offshore wind stage, and in the last four years we have run with that business, but it's an SME and every grant comes with some percentage of the total.
HV: Were there any design or technical difficulties you faced?
"Our structure is designed to last for 20 years, but it probably would last 50 years without any major intervention."
LL: Not really. We've matured the design over the years and we've changed some things about it as we've learnt more about how it behaves. But we are confident the design is now based on good engineering.
When we ballast offshore, we only ballast with seawater. Some of our competitors are looking at using rock and our argument would be, why use a rock when that's an expensive material?
You have to bring it from somewhere and then dump it offshore – we would simply use seawater and we have designed our structure to be sufficient and work properly with a seawater ballast – that's the most freely available substance out there, of course.
HV: What is the lifespan of the SeaBreeze?
LL: Concrete in the sea – if it's done right – can last for at least tens of years. Our structure is designed to last for 20 years, but it probably would last 50 years without any major intervention.
And we have a patented method to remove it which I am not prepared to talk about in detail, but we have a way of getting it off the seabed without some of the problems you would probably have.
HV: When do you envisage SeaBreeze will be used as a commercial product?
LL: The energy bill is slowing everyone down. We need the new energy bill to be finalised; the investing decisions are being delayed, are on hold. The initial market opportunity looked like 2015 but it I think it is going to slip by about at least a year before anybody starts really building around three wind farms.
---
Related content
---
Walney Offshore Wind Farm, located 15km west of Barrow-in-Furness in Cumbria, UK, began generating power from its first turbine in January 2011.
The UK has the potential to harness tens of gigawatts of marine power capacity, but what risks will the industry face when operating and maintaining wave and tidal projects?
---