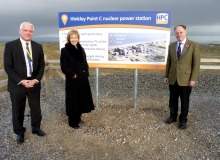 New nuclear projects are on the rise in the UK. As well as the much maligned Hinkley Point C, for which a final decision has been delayed until September, there are a number of other projects in the pipeline over the next decade. These six projects, Hinkley Point, Sizewell, Bradwell, Moorside, Wylfa and Oldbury , are part of the UK government's plan to solve the energy trilemma; finding secure energy sources whilst reducing greenhouse gases and keeping costs down.
Speaking at the Nuclear New Build Forum last week, Energy Minister Andrea Leadsom quoted the latest Nuclear Workforce Assessment figures, saying total demand for skilled workers is currently 78,000, set to rise to 111,000 as new build programmes gear up.
This presents the UK new nuclear industry with a problem. According to Leadsom, 70% of skilled nuclear workers will be of retirement age by 2025, leaving a large gap to be filled in the labour market.
AECOM's Vice President of Business Development Jay Brister, also speaking at the event, agreed. He says "The challenge is setting forth the infrastructure to have the training programmes necessary to create a highly-qualified nuclear workforce when the time comes to start up a nuclear powerplant."
How to fill the skills gap?
"The sector could learn much from the Crossrail project's approach"
Crossrail's Chairman Terry Morgan expressed that the sector could learn much from the Crossrail project's approach, which required all contractors by contract to hire apprentices. "For every £3m of contract value, [Contractors] would employ an apprentice or someone who was unemployed," he says. His idea is that by selecting contractors on the quality of their offering, including their apprenticeship programmes, rather than purely on price, Crossrail was able to secure more apprentices.
This approach clearly worked. The team had a target of 400 apprentices by 2018; today it employs 550 across its sites, 40% of whom were not in education, employment, or training. He also stressed the importance of training nationally. "We should not continue to rely on immigration to support the skills shortage," he says. "We still need it but we could do more to grow our own."
Leadsom appeared to take a similar approach, suggesting a partnership of industry and government to solve the nuclear skills gap. She asserted that the newly formed Nuclear Skills Strategy Group will "address the skills infrastructure, processes and training provision" for new nuclear, as well as looking at which skills are transferable to new nuclear from other sectors, especially those in the energy sector.
She also referred to the Chancellor's announcement of a National College for Nuclear last year. According to Leadsom, the college will "work collaboratively with the wider industry, skills bodies and training providers and will look at international best practice to develop an industry-wide curriculum."
The college will have two campuses in Cumbria and the South West, one assumes, to cover the North and South of England, and within reach of upcoming nuclear projects.
"Nuclear new build companies are also expected to join in to fill the skills gap"
Nuclear new build companies are also expected to join in to fill the skills gap, with Hinckley Point C seemingly setting a good example. EDF Energy's managing director of nuclear new build, Humphrey Cadoux-Hudson, says the company has invested over £11m in the local area around Hinkley to improve training and skills provision. "This includes £5m towards the Energy Skills Centre and Construction Skills Centre," he says.
It's a good start, and if successful, could form the basis of how new nuclear projects interact with local and national educational and skills bodies as well as local communities to ensure they get the calibre of staff they need. However, if the pending final decision in September goes against Hinkley C, all this work may be in vain. Wheels are in motion, let's hope they've got the destination right.