Smart cities – smart energy projects revolutionise future energy use
Across the globe, power companies and local communities are coming together to implement mini smart grids, as a demonstration of how smart technologies could revolutionise our future energy networks. Dr Gareth Evans investigates four smart energy examples from the Netherlands, France, the US and Brazil to show how, if everyone involved knows what to expect, small-scale smart grids can prove very successful.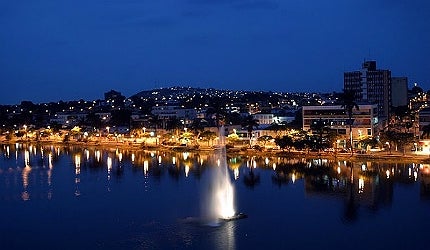 Potential benefits are huge, in terms of improved operating efficiencies, cost savings, accelerated fault finding and better power quality, as well as facilitating the integration of renewable and distributed generation sources, which will make up an increasingly large part of the future energy mix.
However, with the ongoing spat over 'SmartGridCity' in Boulder, Colorado, now before a Public Utilities Commission administrative law judge, and Xcel arguing that its customers had "unreasonable expectations", how well such projects are seen to deliver has arguably never been more important.
But if everyone is on the same page, small-scale smart grids, such as these four developed by the cities of Hoogkerk, Issy-les-Moulineaux, Sete Lagoas and Harrisburg, could prove very successful.
Hoogkerk, the Netherlands; power matching city
"Coupled with a 2MW wind farm and a Capstone 30kW gas micro-turbine, the micro-grid community functions as a virtual power plant."
The 'power matching city' of Hoogkerk – a suburb of Groningen – officially started operating its micro-grid on 10 March 2010, although the origins of the project go back to 2007 when it formed one of the EU 6th Framework INTEGRAL Programme demonstrations.

Intended to illustrate how grids could look by 2030, it incorporates the necessary flexibility to accommodate inherently intermittent – but increasingly important – renewable technologies, such as wind and solar, and the results to date have been very encouraging.
The installation includes 25 interconnected houses, all of them equipped with Itron smart meters and 12 square metres of photo-voltaic panelling, providing 1.4kW (peak). Twelve are equipped with combined heat and power (CHP) plants with 1kW high efficiency boilers, fuelled by biogas / natural gas, while the other 13 have a hybrid heat pump, which comprises an air-to-water heat pump and a condensing boiler.
Coupled with a 2MW wind farm and a Capstone 30kW gas micro-turbine, the micro-grid community functions as a virtual power plant. Using PowerMatcher software, developed by ECN, users negotiate the cheapest power, and selling generated power at the best price, to get the maximum benefit for each link in the consumption / production chain.
The system has been shown to respond quickly to fluctuating demands, maintaining appropriate capacity for each household during the long term, and successfully integrating smart devices such as washing machines, dishwashers and electric vehicle charging stations, without adversely affecting the end-user's experience. Consumer response has been positive as a result, and the clear interoperability of components that has been established in this initial phase has laid the foundations for the system to be grown organically, as required, over subsequent years.
Issy-les-Moulineaux; IssyGrid – France's first district smart grid
Formally inaugurated at the end of May 2011, IssyGrid is the first district smart grid in France and the project has a number of significant features. It will incorporate a diverse range of energy supplies – including solar photovoltaic and cogeneration units – and will be heavily supported by a comprehensive public education and information programme designed to maximise participation.
"Formally inaugurated at the end of May 2011, IssyGrid is the first district smart grid in France."
However, arguably its greatest strength lies in the combined competencies of the industrial consortium behind it, led by Bouygues Immobilier, with partners, Alstom, Bouygues Telecom, ERDF, ETDE, Microsoft, Schneider Electric, Steria and Total, and the wealth of relevant technical and strategic skills they bring.
There are three distinct stages to implementation. Firstly, energy consumption for domestic, commercial and municipal uses – including public lighting and electric vehicle recharging points – is being extensively measured.
Solar panels, cogeneration and other energy production systems will then be installed, along with the necessary batteries, flywheels and other devices for energy storage in the second phase. Finally, production, consumption and storage will be coordinated and managed to provide end-to-end optimisation during the scope of the project.
Initially being set up in the Seine Ouest business district of Issy-les-Moulineaux to meet the needs of around 10,000 people, in an area of some 160,000 squares metres, it will subsequently be extended as part of a planned five-year timeframe across the rest of the municipality.
Sete Lagoas, Brazil; City of the Future
Launched in February 2012 by Compahia Energética de Minas Gerais (Cemig), the joint Cities of the Future and Conviver projects at Sete Lagoas are intended to demonstrate the efficacy of smart grid architecture and the potential benefits of expanding it across the whole of the company's concession area. Cemig's total investment to 2013, which includes implementing and developing the infrastructure needed to cater for new technologies, stands at R$45m.
Situated 70km from Belo Horizonte, the town of Sete Lagoas was chosen for the projects on the basis of its representative mix of high, medium and low users, existing telecommunications systems and the presence of Cemig's own corporate university campus to provide testing and training facilities.
The initial phase of the project will see part of the metering and telecom system upgraded and modernised, which began in July with the installation of the first of 3,800 new smart meters, and the subsequent field testing and validation of the implemented smart grid architecture.
In addition, Cemig is also setting up an experimental photovoltaic solar generation joint-venture, which will be the first in the region to be connected to the distribution grid and only the second commercial plant of its kind in Brazil.
Harrisburg, USA; Pennsylvania's Smart Grid pilot
"Involving around 60,000 customers in Dauphin and Cumberland counties, it has been described as the biggest technological improvement to the power delivery grid in decades."
PPL announced the completion of the installation of its Smart Grid pilot in the Harrisburg area in early July 2012, and they are already reporting examples of the system shortening outages for local customers. It is a three-year, $40m project – partly funded by a US federal stimulus grant – and during this time, additional capabilities currently under development, such as improved voltage regulation, are to be added to the distribution management system.
Involving around 60,000 of the utility's customers in Dauphin and Cumberland counties, it has been described as the biggest technological improvement to the power delivery grid in decades, and PPL ultimately hope to roll out the benefits across the whole of its 29-county service area.
At the core of the project are more than 500 remote switches, relays, sensors and other devices which collect data from local circuits, and can take appropriate actions either automatically, or in response to commands received through the network from the remote control centre.
Optimising the positioning of smart devices throughout the system was key, and PPL drew on the research and analytical expertise of Drexel University to achieve the right placements.
A number of leading technology partners also contributed to the successful implementation of the Harrisburg pilot. GE Energy provided the new distribution management system that constantly monitors, analyses and models power flow in real-time, and automatically controls devices in the field.
Alcatel-Lucent established the high-speed communications network, comprising wireless towers and fibre optic links, which connect software, system operators, substations and automated devices, with system-wide cyber-security from Lockheed Martin protecting both the installed smart hardware and software.
---
Related content
---
Power theft is a major issue in Latin America where illegal hook ups and black market siphoning costs economies billions each year.
Smart grid deployment in emerging nations is progressing at a slower pace when compared to developed nations.
As the population grows, so does the demand for electricity.
---