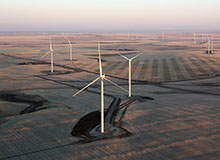 Enbridge Income Fund / Enbridge Canadian Liquids Pipelines – $30.4bn
Enbridge Income Fund acquired Enbridge's Canadian Liquids Pipelines business, comprised of Enbridge Pipelines (EPI), Enbridge Pipelines Athabasca (EPA) and certain Canadian renewable energy assets, for $30.4bn in September 2015.
Following the deal completion, Enbridge Income Fund has a renewable energy generation capacity of 830MW in Canada, by holding 50% interest in the Saint Robert Bellarmin wind farm, 67.5% interest in Lac Alfred wind farm, 80% interest in the Massif du Sud wind farm, and 50% interest in the Blackspring Ridge wind farm.
GE / Alstom Power and Grid – $10.6bn
Alstom's Thermal and Renewables (Power) and Grid Businesses were acquired by GE in November in a €9.7bn (approximately $10.6bn) deal, the biggest industrial acquisition GE has ever made.
Immediate benefits from the acquisition will be noticed at the Phu My Power Plant upgrade project, PSEG Sewaren New Jersey combined-cycle power plant (CCPP), Punjab Pakistan Bhikki CCPP, Exelon Power Plants, and the Chempark combined heat and power project (CHPP), where critical equipment from both GE and Alstom are being installed.
Wisconsin Energy / Integrys Energy Group – $9.1bn
Wisconsin Energy acquired Integrys Energy Group for $9.1bn in June and formed the combined company named WEC Energy Group, with major operating headquarters located in Milwaukee, Green Bay and Chicago.
WEC Energy Group serves approximately 4.4 million customers across four states through its subsidiaries We Energies, Wisconsin Public Service, Peoples Gas, North Shore Gas, Michigan Gas Utilities, and Minnesota Energy Resources.
Siemens / Dresser-Rand – $7.8bn
Siemens closed the acquisition of Dresser-Rand for $7.8bn in mid-2015 by paying the latter's shareholders $85.20 a share.
The new merged business aims at becoming one of the world's leading suppliers of electrical, rotating equipment, process automation in the oil and gas industry, and distributed power generation applications. The business is expected to generate a revenue of approximately €200m ($217m approximately) a year by 2019.
Consortium of Borealis Infrastructure Management, Tredje AP-Fonden, Första AP-Fonden and Folksam / Fortum Distribution – $7bn
Fortum Distribution, the Swedish electricity distribution business of Fortum, was acquired by a consortium of Borealis Infrastructure Management (50%), Tredje AP-Fonden (AP3-20%), Första AP-Fonden (AP1-12.5%) and Folksam (17.5%), for roughly $7bn in June.
The consortium has more than 20 years of experience in the acquisition and management of infrastructure assets. The acquisition provides Fortum Distribution with a new long-term and stable owner to continue serving its approximately 906,000 customers.
Dynegy / EquiPower Resources and Brayton Point Holdings, and Duke Energy – $3.45bn + $2.8bn
Dynegy completed the acquisition of EquiPower Resources and Brayton Point Holdings, from Energy Capital Partners (ECP), in April for $3.45bn. Dynergy further acquired Duke Energy's assets and retail business in the Midwest for $2.8bn.
The acquisitions have increased Dynegy's owned generation capacity to 26,000MW in eight states in the US, which is sufficient to serve approximately 21 million homes. The acquired assets from ECP include seven gas-fired power plants, two coal-fired power plants and an oil-fired power plant, while it has ownership interest in ten power plants previously held by Duke Energy.
SunEdison and Terraform / First Wind Holdings – $2.4bn
SunEdison, a leading global solar developer, and Terraform, a global owner and developer of renewable energy projects, acquired First Wind Holdings for $2.4bn in January.
As part of the transaction, Terraform acquired 500MW of operating wind power plants and 21MW of operating solar power plants from First Wind, whereas SunEdison purchased the equity interests of First Wind and some of its subsidiaries, transforming SunEdison into a leading global renewable energy development company.
Asahi Kasei / Polypore International – $2.2bn
A US subsidiary of Asahi Kasei acquired Polypore International for $2.2bn in August, making the latter a wholly owned subsidiary. Polypore had divested its Separations Media segment to 3M Company prior to the acquisition.
Following the acquisition of all its shares by Asahi, Polypore International's energy storage business has been merged with Asahi Kasei E-materials, the main operating company that operates Asahi Kasei's battery separator business.
JSW Energy / Himachal Baspa Power – $1.45bn
JSW Energy acquired the shares of Himachal Baspa Power Company (HBPCL), a subsidiary of Jaiprakash Power Ventures (JPVL) in September for Rs97bn ($1.45bn approximately).
The acquisition provides JSW Energy with ownership of the 300MW Baspa Stage II and the 1,091MW Karcham Wangtoo Hydro Power Plants, which were commissioned in 2003 and 2011 respectively. The power plants are located in the north Indian state of Himachal Pradesh.
Hanwha SolarOne / Hanwha Q CELLS Investment – $1.2bn
Hanwha SolarOne completed the acquisition of Hanwha Solar Holdings' shares in Hanwha Q CELLS Investment in February for $1.2bn. Hanwha SolarOne and Hanwha Q Cells Investment have now merged to form Hanwha Q CELLS Co, headquartered in Seoul, South Korea, with its technology and innovation headquarters in Thalheim, Germany.
The merger makes Hanwha Q CELLS a leading global solar cell manufacturer and one of the biggest photovoltaic module manufacturers. It provides the company with a larger manufacturing presence to serve the leading solar markets such as the US, China, Japan and Europe.