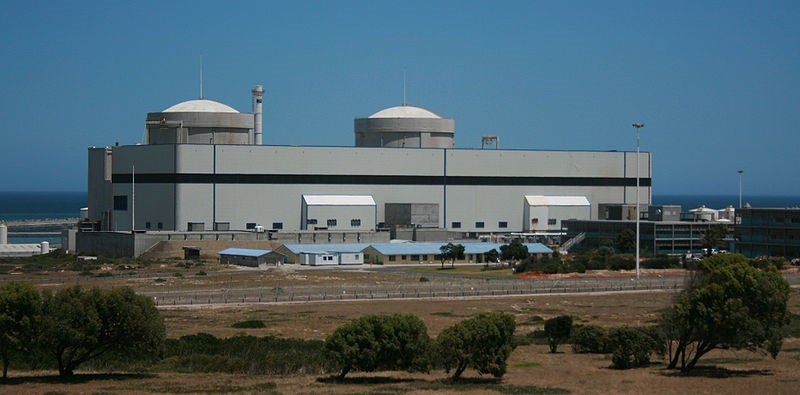 South Africa's energy is currently dominated by coal. Of the 253 terawatt hours (TWh) produced by the country in 2016, 227TWh came from coal. In second place was nuclear power with 15TWh, which is produced from one nuclear plant, Koeburg Nuclear Power Station.
Nuclear power currently produces just under 5% of South Africa's energy needs but in recent years the future of nuclear power in the country has been the subject of heated debate and constantly changing plans.
South Africa nuclear power plant: Koeburg Nuclear Power Station
Koeburg is located about 20 miles from Cape Town on the west coast of South Africa. The plant is formed of two pressurised water reactors (PWR) which have a capacity of 970MW, offering a combined capacity of 1.94GW. It is the only nuclear power plant in Africa and is the most southerly nuclear plant in the world.
Construction on the plant began in 1976, with unit 1 being added to the grid on 4 April 1984 and unit 2 on 25 July 1985. Built during the height of Apartheid, the plant was attacked by members of the then underground African National Congress (ANC), who detonated four bombs at the site on 20 December 1982.
It has also been the target for anti-nuclear groups like Greenpeace Africa and has been the site of continuous protests in recent years.
The plant is owned by the state energy company Eskom, which states that Koeburg is one of the safest of the top-ranking PWRs of its class in the world.
In April 2019, Eskom announced that the plant would be revamped to expand its lifespan by 20 years to 2044.
South Africa's nuclear future
South Africa's recent history with nuclear power has been contentious. From 2009 onwards the country had been exploring options for expanding its nuclear fleet. In its 2010 Integrated Resource Plan (IRP) the South African government proposal for 9.6GW of new nuclear power to be added to the country's grid by 2030.
However, the plan has unravelled over the years. The cost of the expansion ranged from $34bn to $84bn, a price that was deemed to be too expensive. The fall of controversial President Jacob Zuma in early 2018 spelt the end for nuclear expansion.
Nuclear power had been the cornerstone of Zuma's energy policy, but with the election of Cyril Ramaphosa in February 2018 South Africa's energy policy has shifted towards alternative sources.
South Africa's 2018 IRP now calls for an added 8.1GW in wind energy and natural gas, 5.67GW from solar, 2.5GW from hydropower and 1GW in coal by 2030.