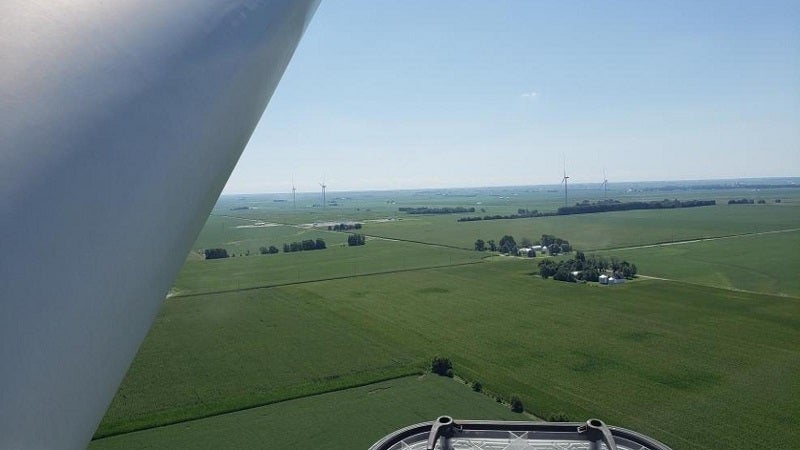 Spanish energy company EDP Renováveis (EDPR) has concluded the sale of a 68% equity stake in a 405MW wind portfolio in the US.
The stake has been divested to funds managed by UK-based renewable energy investor Greencoat Capital.
The two wind facilities included in the deal are Bright Stalk, with 205MW of capacity, and Harvest Ridge, with 200MW of capacity. Both facilities are located in Illinois.
Bright Stalk began operations in 2019, while Harvest Ridge has been in operation since last year.
The clean energy generated by the Harvest Ridge facility is supplied to Wabash Valley Power Alliance (WVPA), as well as Walmart and an unnamed private off-taker, under long-term power purchase agreements.
In April, EDPR agreed to divest a 55% equity stake in the two wind farms to Greencoat Capital.
When the sale and purchase agreement was signed, EDPR said that the transaction could be increased to an 80% stake before the deal was closed.
In a statement, EDPR said: "The total consideration of the transaction corresponds to a full enterprise value of $720m, which translates into an enterprise value of $1.8m for each megawatt.
"This transaction will contribute with €500m ($591m) of asset rotation proceeds and is within the context of the €8bn ($9.4bn) asset rotation programme for 2021-25 announced on EDPR's Capital Markets Day.
"This will allow EDPR to accelerate value creation while recycling capital to reinvest in accretive growth."
Earlier this week, EDPR partnered with gas company Reganosa to build clean energy generation and storage projects in Spain. The projects will be located in As Pontes and seven surrounding municipalities.
The two companies intend to build wind, energy storage, hydrogen and hydroelectric generation projects and make Ferrolterra a 'capital of green energy'.
The initiative will involve a €780m ($926m) investment in the region and is expected to create almost 400 permanent operation and maintenance jobs.