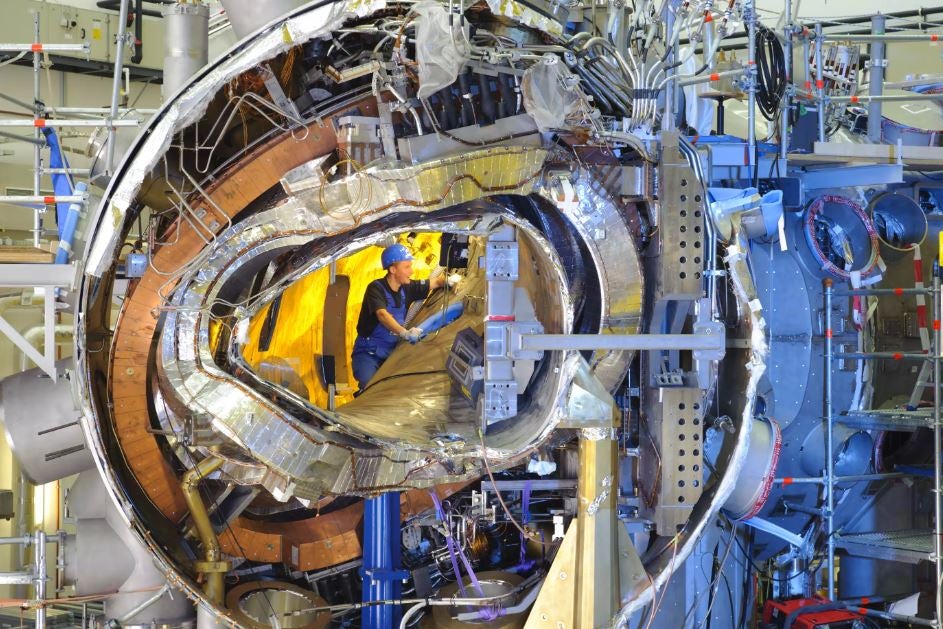 Munich-based Proxima Fusion has completed its pre-seed fundraising of €7m ($7.5m) for the manufacture of a revolutionary fusion energy machine.
The company will deploy a nuclear fusion device known as a stellarator over the coming years with the power plant due to come online within in 2030s.
A stellarator is an alternative to a tokamak device, both form an electromagnetic cage around plasma or high-energy ionised matter, bringing it to temperatures above 100 million degrees Celsius. The atomic nuclei then fuse, releasing energy. According to the company, this "is the process that powers the stars".
The Proxima Fusion stellarator follows the Max Planck Institute for Plasma Physics' Wendelstein7-X (W7-X), the world's most powerful stellarator. Proxima Fusion has also spun out of the Max Plank Institute, one of Germany's leading research institutes.
"Experimental progress from W7-X and recent advances in stellarator modelling have radically changed the picture," said Proxima Fusion CEO Francesco Sciortino, in a statement.
"Stellarators can now remedy the key problems of tokamaks and truly scale up, radically improving the stability of the plasma and reaching high performance in steady state."
Tokamaks and stellarators are both capable of producing power in this way but according to Proxima Fusion, "stellarators present compelling features for a fusion power plant: they can operate in a steady state, with smaller operational challenges, and present an attractive solution to manage excessive heat loads on material surfaces".
Despite the successes of the W7-X, Sciortino has cautioned that commercial power could still be as much as 25 years away for the project.
"The energy of the future"
"Fusion is the challenge of our time," said Proxima Fusion co-founder Martin Kubie.
"Our task will be to make it a commercial reality. Over the next 12 months, in collaboration with its academic and industry partners, Proxima will focus on completing its initial fusion power plant design."
Proxima Fusion has completed its pre-seed fundraising despite resistance to nuclear power on the national level. The German Government is part of an ongoing debate among EU states as to whether nuclear energy should be included under renewable or low-carbon energy targets.
German Chancellor Olaf Scholz has positioned the country in opposition to France's pro-nuclear stance. French President Emmanuel Macron has called for a "nuclear renaissance" to reach carbon neutrality targets.
Up until March 2011, Germany obtained one-quarter of its electricity from nuclear energy but began phasing out its fission reactors from that point. Then-Chancellor Angela Merkel made the decision following the Fukushima nuclear disaster. Following Russia's invasion of Ukraine, fears of attacks on nuclear power plants have become prominent in Germany.
Nuclear fusion, however, is a safer alternative to nuclear fission but still remains the subject of scientific research.
Merkel formally opened the W7-X in 2016, stating at the time: "This marks the beginning of an experiment unique in the world, which can bring us one step closer to the energy source of the future."