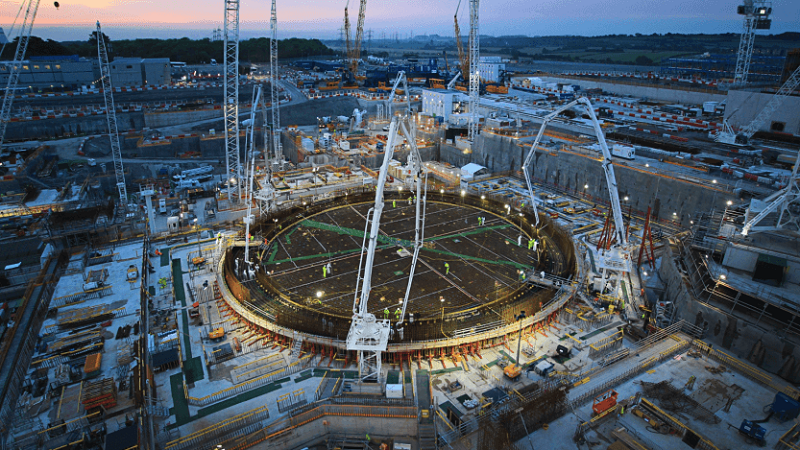 EDF Energy has announced that the construction of the base for the first reactor at Hinkley Point C nuclear power station in Somerset is complete, marking its biggest milestone to date.
The Hinkley Point C plant is the first new nuclear plant in more than 20 years and is expected to produce approximately 3.2GWh of power for around six million homes from 2023. Completion of the base allows construction of nuclear buildings above ground to begin in earnest.
The final 9,000m3 concrete pour for the "J-zero" reactor was the largest in the UK, beating a record set by the Shard in London. The base has been under construction by UK-French joint venture Bouygues-Laing O'Rourke for six months.
The steam generators and pressure vessel for the reactor are being forged at Framatome in France and General Electric is constructing the world's largest turbine for the project.
Hinkley Point C managing director Stuart Crooks said: "I am proud of the talent and achievement of our diverse UK workforce, our unions, our international supply chain and the design team in France. We are benefitting from direct experience from other EPR projects and a partner in CGN which understands the technology and the project."
Construction of the second of Hinkley Point C's two units is underway, with EDF Energy saying improvements in efficiency and good progress would help the second Hinkley Point C reactor "hit its own J-zero moment" in June 2020.
Department for Business, Energy and Industrial Strategy nuclear minister Andrew Stephenson said: "This is a huge achievement for Hinkley Point C and a major milestone for the UK's nuclear new-build industry, which as a low-carbon electricity source is key to meeting our ambitious target of net zero emissions by 2050."
"The project will not only power nearly six million homes, it will add an enormous boost to the local and national economy, delivering over 25,000 new jobs and securing long-term, well-paid employment – a key step in delivering clean growth as part of our modern Industrial Strategy."
#Hinkley Point C has hit its biggest milestone yet – the completion of the base for the first reactor.

This key milestone means that the construction of the nuclear buildings above ground can now begin.

Read more: https://t.co/6D9G1ARlXP #BuiltByUs pic.twitter.com/rrSQgXonK1

— Hinkley Point C (@edfehinkleyc) June 28, 2019
Almost 4,000 people currently work at Hinkley Point C, with around 60% of them coming from local areas. EDF has awarded £1.5bn of contracts and 64% of the project value is being spent with UK firms. The company has also hired 430 of an expected 1,000 apprentices, assessing and training 8,500 people at a nearby Construction Skills and Innovation Centre.
The Hinkley Point C milestone has been praised for providing a low-carbon energy source in the UK, as well as the number of new jobs created by the development.
Hinkley Point C's progress is good news for anyone concerned about the climate change crisis. Its reliable low carbon power will be essential for a future with no unabated coal & gas and a large expansion of renewable power – @edfehinkleyc | @Andrew4Pendle https://t.co/17LGcTA73W

— PoliticsHome – Central Lobby (@CentralLobby) June 28, 2019
GMB union National Secretary for Energy Justin Bowden said: "The Hinkley Point C project is bringing thousands of jobs, a huge economic boost to the UK and will generate massive amounts of ultra-low carbon electricity for decades to come. It is great news that Hinkley Point C is being built and is on time.
"But if the UK is serious about becoming a carbon-free economy then, starting with Sizewell C in Suffolk, we need at least another six new nuclear power stations for their reliable electricity as part of a balanced energy mix alongside green hydrogen gas and intermittent sources likes wind and solar."
GMB National Secretary for Construction Jude Brimble said: "In celebrating this major milestone, it's right we pay tribute to the skills and dedication of the construction teams, who have delivered a highly complex operation on schedule. The HPC project demonstrates the value of having a well-trained and highly-skilled construction workforce.
"GMB looks forward to continued working with all HPC stakeholders to ensure the project continues to invest and deliver the skills needed across construction and to build a new generation of nuclear reactor."
Designed and managed by @ProspectUnion members.
Constructed by @ProspectUnion @GMBWSW and Unite members, this is a huge milestone on the way to low carbon energy.
So proud to be part of this team and our unions on the project for 8 years now#BuiltByUs https://t.co/QdOGVcW7Oi

— Rachel Garrick (@RC_Garrick) June 28, 2019