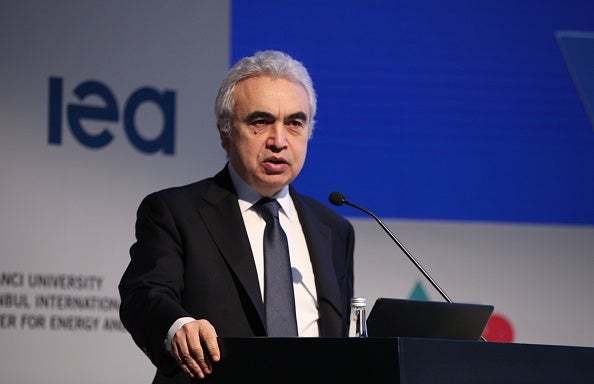 Solar investment will exceed oil investment for the first time in 2023, with total clean energy investment on course to rise to $1.7trn.
According to the International Energy Agency's (IEA) World Energy Investment 2023 report, published on Thursday, "investment in clean energy technologies is significantly outpacing spending on fossil fuels" due to increased affordability and investment driven by energy security concerns.
Speaking at the central and eastern European Sustainable Finance Summit last month, IEA deputy director Mary Bruce Warlick told audiences that the "clean energy revolution really is moving faster than most people realise".
Overall energy spending in 2023 is projected by the IEA to reach $2.8tn, $1.7tn of which is predicted to be on renewables.
Global carbon dioxide emissions grew by 0.9% last year, but, according to Warlick, "this would have been up to three times more had there not been unprecedented deployment of clean tech, notably renewables, electric vehicles (EVs) and heat pumps".
Last year, more heat pumps were installed in Europe to heat buildings, replacing traditional gas boilers. EVs also made up around 14% of total car sales in 2022, up from around 9% in 2021 and less than 5% in 2020.
According to the report, "annual clean energy investment is expected to rise by 24% between 2021 and 2023, driven by renewables and electric vehicles, compared with a 15% rise in fossil fuel investment over the same period".
"More needs to be done" says IEA deputy director
Warlick predicts that more than $2tn will need to be invested every year by 2030 to limit global temperature rise to 1.7°C in that period. Alternatively, to limit warming to 1.5°C, as set out in the Paris Agreement, more than $4tn will need to be invested annually. She describes this distinction as "really quite sobering".
Warlick highlighted the disparity in investment between dominant economies and developing or emerging economies.
"The main fault line in the fight against climate change in our view is scaling up investments all around the world in clean energy and specifically in emerging and developing economies," she said.
Developing and emerging economies made up around 60% of global energy demand but have received less than half of total clean energy investment, Warlick told audiences.
She went on to say that greater financial investment into clean energy technologies was a "promising sign" but "more needs to be done, especially to overcome the structural issues and the limited pool of investable assets that are preventing capital from flowing to these emerging markets".