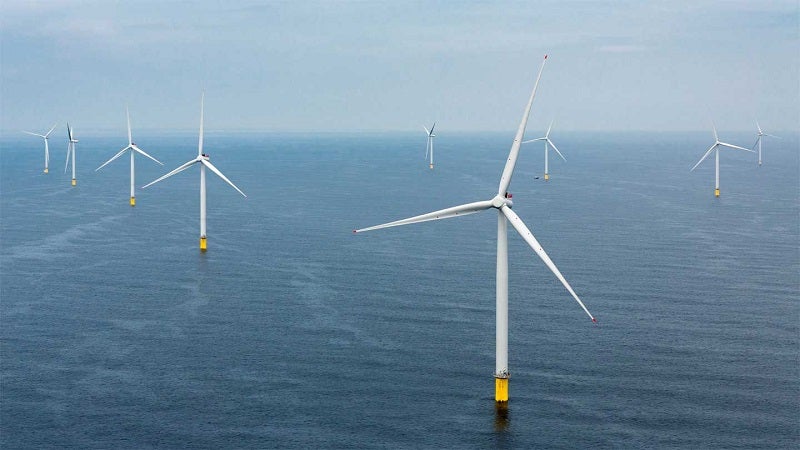 Danish renewable power company Ørsted has signed a long-term offshore wind corporate power purchase agreement (PPA) with water services company Northumbrian Water in the UK.
Under the corporate PPA, Northumbrian Water consumption sites in the north-east, Essex and Suffolk will receive nearly 100GWh per annum of renewable electricity from the offshore windfarm. This will amount to approximately 1TWh during the agreement's term.
Northumbrian Water Group commercial director Graham Southall said: "This PPA is not only a first of its kind in the UK; more importantly, it aligns perfectly with our sustainability goals and our ambitions of creating a truly cohesive energy management strategy.
"The long-term stability this brings is fantastic for us, and great news for our customers and stakeholders, because it reduces operational costs without compromising our work."
Northumbrian Water will receive 30% its renewable electricity directly from Race Bank offshore windfarm, off the coast of Norfolk.
Commissioned last year, Race Bank offshore windfarm is capable of generating up to 573MW of green electricity from its 91 wind turbines.
"It reduces operational costs without compromising our work."
The ten-year agreement is reported to be the first PPA of its kind in the UK. It also sees the expansion of a renewable electricity supply agreement between the companies, which began in April last year.
In addition, the deal is expected to further support Northumbrian Water's sustainable and renewable energy strategy. It will build upon the water company's existing solar, hydro, gas-to-grid, and advanced anaerobic digestion power generation.
Ørsted has agreed to offer an innovative balancing service of the wind output so that the electricity can be delivered to Northumbrian Water under the existing supply agreement.
Ørsted PPAs corporate head Alana Kühne said: "Northumbrian Water shares our ambitions towards a greener future and are able to benefit from this journey through signing a corporate PPA from Race Bank.
"For Ørsted, this agreement is an important step towards building long-term green partnerships with corporate power customers."
last month, Ørsted announced that the first turbine was installed at Hornsea 1 offshore windfarm and is now producing electricity.