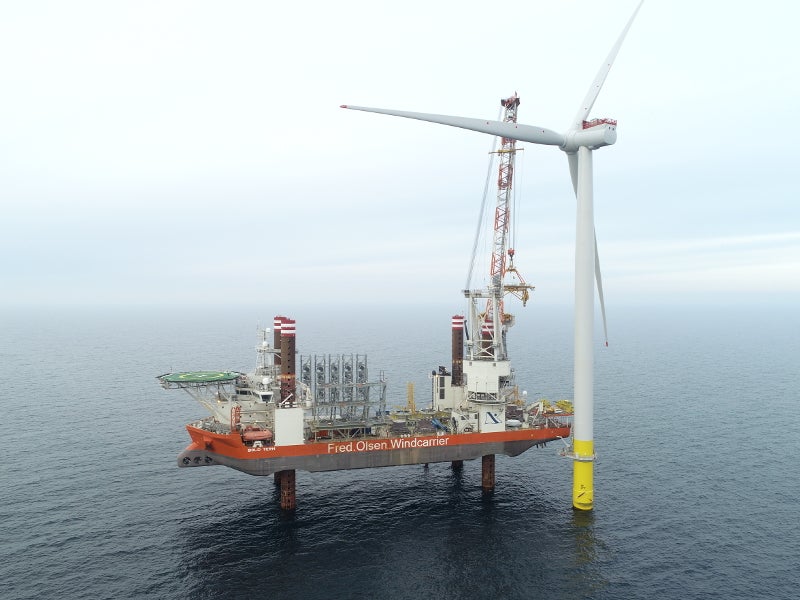 The UK's renewable energy sources generated more electricity than fossil fuels for the first time in the third quarter of 2019, according to analysis from climate and energy site Carbon Brief.
Carbon Brief's data shows that from July 2019 to September 2019, the UK's windfarms, solar panels, hydro plants and biomass generated an estimated total of 29.5 terawatt hours (TWh) compared with the 29.1TWh generated by power stations fired by coal, oil and gas.
In these months fossil fuels contributed to 39% of the UK's energy mix, with 38% from gas and less than 1% from oil and coal combined. Renewables contributed 40%, with 20% from wind, 12% from biomass and 6% from solar. Nuclear power contributed most of the remainder, generating around 19% of the UK's total electricity.
This is the first quarter where renewables outpaced fossils fuels since the UK opened its first electricity generating station in 1882.
Renewables are also estimated by Carbon Brief to have generated more electricity than fossil fuels during the individual months of August and September 2019, the first time this has happened in two consecutive months.
Electricity generation from renewable sources has more than quadrupled since 2010, with generation from fossil fuels decreasing by 50% in that same period.
According to Carbon Brief, this increase in renewable generation in the UK can be largely attributed to offshore windfarms opening and increasing capacity.
These include the 1,200 megawatt (MW) Hornsea One project, the world's largest offshore windfarm, completed in October 2019 and the 588MW Beatrice offshore windfarm completed in July 2019.
Government contracts for offshore wind are expected to increase generation capacity from 8,500MW to around 20,000MW by the mid-2020s, with the government and industry aiming for at least 30,000MW of offshore wind capacity by 2030.
Other contributions to these figures include the addition of a number of onshore solar and wind farms, as well as the opening of the 420MW Lynemouth biomass plant in 2018.
These plans add to more than 2,100MW of offshore capacity that started operation in 2018. Further capacity is also currently being built, including the 714MW East Anglia One project that started generation in 2019 and will be completed in 2020.
Coal plants are also closing ahead of a planned phase-out in 2025, with Carbon Brief noting that these plants are increasingly uneconomic to run due to CO2 prices, pollution rules and market forces. By March 2020, only four coal plants will remain in the UK.
However, Carbon Brief warns that the UK is "far off track" to achieve its upcoming net-zero emissions targets for 2050 due to a lack of progress in other parts of the economy.
According to Carbon Brief, utility companies have plans to build up to 30,000MW of new gas capacity, despite government projections suggesting that only around 6,000MW may be needed by 2035.
The analysis also notes that using biomass to generate electricity is not a zero-carbon process and in some circumstances could lead to higher emissions than fossil fuels.
In the report, Carbon Brief said: "The rise of renewables means that gas generation is likely to continue falling in the UK, whether or not this new capacity gets built.
"Nevertheless, the UK is unlikely to meet its legally binding goal of cutting overall emissions to net-zero by 2050, unless progress in the electricity sector is matched by reductions in other parts of the UK economy, such as heating and transport."