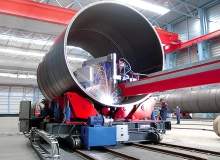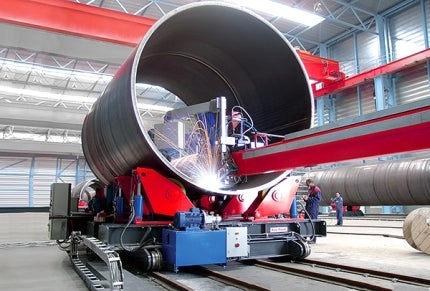 The Red-D-Arc line of welding positioners, manipulators, turning rolls, automated TIG cladding systems, growing lines, fit-up beds and other weld automation products are available for sale, lease and rent through Red-D-Arc's global distribution network.
Standard Red-D-Arc welding positioners come with UL / CSA and CE certification for electrical controls and operational capacities, which is a first in the weld automation industry.
Red-D-Arc positioners feature all-fabricated steel frames and bases supporting rotation and tilt spur-gears driven by worm-gear reducers to provide enhanced safety and durability.
Powered table tilt and rotation are controlled via push-button pendants for controlling constant-speed up and down tilt, variable-speed table rotation, and forward / stop / reverse table direction / emergency-stop controls, as well as tilt limit-switches (for both directions).
Red-D-Arc turning roll sets feature all-fabricated-steel base construction with wheel brackets that can be manually positioned to accommodate vessels of varying diameters around a constant centre-line.
Vessel rotation is via a two-motor, two-wheel drive system, which eliminates the need for torque tubes. Drive motors are inverter-controlled, variable-frequency AC-type with fan cooling and are fully enclosed for trouble-free operation.
Red-D-Arc manipulators have structural steel with continuously welded roundways, along with rack and pinion driven movement, providing enhanced durability and extended overhaul intervals. Safety features include an integrated anti-fall device and UL /CE certified control boxes with IP65-rated enclosures.
The company designs and builds complete turnkey weld automation packages, which can include integrated controls such as digital touch-screen interfaces and camera systems for the client's complete project requirements.