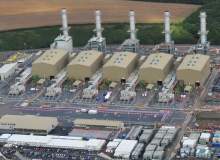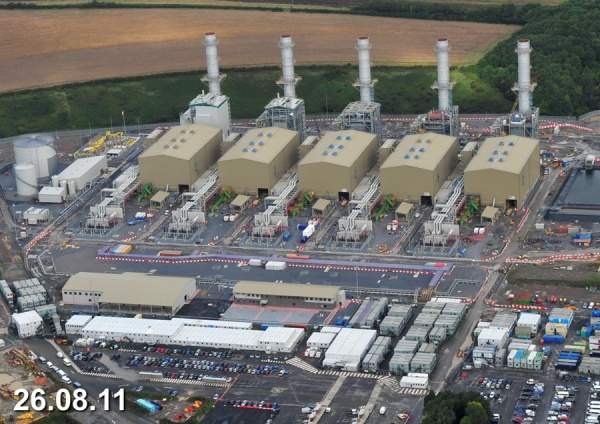 Pembroke Combined Cycle Power Plant in west Wales, UK, is started operations in late 2012. Image courtesy of Alstom.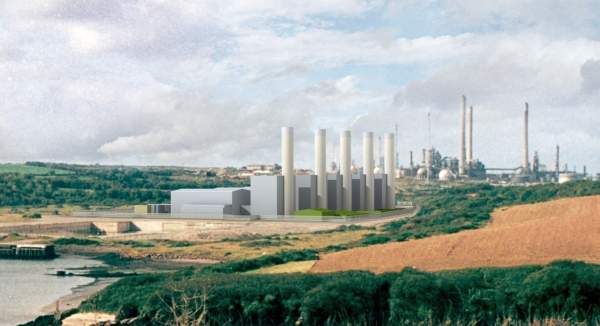 An impression of the Pembroke Power Station, the largest CCGT power plant in the UK. Image courtesy of RWE nPower.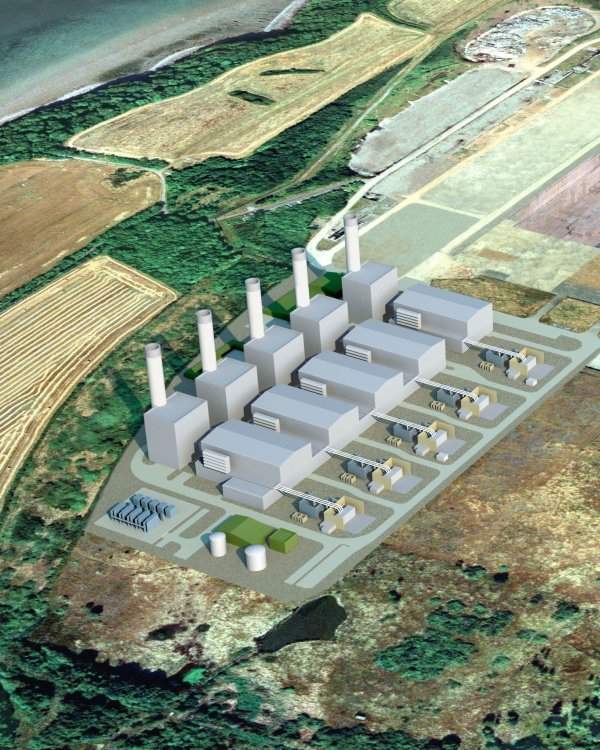 The 2,160MW power station was constructed by Alstom under an EPC contract worth £1bn. Image courtesy of RWE nPower.
The new gas-fired power station was constructed near Pembroke in Wales on the site of the former oil-fired power station. Image courtesy of Walters UK Limited, part of the Walters Group.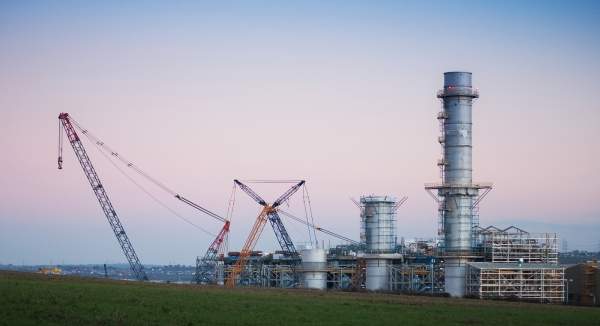 The plant is owned and operated by RWE npower. Image courtesy of James Knight.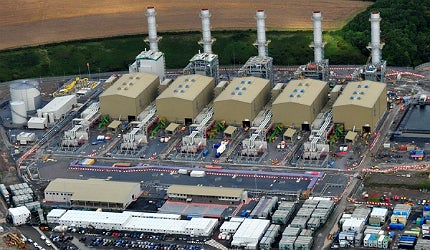 Pembroke combined cycle gas turbine (CCGT) power plant is located in west Wales, UK. It was built with an estimated investment of £1bn and was officially opened on 19 September 2012.
With a total generating capacity of 2,160MW and thermal efficiency of 60%, it is one of the largest and the most efficient CCGT power plants in the UK.
The plant has been built in compliance with high environmental standards and uses modern low-emissions technology to cut harmful carbon dioxide emissions. It generates electricity for approximately three and a half million homes.
It is owned and operated by RWE npower, an integrated energy company based in the UK.
Pembroke power station history and background
"Pembroke power station is owned and will be operated by RWE npower, an integrated energy company based in the UK."
The new plant has been constructed on a site formerly occupied by an oil-fired power station. The former plant was built between 1965 and 1968, with a rated capacity of 2,000MW, it was one of the largest power stations of its kind in Europe.
It was outfitted with four main turbo-generator units. The station ceased power production in 1997 and the facility was demolished between in 2000 and 2003.
RWE npower had submitted the planning application for the new CCGT plant in 2005. Construction permit was granted in 2009 and environmental permit in November 2011 cleared operational hindrance.
Construction of UK's largest CCGT plant
The Pembroke project broke ground in summer 2009 and was built using two types of construction. One was the assembled components in a package unit format and another was miscellaneous materials.
Assembled components of the project, such as gas and steam turbines, generator, transformers, medium and high pressure pumps and electric motor drives were manufactured offshore and transported to the site. The feed water towers were fabricated in France and then transported in modules. This method really helped to accelerate the construction process.
Miscellaneous works included steelwork and cladding, power wiring, control systems, pressure vessels, heating ventilating system, air conditioners, tanks, valves and security systems, including CCTV and interloper detection systems.
Civil works included ground improvement, foundation engineering / construction, construction of build superstructure, ferro-concrete superstructure, landscaping, construction and improvement of access roads and new drainage facility.
RWE npower's plant details
The Pembroke Power Station is a natural gas fuelled compact industrial plant. Natural gas is supplied from an LNG terminal at Milford Haven.
The station is outfitted with five Alstom GT26 single shaft gas turbines, five drum-type heat recovery steam generators, five STF30C steam turbines with axial exhaust and five TOPGAS turbo-generators.
Each gas turbine has a reported output of about 420MW. For greater efficiency and environmentally conscious operation, each of these turbines are equipped with a sequential dry low NOx (DLN) combustion system.
EPC contractor for the 2,160MW CCGT facility
Alstom, a multinational conglomerate with interests in transport infrastructure, power generation and transmission, was awarded an engineering, procurement and construction (EPC) contract for the Pembroke power station in April 2009.
"The combined cycle gas turbine (CCGT) power plant is located in Pembroke, Wales, UK, and required an estimated investment of £1bn."
The scope of work included overall plant engineering, global procurement and supply, civil, electrical and mechanical construction and commissioning of the power station. In addition, the company also supplied five turbine units and associated core components.
For automation, Swiss company ABB supplied its flagship System 800xA power generation distributed control system, including power generation information manager (PGIM) and interfaces to field devices such as the continuous emission monitoring system (CEMS).
Walters UK was awarded a contract worth £4m to build more than 3km of highway infrastructure, with associated ducting and surface water drainage, finishing works and landscaping.
Shaw Group UK erected five heat recovery steam generator (HRSG) boilers. John Sisk & Son was given a £39m contract to perform civil works at the new power station. The power cabling and control systems were installed by Dornan Engineering.
Some other contractors include Hornbill Engineering, Morris Material Handling (mechanical cranes), Hager + Elsässer (water treatment plant), Motherwell Bridge (main water tanks), Lectec Services (general lighting and power systems), BOC (gas storage), Interserve Industrial Services and DWLS.
UK gas power market
Nearly 40% of the existing power generation facilities in the UK were built before 1975. These are set to cease operations over the next ten to 15 years.
In addition, a large number of coal power plants are to be shut down by the end of 2015 to meet the large combustion plant directive (LCPD) of the European Legislation. Many nuclear power plants are also reaching the end of their operation lives.
Power demand in the UK is anticipated to rise in spite of efforts to improve efficiency. The country is likely to require up to 35GW of new generating capacity by 2020. If new power stations are not built then the country may face a major deficit in power supply.
As gas is more efficient than other fossil fuels, gas-fired stations are being preferred in the intermediate term.
The new power plant built at Pembroke site will significantly enhance energy supply.
---
Related content
---
The UK Government's plans for energy in fiscal 2012 will centre on oil and gas exploitation and job creation. Power Technology gathers the views from the industry on this proposal, including comments on how renewable energy will be affected.
Gwynt y Môr is a 576MW offshore wind farm being built in the Irish Sea, Liverpool Bay.
Severn Power is a £600m, 800MW CCGT power station near Newport in South Wales. Originally owned by Welsh Power, the plant was acquired by DONG Energy in 2009.
---