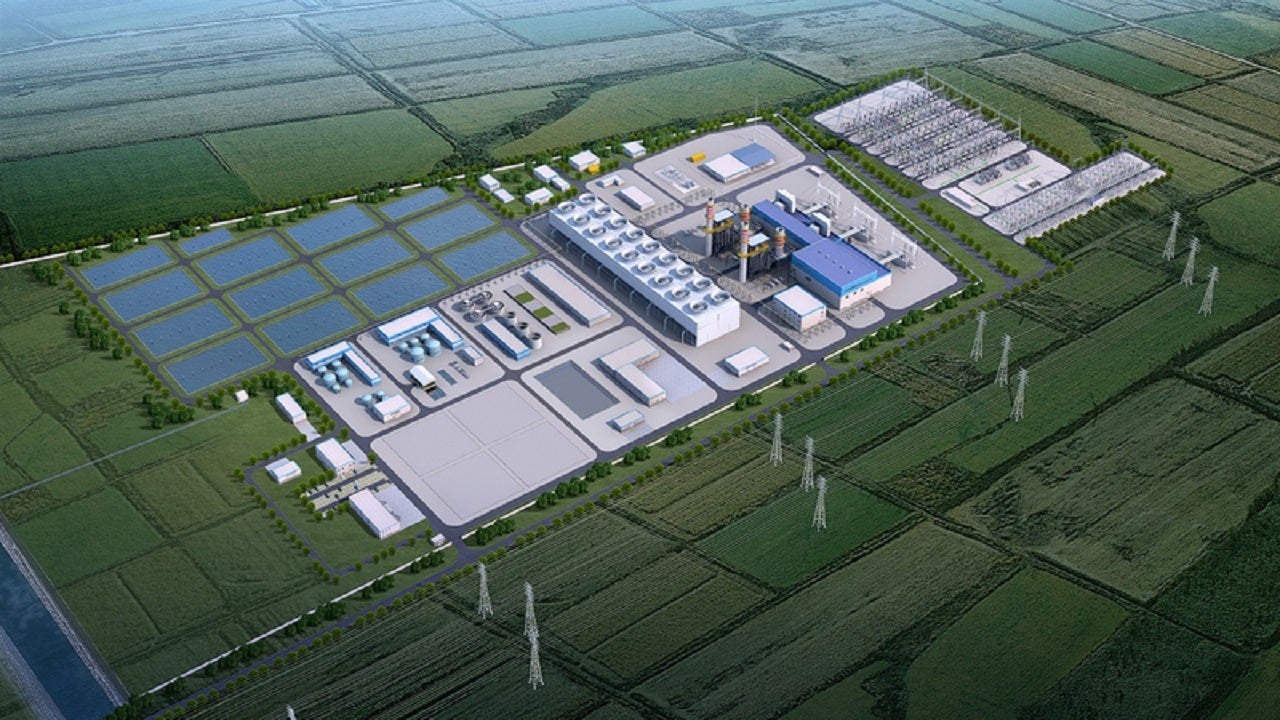 The 1.5GW Sirdarya combined cycle gas-turbine (CCGT) power plant is being constructed in the city of Shirin, Uzbekistan.
The power plant is part of the Uzbekistan Government's plan to improve efficiency and capacity of its electricity production, while boosting economic growth and reducing environmental impact.
Set to replace an ageing thermal power facility in the area, the project is expected to meet 15% of Uzbekistan's power demand and account for 8% of its total installed power capacity, upon completion.
The Sirdarya power plant is being developed by Saudi Arabia-based power company ACWA Power through a project company named ACWA Power Sirdarya under a build, own, operate and transfer (BOOT) model with a total investment of $1.2bn. The power generated from the plant will be sold to National Electric Networks of Uzbekistan (NENU) under a 25-year power purchase agreement (PPA).
Location of Sirdarya power plant
The Sirdarya power plant is located roughly 1.9km northeast of the city of Shirin, in the Sirdaryo Region of Uzbekistan.
It is situated on 84ha of land, close to the country's border with Tajikistan as well as an existing 3GW oil and gas thermal power plant.
Sirdarya power plant development
In 2019, the Uzbekistan Government initiated an energy sector reform plan which included key components such as unbundling the vertically integrated systems, tariff reforms and encouraging private investment in power generation.
The government, with support from the International Finance Corporation (IFC), launched a tender-bidding in February 2020 to select an independent power producer to build, operate and own the Sirdarya project.
ACWA Power signed three strategic agreements worth $2.5bn, with Uzbekistan's Ministry of Energy in March 2020. The agreements include a 25-year PPA and investment deal for the development, construction and operation of the Sirdarya power plant, as well as the construction of two wind farms in the country.
Ground-breaking on the power plant site took place in January 2021 and financial closure was achieved in April 2021. The project is scheduled to begin commercial operations in mid-2024.
Sirdarya power plant make-up
The CCGT power plant will include two 750MW power generating units. It is expected to have an efficiency rate of more than 60%, save nearly twice the amount of natural gas currently used for electricity generation in the country and help offset approximately 2.2 million tonnes of carbon dioxide emissions a year.
The natural gas-fired project will include power blocks and stacks, with each power block comprising two gas turbines, two heat recovery steam generators (HRSG) and one steam turbine (ST).
The Sirdarya project will be powered by two of Mitsubishi Power's M701JAC gas turbines from the company's air-cooled J-Series. The turbines feature a forced-air-cooled combustor system, an optimised cooling structure and a compressor with a high-pressure ratio. Additionally, the turbines have an extra-thick-film thermal barrier coating that enables more advanced cooling of the turbine blades.
The plant will also feature a gas receiving terminal, closed loop cooling water system and open loop cooling system, and an intake and outfall to the Yuzhny-Golodnostepsky (YG) Canal, which will be used to meet the water consumption requirements.
Other support facilities will include a water treatment plant, wastewater treatment plants, electrical system, site entrance and security building, laboratory and workshops.
Power transmission
The project will involve the design, development, construction, commissioning, testing and transfer of a 500/220kV switchgear station to NENU.
The switchgear station will serve as a common facility for both the Sirdarya project and a nearby CCGT project. It will be operated and maintained by NENU.
Financing for Sirdarya CCGT plant
A syndicate of seven international financial institutions including the European Bank for Reconstruction and Development (EBRD), Standard Chartered, German Investment Corporation (DEG), Société Générale, the OPEC Fund for International Development, Natixis and the Bank of China agreed to provide $750m in senior debt to fund the development of the power project.
Contractors involved
ACWA Power selected China Gezhouba Group (CGGC) as the project engineering, procurement and construction (EPC) contractor. Mitsubishi Power, a subsidiary of Mitsubishi Heavy Industries (MHI), was selected to supply the turbines and provide technical advice to support the construction and commissioning. In addition, the contractual scope includes a 25-year long term service agreement (LTSA) to support the operations of the power plant.
ACWA Power contracted Juru Energy Consulting and 5 Capitals Environmental and Management Consulting to provide environmental consultancy services for the project.
First National Operation and Maintenance (NOMAC), a subsidiary of ACWA Power, will provide operations and maintenance services for the project. NENU and Uztransgaz reached an agreement to provide the gas supply to fuel the power plant.